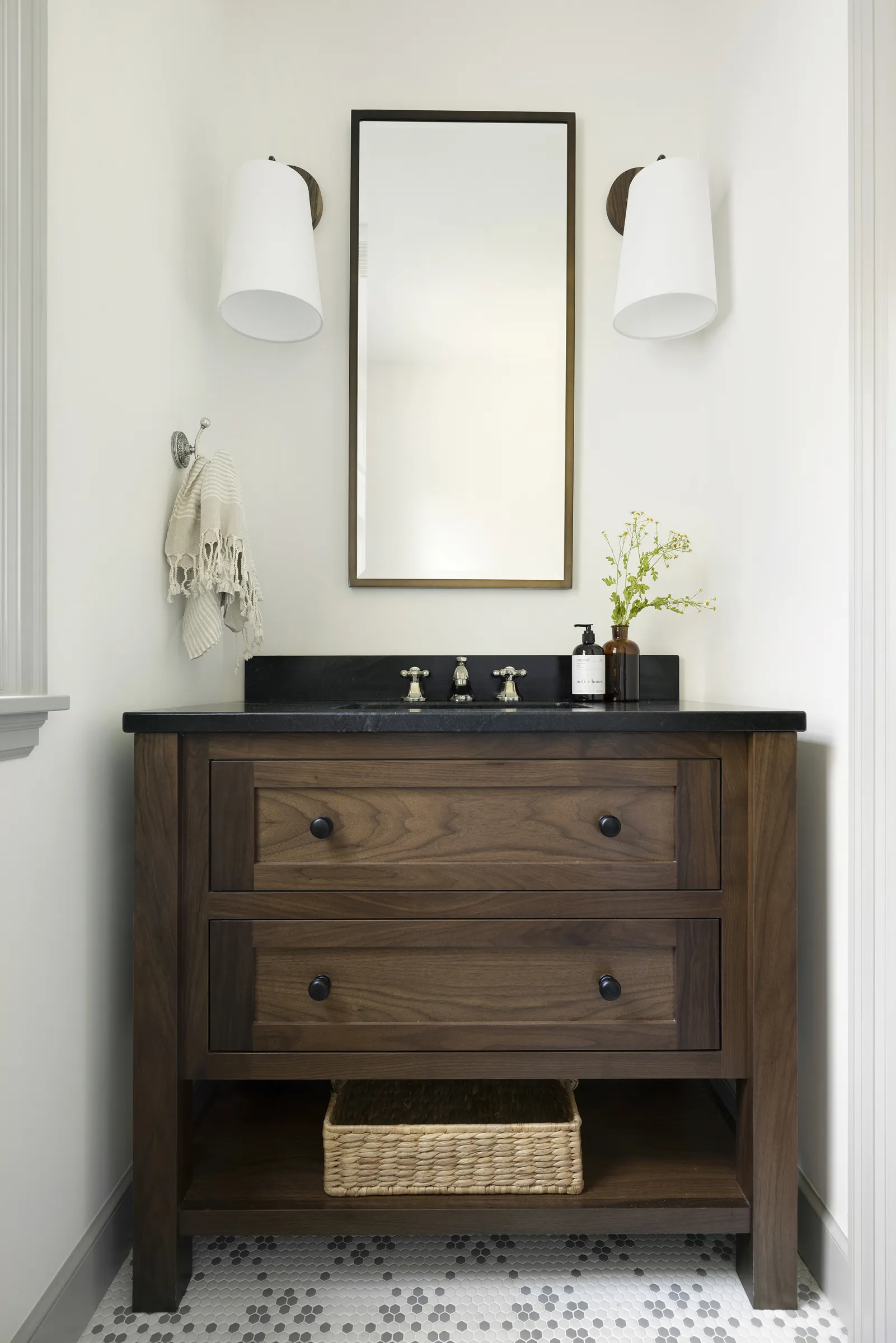 Our Favorite Bathroom Vanity Hardware
You may have noticed our recent custom vanity collection launch in August, it was a BIG month. Now that we've reached the summit, we're looking at ways to finish the look with vanity hardware. Sharing inspiration from a few recent installs with our favorite bathroom vanity hardware collections sourced and linked below.
Black Mushroom Hardware Knob
Classic black hardware knobs paired with this custom walnut vanity, work nicely with the natural soapstone countertop. Understated leaving this piece of furniture feeling neutral while pulling natural tones and giving the polished nickel faucet its moment to shine. Also, when possible, we love using double knobs as an alternative to a longer pull option.
Featuring Top Knobs Ellis 1.25″ Mushroom Knob
Vintage Inspired Pull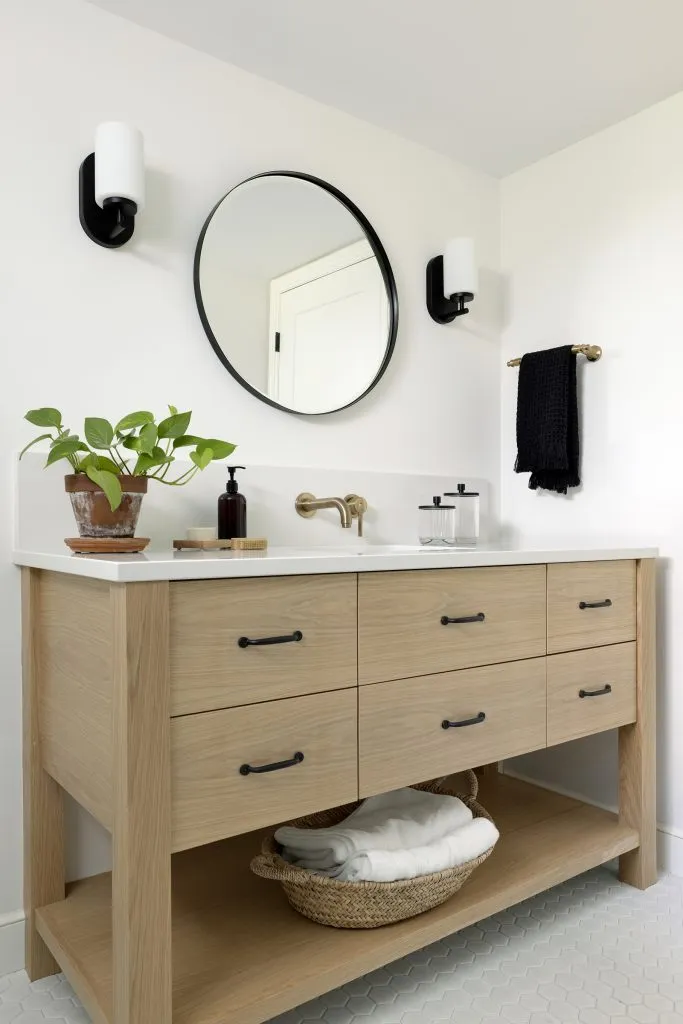 Our Arden Vanity from the custom collection is showing to be a favorite from the recent launch. Here we have paired the natural white oak with classic, vintage-inspired hardware pulls with exposed mounting hardware.
Featuring Rejuvenation Massey Pull
Arts and Crafts, Clean Lines, and Timeless Design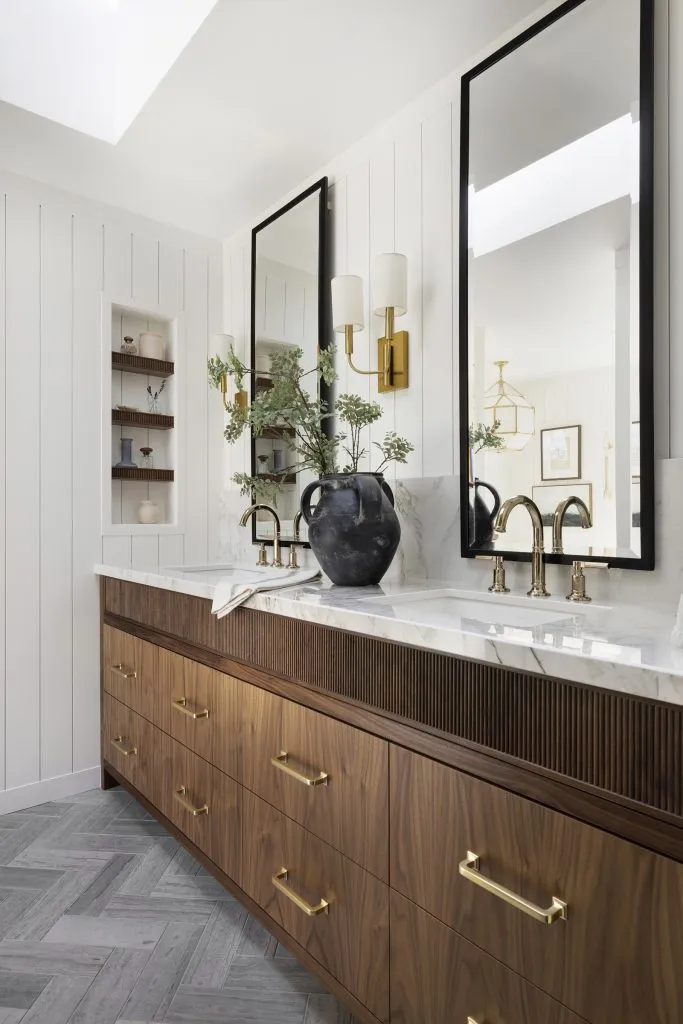 A solid brass collection with clean lines that lean Arts and Crafts, adding a timeless flare to any space. We love this transitional design, paired with our custom reeded front vanity, also in a walnut finish.
Featuring Rejuvenation Mission Pull in Aged Brass
Modern Take With a T Knob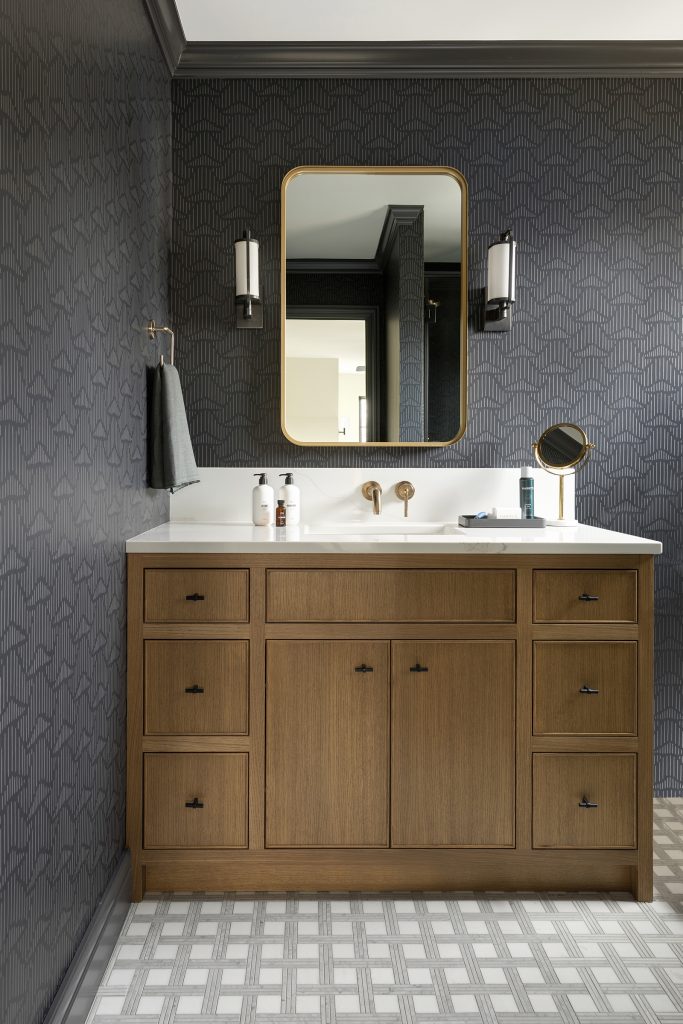 Also from our new vanity collection is the Minnehaha Vanity in stained white oak with a matte black T Knob. Something fun for a kid's bath, unique and classic enough to stand the test of time.
Featuring Classic Brass Aspen 1 3/4 T Knob
Traditional Solid Brass Knobs
The oversized solid brass knobs on the Murphy Vanity, are a statement choice we couldn't pass up. These knobs are available in over 20 finishes, the versatility and quality craftsmanship from across the pond make this a favorite.
Featuring Armak Martin Latchford Cabinet Knob in American Lacquered Bronze
Contemporary Design With an Anchored Backplate
Our Dean Vanity is a classic natural white oak with a contrasting pop of black hardware, also showing the optional backplate. The details stand out and make this a statement furniture piece within this bathroom space. We love the versatility of these pulls, as they feel suited for a larger vanity.
Featuring Rejuvenation Patton Drawer Pull in Oil Rubbed Bronze.
There is no end to vanity hardware selections, we've drawn from recent inspiration and hope to have shared a few resources to help you as you begin your own bathroom renovation.
A few recent projects we think you may like:
Princeton Colonial | Kath Home | Ridge Road
Interested in connecting about your home renovation? Say hello here. Keep up with our latest inspiration by following us on Pinterest and Instagram.