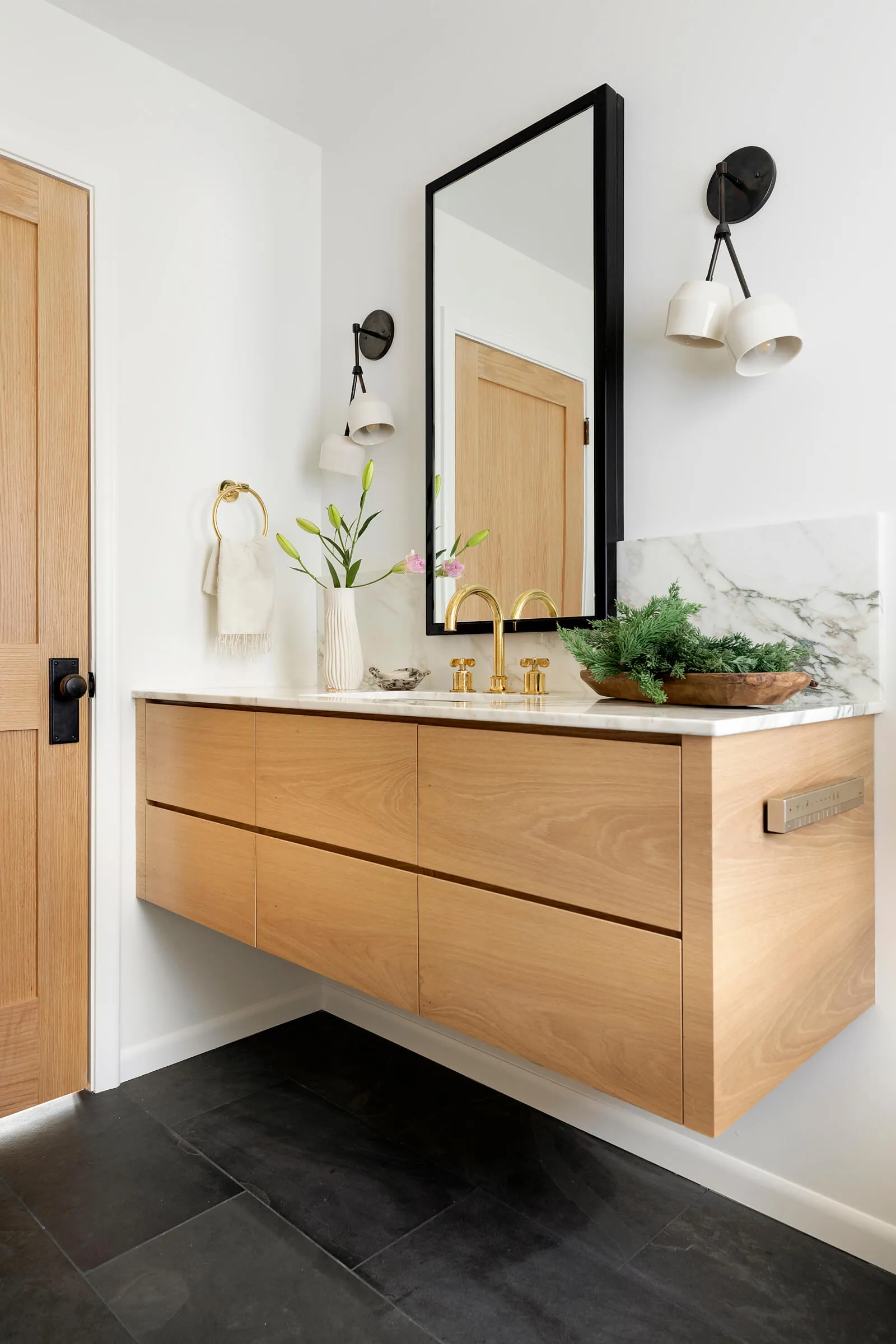 Luxurious Bathroom Reveal You Don't Want to Miss
The long awaited Westbrook Road bathroom reveal is finally here!
As we said in the Whitegate Lane Bar Reveal post last week, repeat clients are our favorite! Another second phase project completed in 2020 was Westbrook Road. This homeowner's gorgeous kitchen was completed in Spring 2019 and is a show stopper for its custom details and thoughtful design. Designing the owner's bathroom and lower level guest bathroom were no exception.
A trip down memory lane of the Westbrook Road kitchen, see some dramatic before images in this blog post.
Owner's Bathroom
While not mighty in size, it is grand in design. We had to make a design pivot halfway through the project as our original design plans logistically wouldn't work how we wanted them to. A beautiful Calacatta Gold polished marble has pockets of beautiful green veining, complementing the natural patina of the burnished brass fixtures by Waterworks.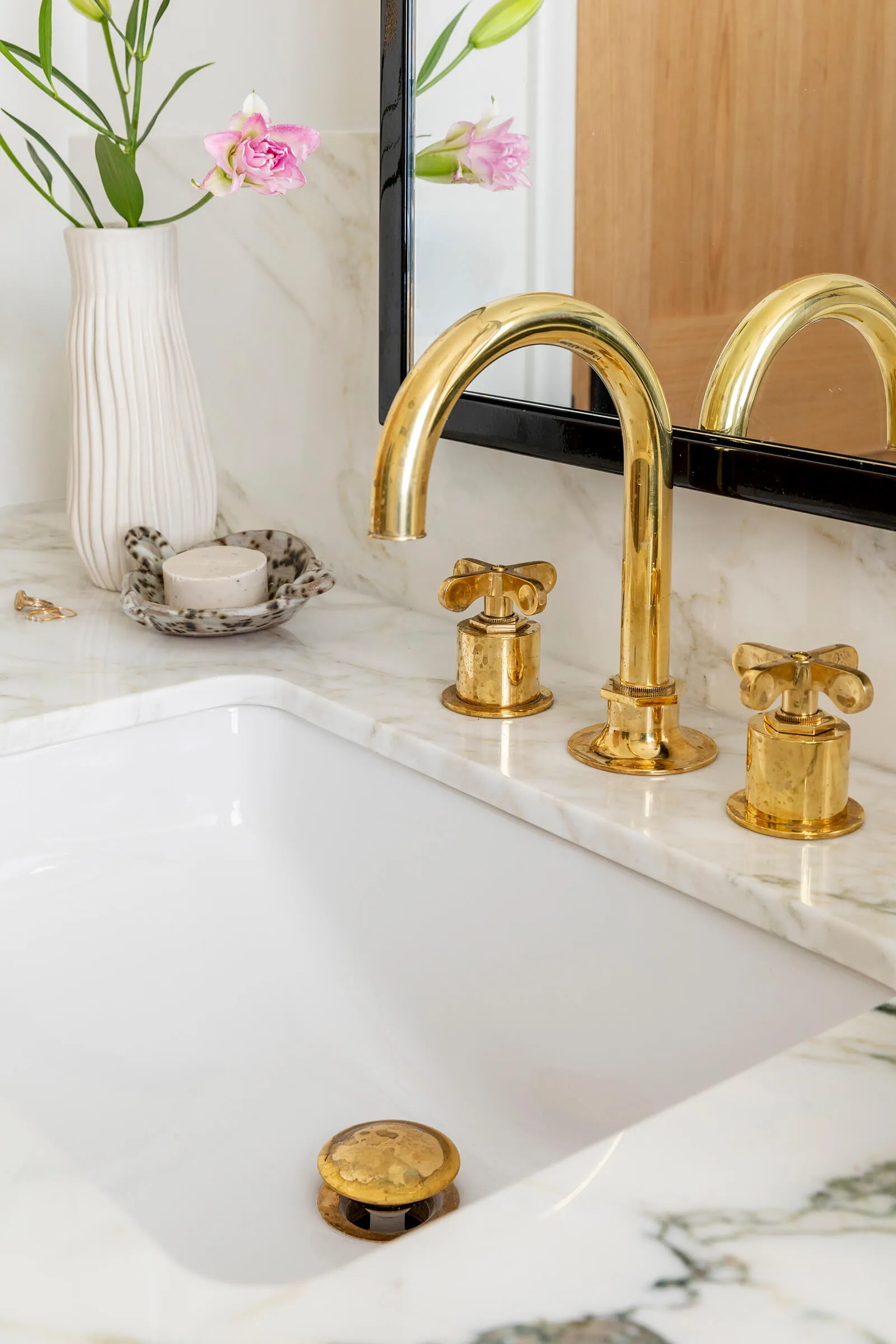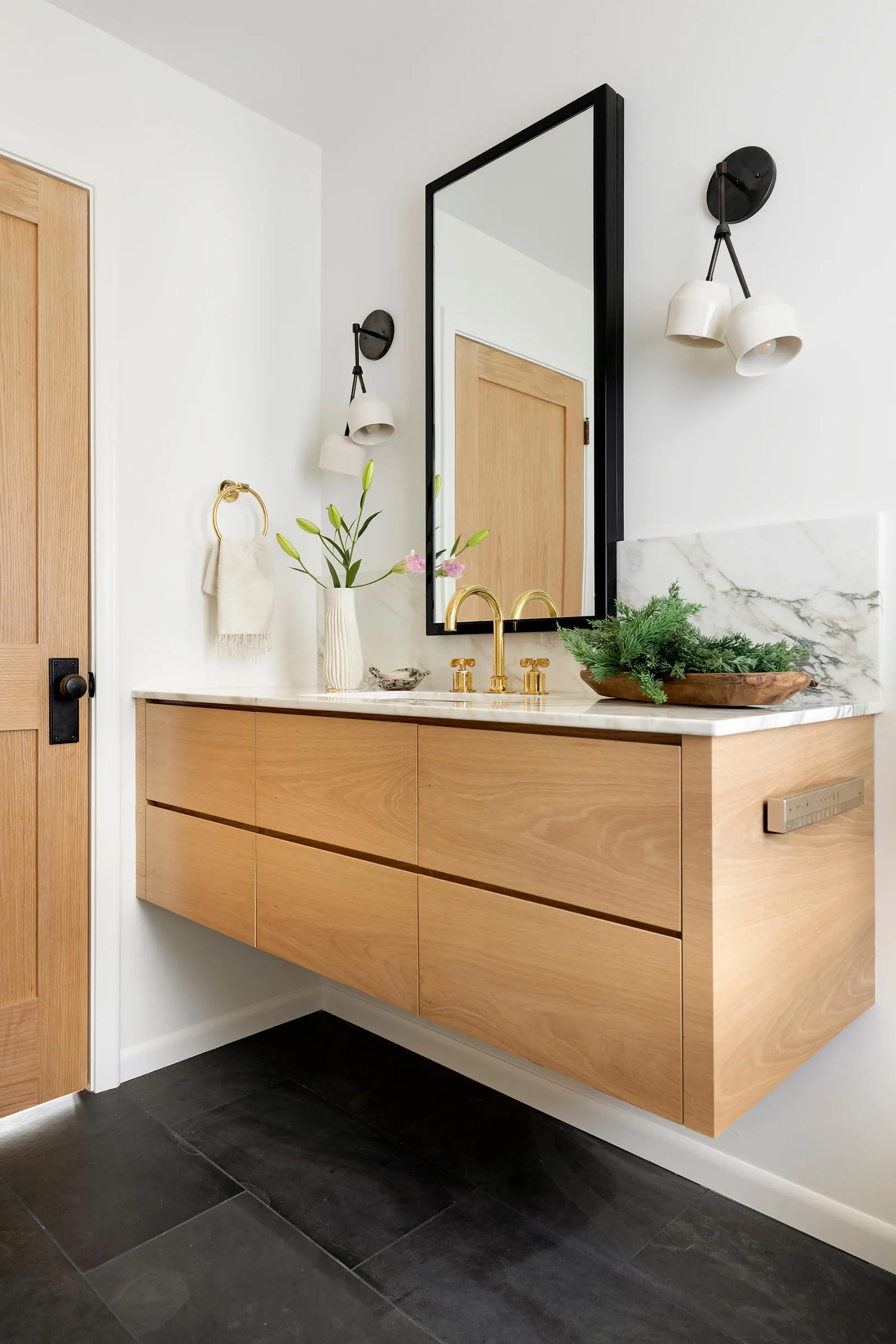 Look at the beautiful grain continuity in the white oak floating vanity! Integrating finger pulls was a fun challenge for our cabinet shop, considering spacial needs to fit fingers, making sure it was stronger than the typical drawer fronts, etc.
A 12″ tall backsplash for dramatics leads up to beautiful custom wall asymmetrical sconces.
I love this fun control placement, placed on the back wall of the shower to avoid having to reach all the way around the glass partition. The green banner tile nods to the green in the vanity marble. The burnished brass finishes will wear beautifully in the shower.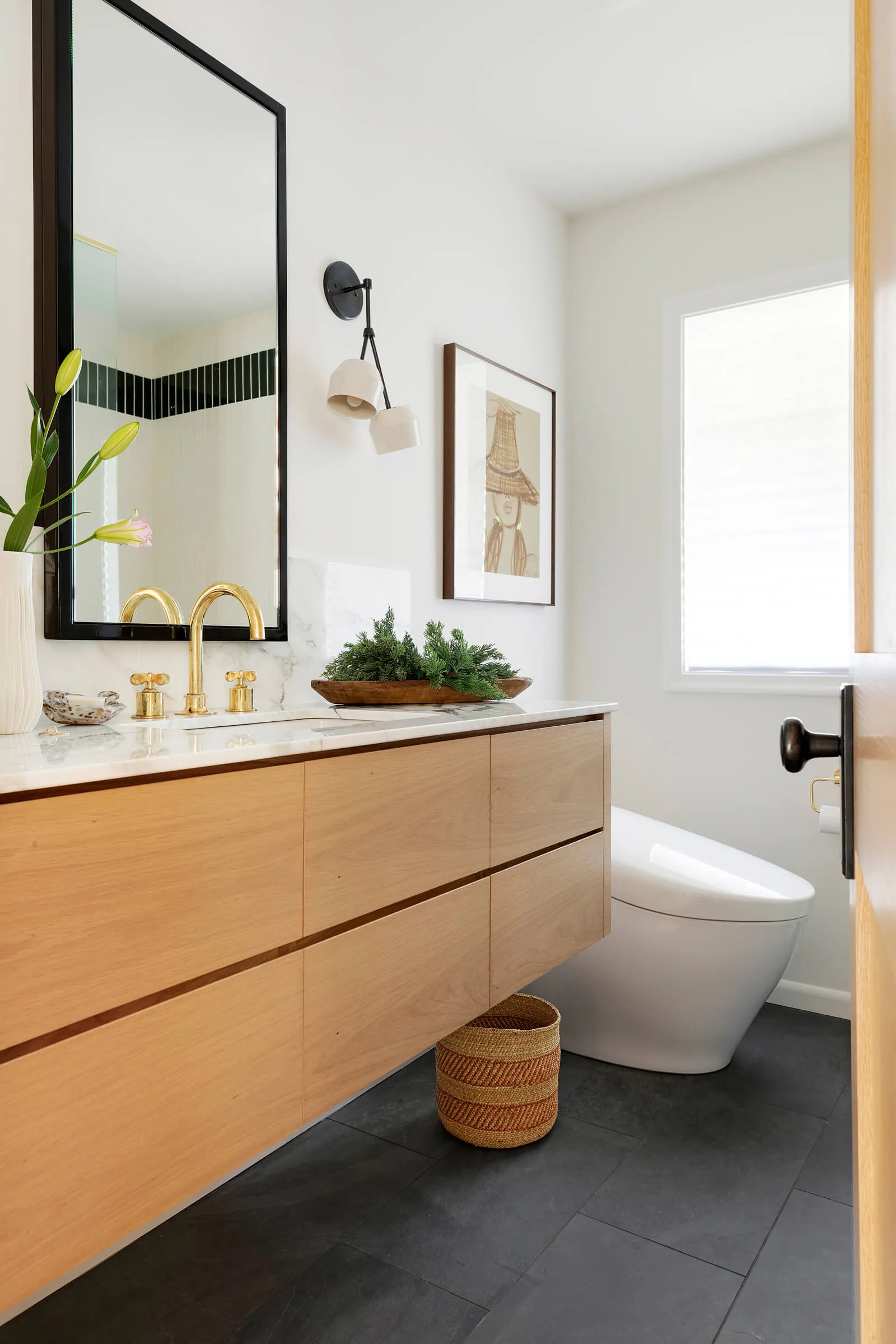 Guest Bathroom
Monochromatic with thoughtful details. The marble sink and black metal base was another custom feature to create a console sink. Not to disturb the marble sink by drilling additional holes a wall mounted faucet keeps a clean aesthetic.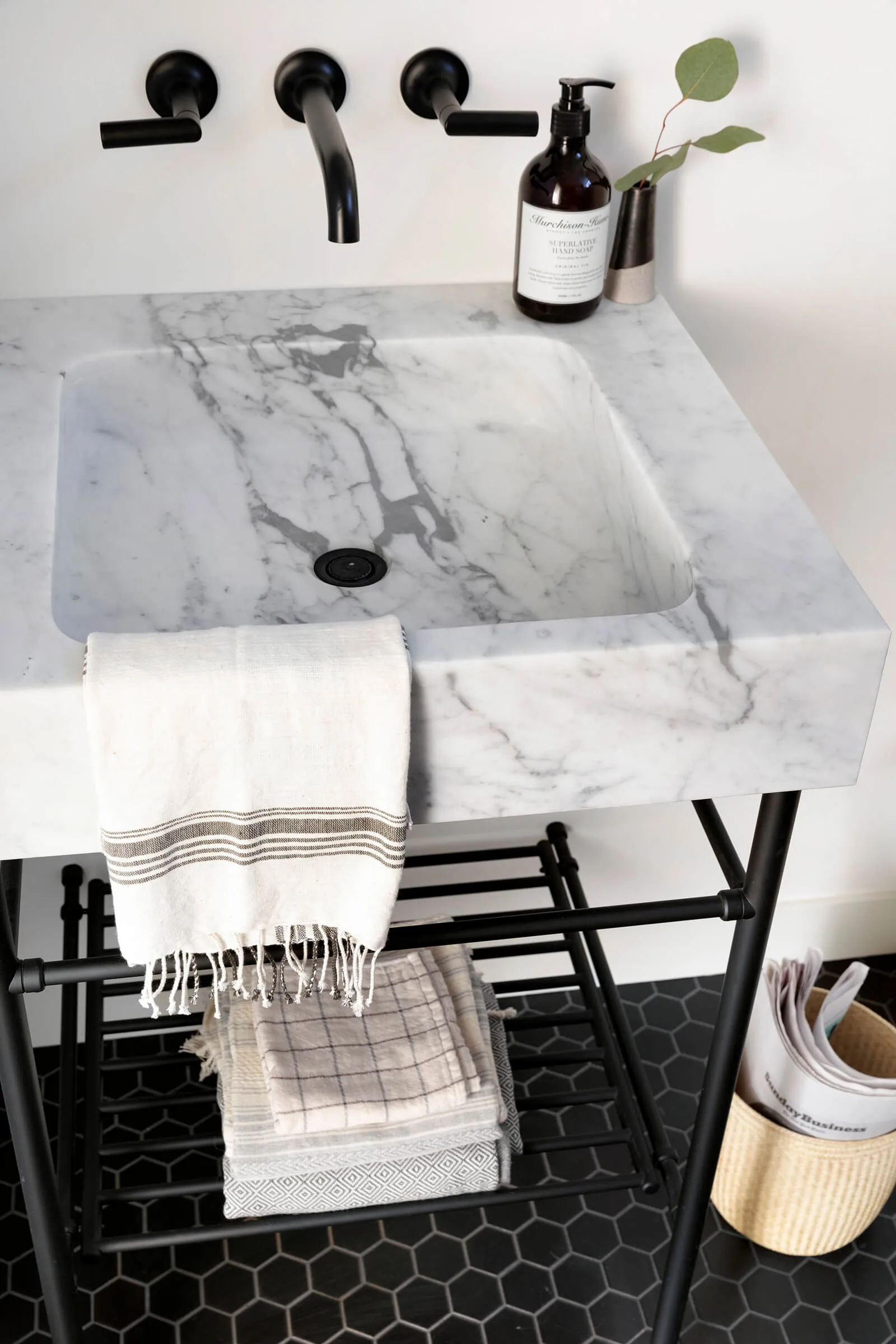 In this lower level the concrete floor had to be busted up for mechanical soluations and it benefitted the design to accomplish a curbless, walk-in shower. This allowed the 2″ matte black hexagon tiles to seamlessly carry from floor to shower. A black frame shower door contrasts the bright white tile.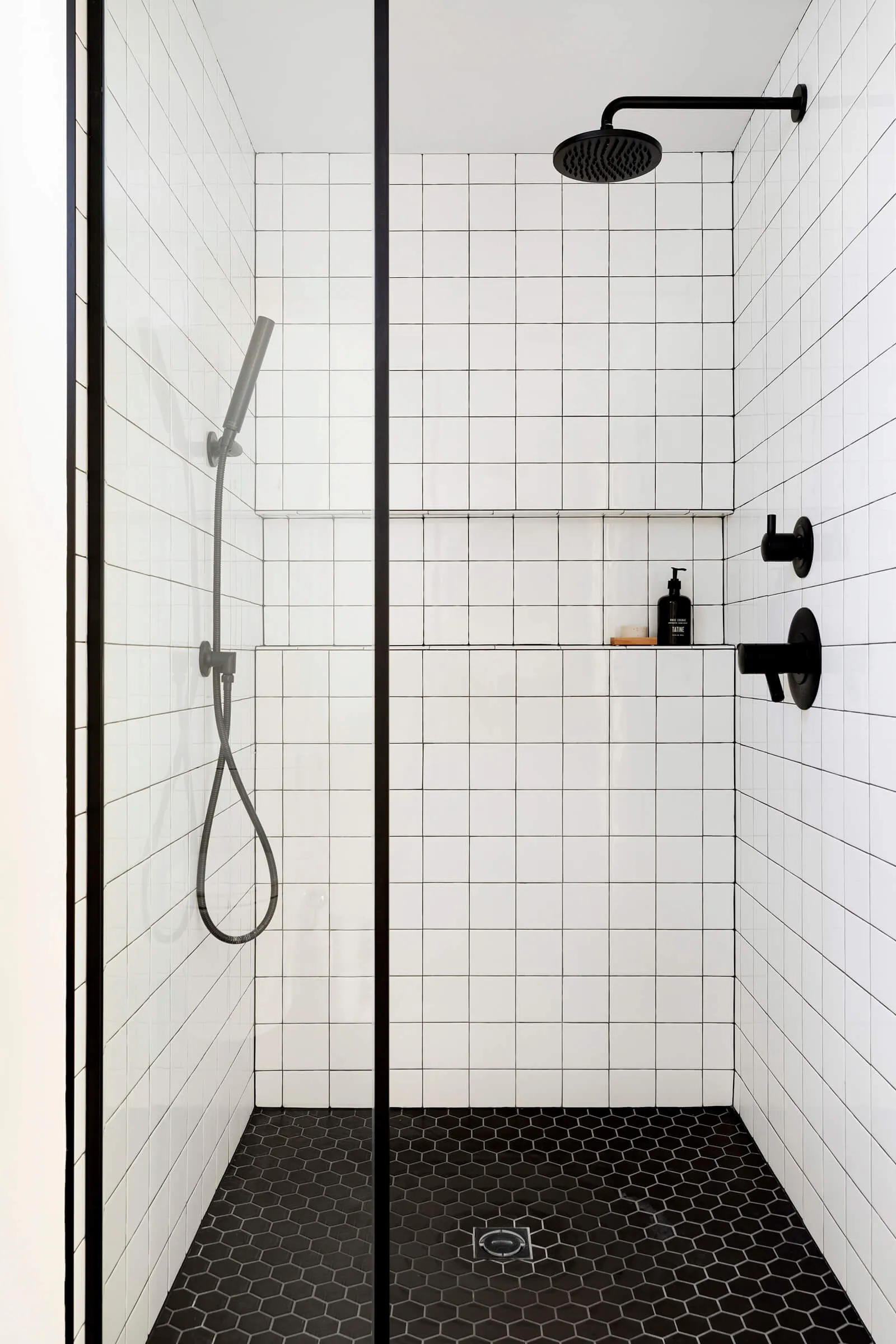 This project was so much fun to watch come together. The smallest of details were considered to maximize the most of these spaces and design elements.
Katie Wick + Jkath Team
Interested in connecting about your home renovation?
Some recent projects from our team we think you might like:
Westbrook Road Kitchen
Keep up with our latest inspiration by following us on Pinterest and Instagram.