The Subway Tile Edit
Subway tile isn't going anywhere anytime soon, and we're here for it. This is our most requested and known detail with our clients when they share inspirations for their upcoming remodel. While we have many examples of the traditional 3 x 6 tile, we've spent a good part of 2019 installing variations of this trend.
Brick Set
But first let's take a look at two similar, but very different 3×6 installations, can you spot the difference between these two projects?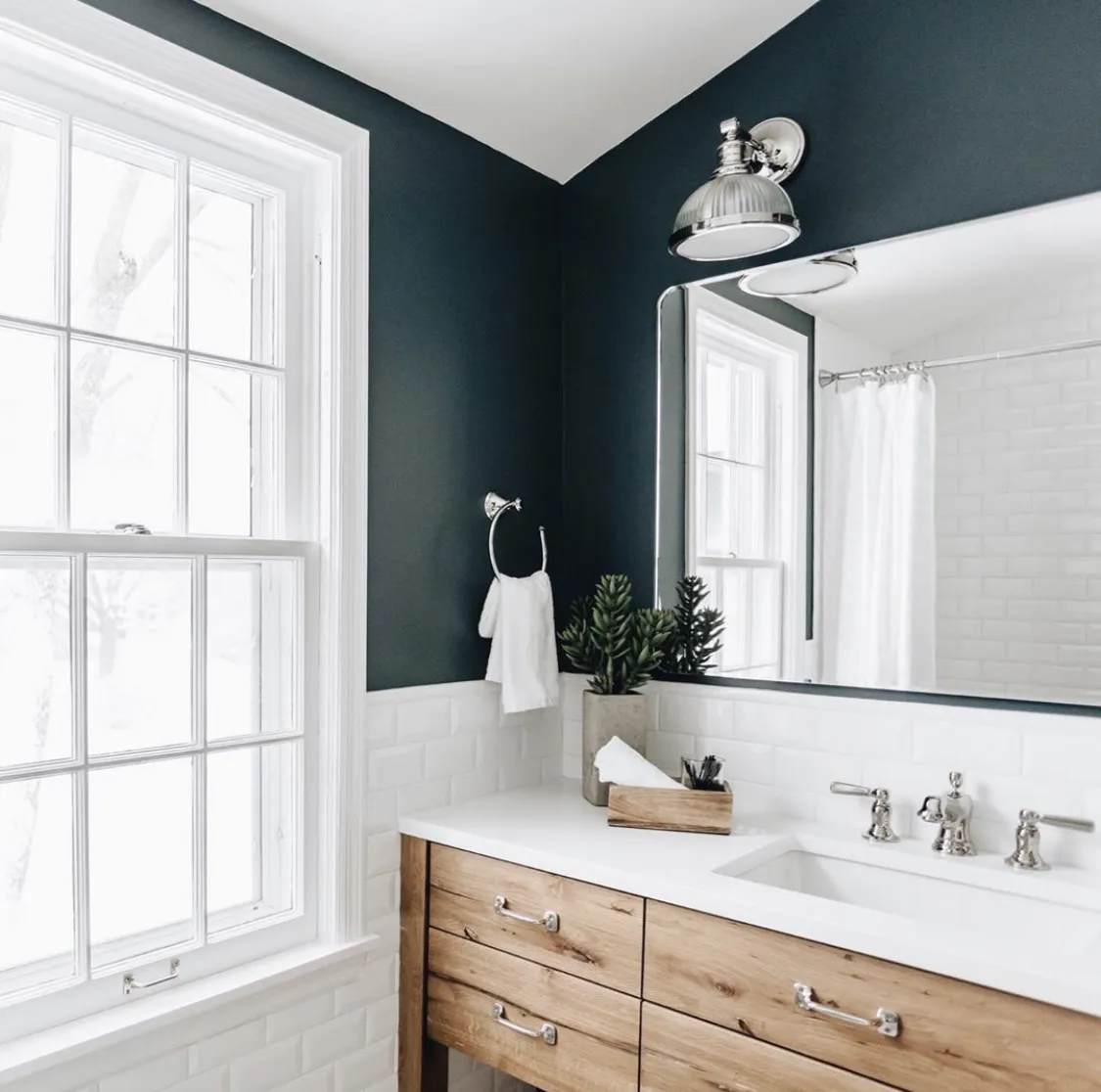 The grout color is different. The above image of #josphineplace master bath shows all white grout and the lower image of our #tangletown kitchen has a dark gray grout. While we won't take a deep dive into grout in this post, just know there are a wide variety of grout options and this can drastically change the look of an otherwise traditional subway tile.
Chevron Tile
It's best if you can find this in a mosaic setting, typically in a 12×12 format, for the ease of installation. However, any longer subway tile can be cut to fit a chevron pattern, keep in mind you'll need to account for additional waste. We used a favorite stone tile from Jeffrey Court, Chapter 18 Chevron Mosaic in 2×10 for this installation.
Handmade Subway Tile
Largely, the biggest trend we're seeing in our projects, and quite frankly .. everywhere. We can see why, it lends itself to a true artisan look. A traditional flare with the handmade appeal pled with modern vibes make this an easy selection, one our clients do not waver on. We are showing the same tile with three different projects, Watson Ave, Josephine Place and Silver View Drive.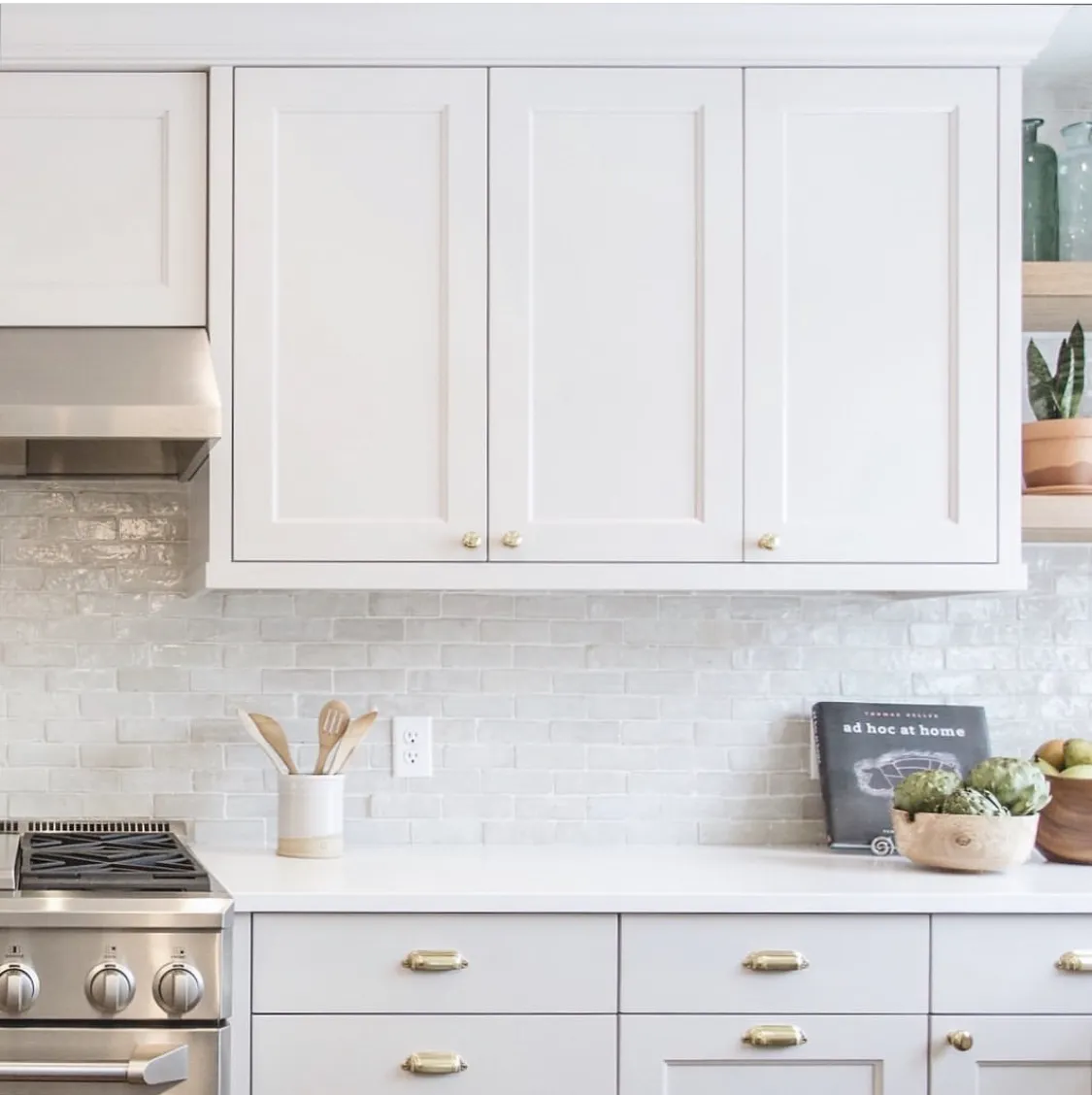 Offset Subway Tile
Here is an elongated subway tile in a 3×16, laid 1/3 offset. We love this application with longer tiles as well, for a more interesting application. You can see it in our office wall below. This tile is from Jeffrey Court, Fabrica Chapter 8 in Muslin.
Stepped Pattern
Eriks Boulevard closely resembles a stepped pattern with a variation in tile size. This is also a mosaic tile that comes in 12×12 sheets from Jeffrey Court's retail collection sold at Home Depot.
Vertical Subway
We love this application, not commonly thought of or used, but definitely gives a new sense to subway tile. The soft blue hue is the perfect touch for this otherwise all white bathroom. Tile's can be found here, 6×10 Slate Tile from Jeffrey Court at Home Depot.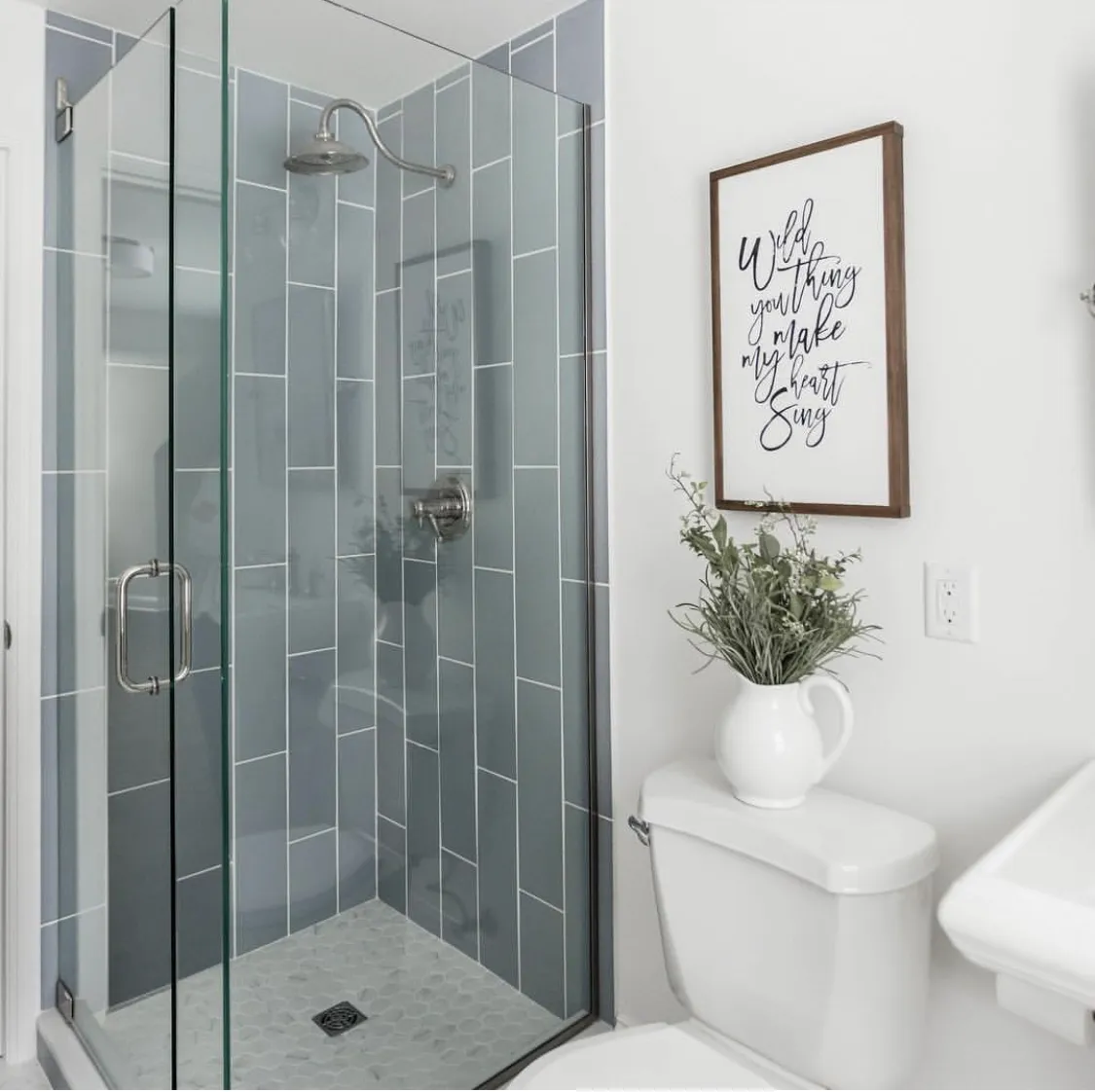 Beveled Subway Tile
Beveled tile is a fun upgrade from the tractional 3×6 flat tile without breaking the bank. A touch of artisan with some depth, but without the upgrades of a complete handmade look. While we've used this application several times, we patricianly love it in our James Ave project paired with a beautiful stone tile to elevate this tile selection.
Herringbone Subway Installation
Not a common install purely due the the waste involved. But we were committed to it in our Arden Ave master bath. The 6×18 stone tile, found here, was gorgeous on its own, but knew we had room for added variation with the neutral tones taking over this space. When done successfully, this may be my favorite application.
Variations of Tile Using Brick Set
While not new to the industry, square tiles have made a comeback. We see this application often in a commercial setting, think restaurant bathrooms, but it can be really playful as a kitchen backsplash as we've shown in our Frontenac Project.
Our original Jeffrey Court install, the 3×6 field tile in a light gray finish. Notice the intentional white grout for added texture to this installation.
Our Green Lake renovation holds a similar aesthetic, but featuring a green hue glass field tile.
Basketweave Installation
This is on our 2020 list of applications to do, it's a must and I am so drawn to this look. I love the elegant simplicity, still feels timeless with a modern touch to it as well. This gorgeous install is done by a local designer, Julia Miller with j miller interiors.
Vertical Stacked
While we haven't had an opportunity to show a vertical stacked option in any of our projects, it's just a matter of time. And we love the moody black tiles paired with the contrasting white walls and countertop. This backsplash is a show stopper indeed.
Image source: Cle Tile.
Below is a recap of the tile variations we've shared along with a few other variations for you to consider. Bottom line, have fun with it, think outside the box, and dream up the perfect install for your next remodel.
Thanks for following along. Sharing a few recent projects we think you might like:
Princeton Colonial | Kath Home | Ridge Road
Interested in connecting about your home renovation? Say hello here. Keep up with our latest inspiration by following us on Pinterest and Instagram.