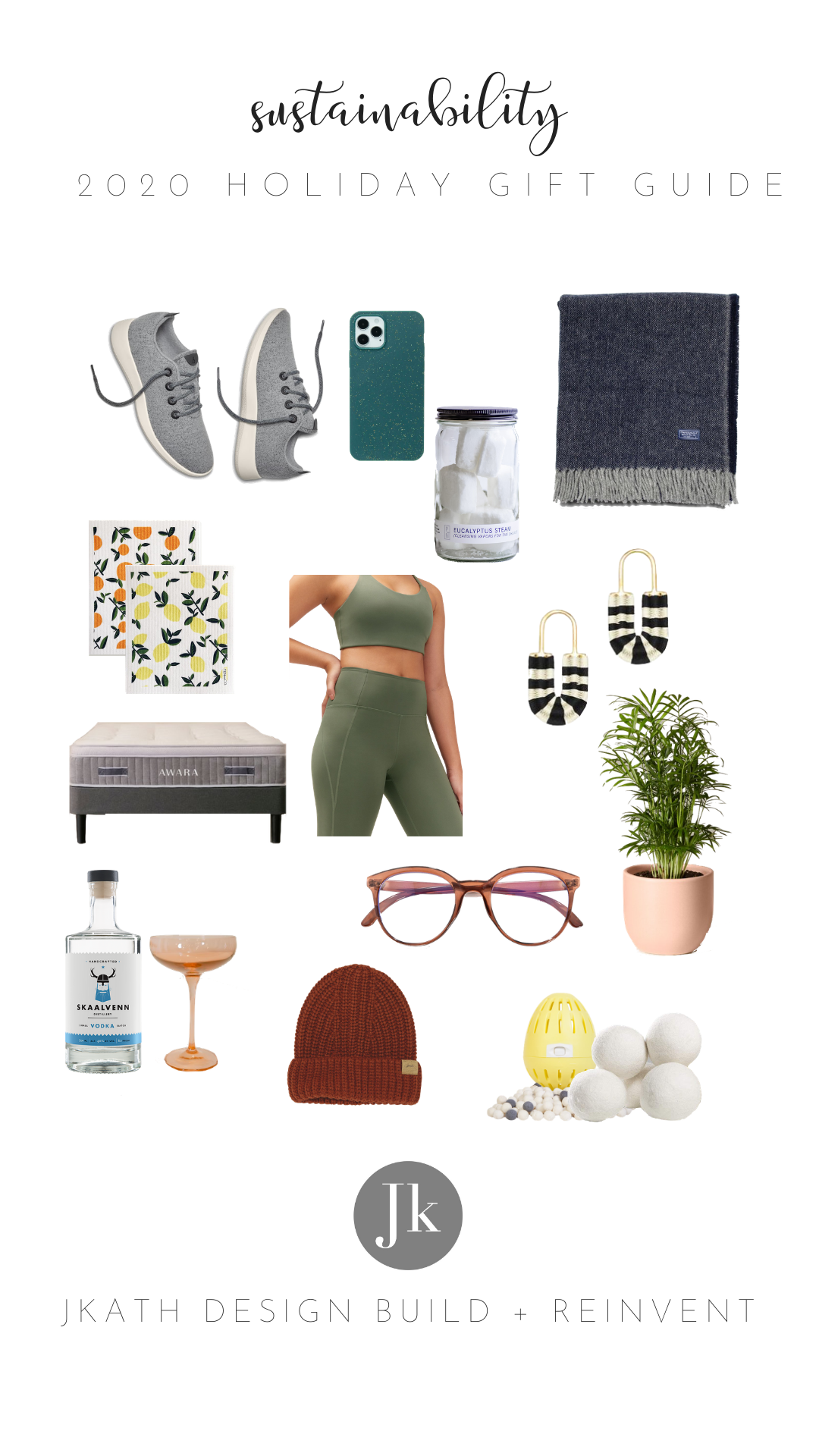 Sustainability – The Holiday Gift Guide
My strategy to this sustainable holiday gift guide is quality over quantity and useful products loved ones will actually use. One takeaway of 2020 for me is to simplify. We don't need so much stuff and to invest in products and businesses that result in a positive impact for the Earth and our communities.
Visit our For Her and Shop Local Gift Guides for more inspiration.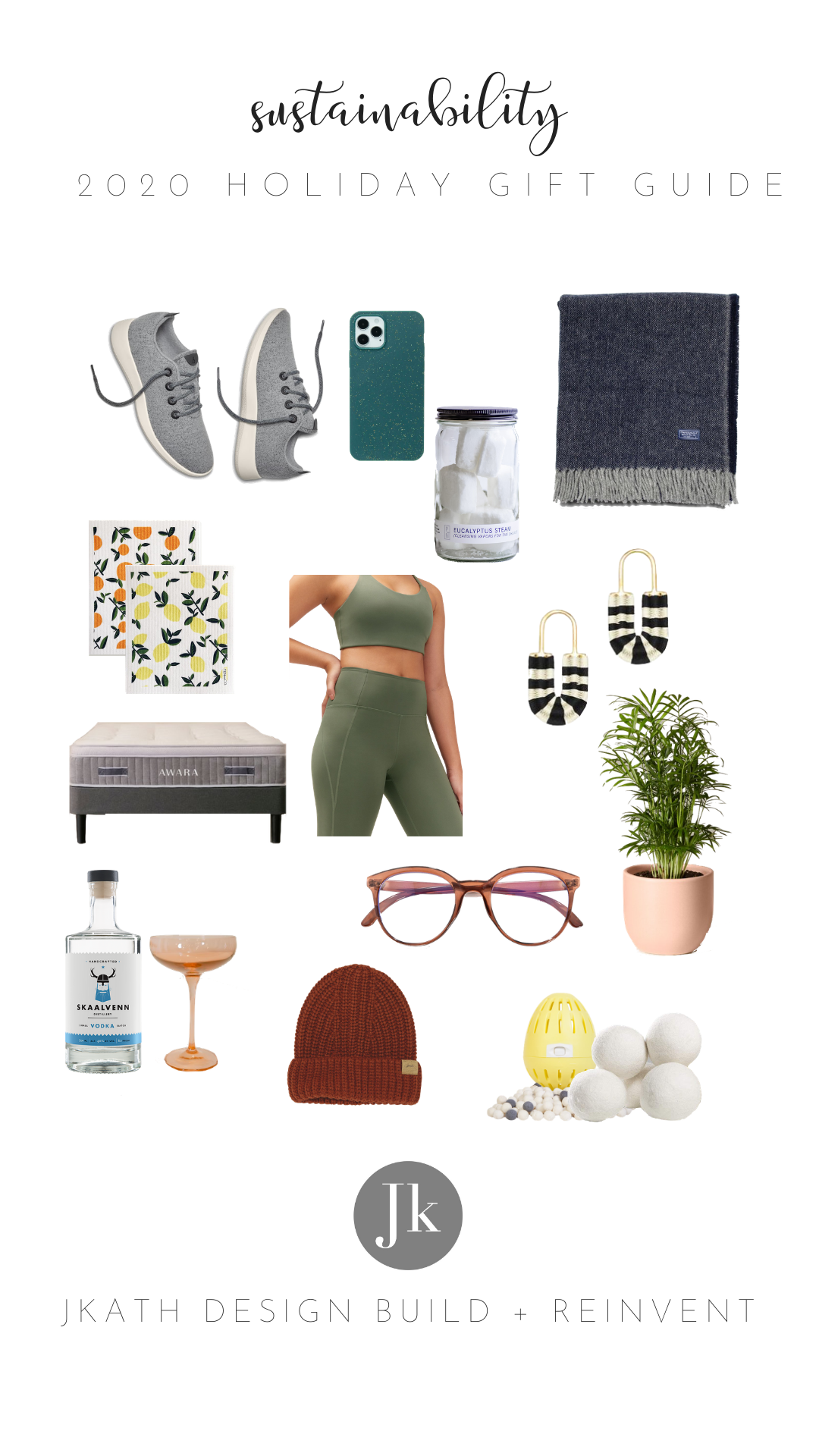 All Birds Wool Runners | Pela Case Phone Case | Eucalyptus Steam® Jar | Faribault Woolen Mill Co. Throw | Swedish Sponge Cloth | Girlfriend Collective Athletic Apparel | Skaalvenn Distillery Vodka + Vintage Glassware | Indoor Plant + Woven Basket | Afrika Lock Earrings | Blue Light Glasses | Knit Recycled Beanie | Awara Mattress | EcoEgg Laundry Egg + Wool Dryer Balls
The best sustainable gift may not be physical: subscriptions, donations and experiences. Subscriptions to audiobook apps, donations to a non-profit or cause dear to their hearts, and experiences such as a weekend getaway or a virtual class to learn a new skill (Photoshop, music lessons, cooking, etc.).
And for the physical gifts…
All Birds are the perfect, comfortable everyday sneakers made of wool and renewable materials. The men's Wool Runner-Up Mizzles have a thick wool high top to keep feet insulated and wick away moisture (rain, snow, sweat) all winter.
The Pela Case products are 100% compostable, made from flax shive and a plant based biopolymer. They have phone cases, we like the Slim, AirPod cases, and smart watch bands in a color for everyone.
Faribault Woolen Mill Co. blankets are an heirloom piece, made of 100% virgin wool in Minnesota since 1865. Wool is a renewable resource, a magic fiber to withstand decades to centuries of use. Wool blankets add an organic texture to every space, perfect for the end of a bed, hung over a chair or an ottoman.
Toss one cube from the Eucalyptus Steam® Jars for an introduction to ultimate relaxation. Make a natural No Tox Life shower kit with the steam cubes, natural shampoo, conditioner and soap shelves.
Made of recycled materials, Girlfriend Collective athletic gear has roaring reviews for their fit and quality, as well as size inclusivity and price-friendly products and ethical and values.
We're staring at screens now more than ever, which is saying A LOT. Protect eye strain with blue light glasses made of SuperLight recycled plastic materials taken out of US landfills.
A vintage bar set and cocktail glasses, spirits from a local distillery and your favorite cocktail recipe is a thoughtful gift that supports local + small businesses, as well as reaps the benefits of buying secondhand.
Raising house plants and indoor gardening is proved improve indoor air quality, reduce stress, boost mood and energy, and more. Visit a local greenhouse, you know we love to support Tonkadale, and pair with a hand thrown planter pot or woven basket.
Swedish Sponge Cloths replace the use of 17 rolls of paper towels. They come in a variety of colors and patterns to fit everyone's design style.
Good accessories will make it look like you have it all together on your Zoom meetings, even when you're wearing sweatpants out of view. Accompany jewelry has hand-made jewelry by women artisans using high quality materials.
This is probably more of a gift you give yourself: a new mattress! The Awara mattress is a luxury organic latex mattress with natural foam and New Zealand wool. I can tell you from personal experience it is incredibly comfortable. You deserve a good night sleep, especially this year!
Getting outdoors and embracing winter activities is going to be crucial this winter. This chunky knit beanie is made of recycled materials. Remember, there's no such thing as bad weather, only bad clothing.
We bring up wool dryer balls a lot, and it's even better when you pair it an EcoEgg. These two items will ensure your loved ones won't spend money on laundry detergent or dryer sheets for several years. The environmental benefits are a cleaner water supply and eliminating the dryer sheets and packaging from landfills.
Let's wrap this year up with intentions to make the world, including our planet, a better and cleaner place. Let's celebrate our artisans and support small businesses.
Happy Holidays,
Katie Wick + the Jkath Team
Interested in connecting about your home renovation?
Some recent projects from our team we think you might like:
Keep up with our latest inspiration by following us on Pinterest and Instagram.