Sunday Saves: What's Replacing Subway Tile in the Year Ahead?
Week of January 4th, 2020
City Chic Kitchen Update
We held out on releasing this city chic kitchen renovation, nestled near the river road in St. Paul until 2021. We're excited to share this project and look forward to three more kitchen renovations were kicking off soon.
Jkath Interior Designer, Katie Wick
Design Trends We're Doing NOW
More Wood Elements
This is hardly a trend, it's been around as long as good craftsmanship has. But we're loving the resurgence of it. It snuck in last year, but we're seeing it fully embraced in the year ahead.
Unique Backsplash Ideas
This is true, while subway tile is timeless and always works, it's a bit too safe for us in the year ahead. We have quartz with unique veining on the mind, handmade tiles in a variety of shapes and even brick porcelain as shown in our recent reveal of Woodlawn Avenue. Shown here, is our whole house Drew Avenue renovation we completed Winter 2020 with a stunning quartz backsplash from Silestone.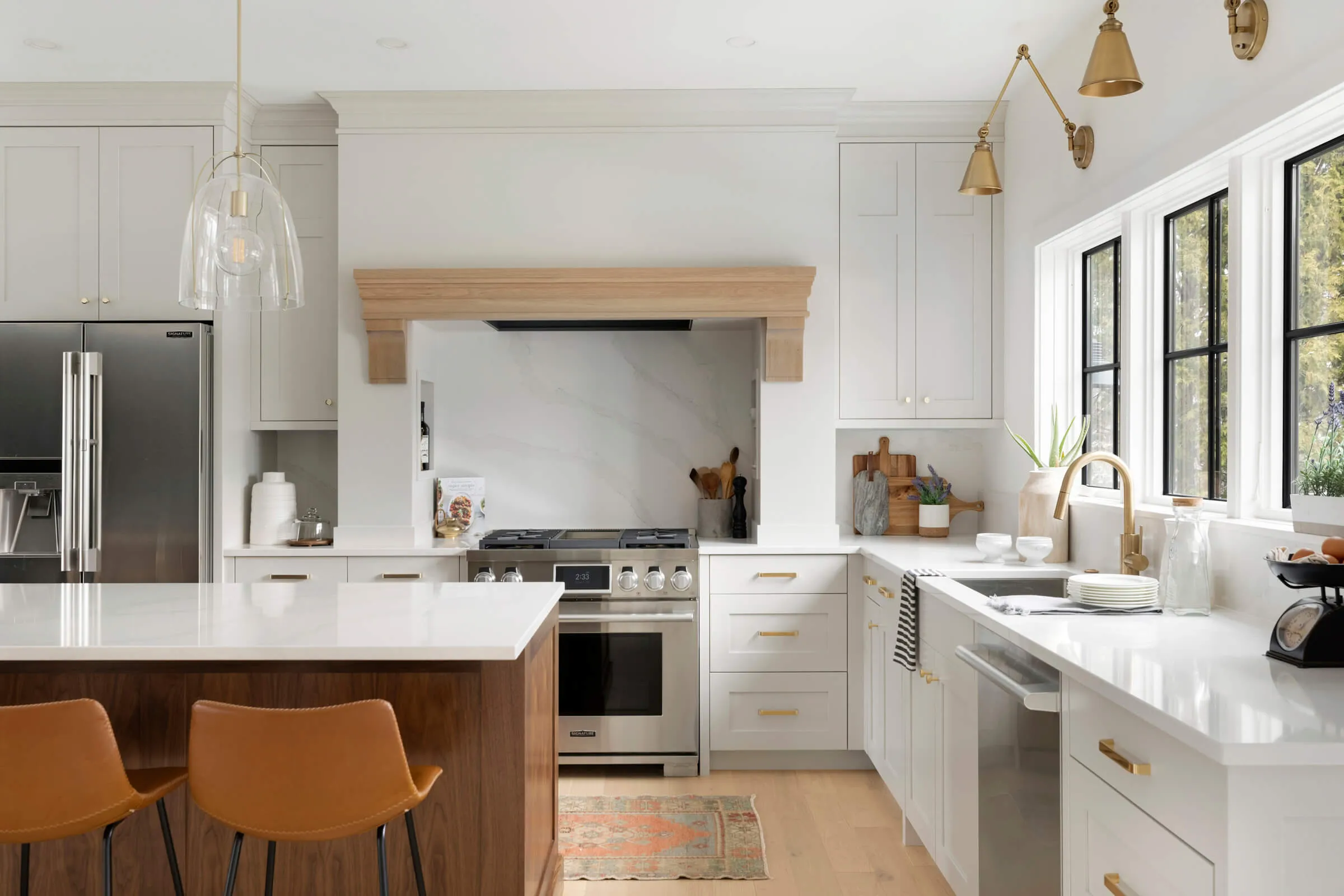 No White Cabinetry
You heard us, we're doubling down on neutral design – without white cabinetry. Beige, black and even green are the new design neutral's we can't get enough of. And, as mentioned above, wood tones will find their way into every project we touch this year.
Things to Do From the Comfort of Your Home
Minimalist Kitchen Course
A five series course for $18 by The Faux Martha, delivered right to your house, perfection. Martha will teach pantry organization basics. January 18th is the kickoff, registrations is here.
Peloton – join the cult!
Single best investment into yourself. I admit, I've had a Peloton for a few years now and even shared many times I don't love it. I am not an avid biker, I got bored, didn't really get behind a specific instructor, and really just preferred my HIIT classes inside an actual gym, surrounded by people for added motivation.
You guys, I WAS WRONG! I am hooked as of this Fall, I look forward to my rides. The platform is so smart, and allows connectivity within your network, #hashtag groups to join, accountability and PR's to set and beat. I am 100% team Cody Rigsby – he's opinionated with the best playlists – time fly's when you're on the bike with Cody!
Habits to Drop in the New Year
We can do this from the comfort of our own home, right? I am not a resolution setter, but can appreciate an exhaustive list of habits to kick. Always a good reminder to welcome moderation and hit reset with a few nasty habits acquired in the previous year.
A few I am consciously working on:
Less added sugars, 25 grams a day or less
Less Netflix, more books
Less wine, more water
Period.
Planning a Remodel
And if you're like many and maybe planning a remodel, then read these blog posts to prepare yourself for timing and costs. Please reach out if you have additional questions, we love being a resource to you!
So You're Doing a Renovation – Now What?
We love being a resource for you, as a disclosure, this post contains affiliate links. If you click on one of them, we may receive a small commission (for which we are very grateful for) at no extra cost to you.
Happy New Year friends, cheers to a fresh new start!
Thank you for following along,
Katie Kath + Jkath Team
Interested in connecting about your home renovation?
Some recent projects from our team we think you might like:
Keep up with our latest inspiration by following us on Pinterest and Instagram.