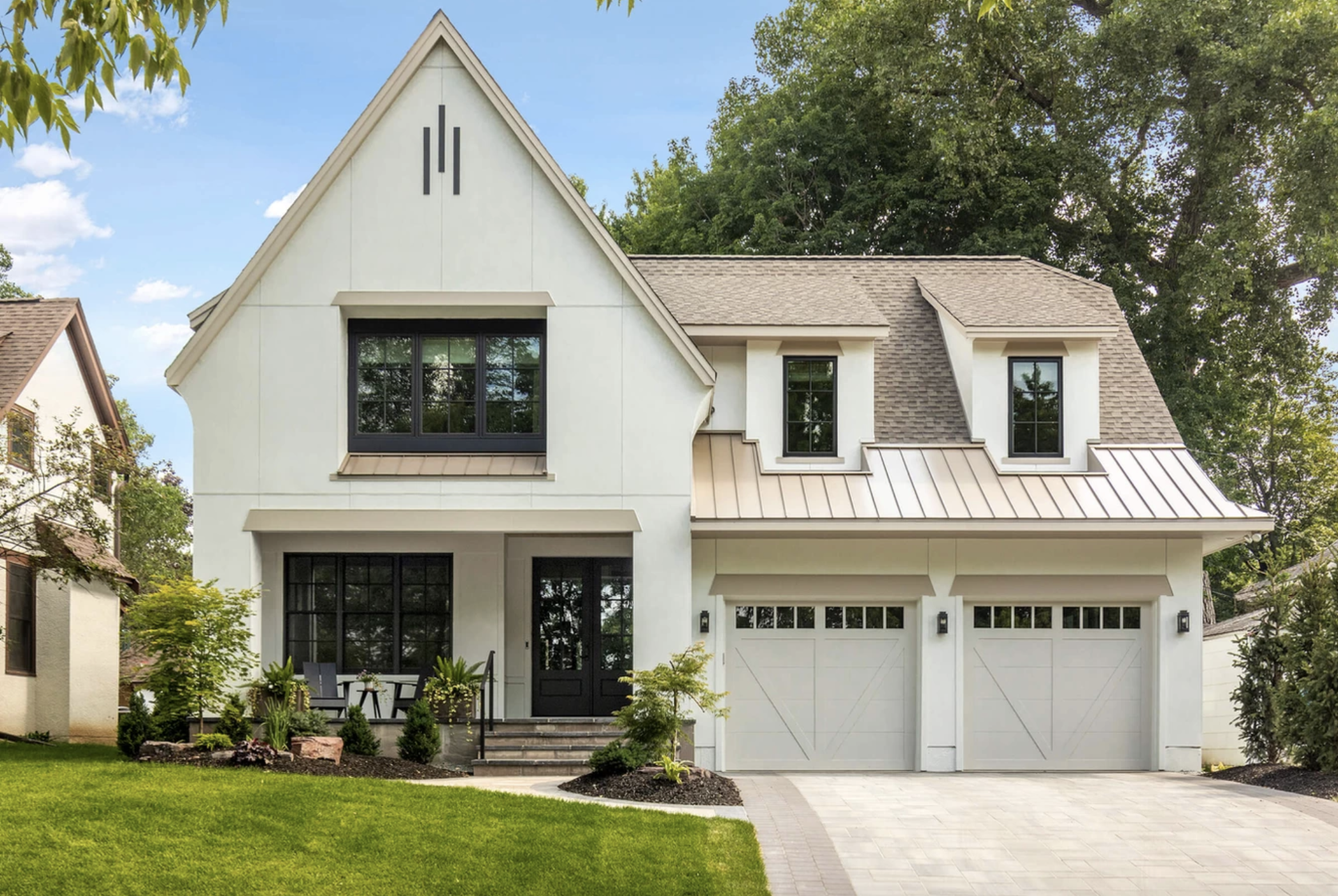 Sunday Saves: Sharing Interior and Exterior Paint Colors of the Kath Home
Long overdue, but it's here – a roundup of all the paint colors we used in our new construction home. These happen to be a few of our all time favorites, that our clients often see used within their homes too.
Also, for additional inspiration, visit our favorite neutral paint colors post here.
Let's work our way from the outside in. Sharing our mood board here of the exterior inspiration with the final color scheme we went for. After several whites applied to the outside of our home we settled on a slightly off white to compliment the champagne metal roof and black accents.
Don't take this lightly, exterior paint is a BIG deal. Grab a handful of samples and apply them to your siding before committing. We prefer putting samples on several sides of the home as well, this captures shade and sun exposure. Our final colors are linked here.
Spare White, Taupe Tone, Repose Gray, Wrought Iron
Taking you inside, all of our walls and hallways on the main floor, second story and basement level are Benjamin Moore Dove Wing. We've been using this neutral hue for years and love the warm, off white nature of this color, while not leaning gray.
The baseboards and door casing are Benjamin Moore White Dove throughout the whole home, except where noted below.
Cabinetry finishes on the main floor are a custom stain on Alder wood, paired with Sherwin Williams Limewash painted cabinetry in the kitchen and pantry. A new color in 2021 for Sherwin Williams, and the perfect tone of taupe without leaning too pink or too heavy as we wanted a clear contrast with the wood elements in the space.
The mudroom hosts the same Alder wood custom cabinetry, all cabinetry is made in our cabinet shop as well, paired with Sherwin Williams Green Onyx drop zone. This is the same color we used in the adjacent powder room baseboard and crown details.
Second story details include Benjamin Moore Simply White in the bathrooms, with Wrought Iron by Benjamin Moore in Charlie's bath for the baseboard and crown details. All bathroom vanities have a custom stain. We like to use a more bright white in bathrooms, many of the tile or wallpaper details tend to lean more bright white, so pairing these elements lends to a more cohesive look. Of course, if you're planning a more moody space, this may not be the case.
The laundry room, a personal favorite space with a splash of color. This room features Benjamin Moore Boothbay Gray in a lacquer finish on the cabinetry and a flat finish on the walls, and a satin finish on the baseboard and door casing. Not shown here, but we even painted the inside of the door in Boothbay Gray.
In the lower level we added a wet bar painted in Wrought Iron (same color as the screen porch shown here, and the exterior rear of the home. We love the smoky undertones while not leaning true black, allowing the black hardware to pop against the cabinetry.
The bathroom vanity on our lower level we painted in Cloudy Gray by Benjamin Moore. This is the same color as the bedroom walls also found upstairs in Lyla's room. As you can tell, we chose to repeat colors throughout the house for continuity. This image it pulls more white with the filter, but it does have a very subtle blush tone in person.
The final color we chose, and do not have a finished photo of is Gray Cashmere by Benjamin Moore. We happen to love this light sage green color, and it will be sure to find its way into projects throughout 2022.
Thank you for following along, we hope to have inspired a few paint refreshed within your own space in the New year!
Katie Kath + Jkath Team
Sharing a few recent projects we think you might like:
Interested in connecting about your home renovation?
Keep up with our latest inspiration by following us on Pinterest and Instagram.