Splurge Worthy Home Renovation Investments
We love it when our renovation projects come in budget, sometimes under by a hair, but often – they come in over. And here is why. Our clients have recognized areas where a splurge is simply worth the investment. A value add, statement piece, bold pop of color, or maybe a highly crafted and unique element they can't live without. Today, we're sharing opportunities to consider a splurge when tackling your home renovation project.
Natural Stone Tile
Yes, we love a good porcelain tile. And in some cases porcelain or ceramic are the better option. But when and where possible to consider a natural stone product, we say go for the splurge. As you have guessed, a natural product will come with additional maintenance. This can be worth the effort to achieve the added depth and variation we find in a natural material, such as the herringbone statement we see in a Badiglio marble here.
Hardwood Flooring in the Bedroom
This is a big debate with many of our clients. While the investment typically falls to the main floor living spaces, the bedrooms can easily be swapped out for carpeting to save on the budget, especially when doing a larger project, all new hardwood flooring can add up. However, in the long run, we have found many clients prefer hardwood for the aesthetic to hold up to other elements of the home, allow for a fun vintage rug, or simply allowing the added warmth that wood tones bring to any space.
Heirloom Cabinetry
With our own custom cabinetry shop, we always vote for added custom elements, but where possible, a focus on a standalone statement piece. We like to call these heirloom pieces, that you can take with you someday or pass down to your family for decades to come.
Natural Stone Countertops
Here at Jkath, we often use Quartz for our countertops. Reason being, they are maintenance free and many of our young families prioritize the benefits of Quartz. A splurge, perhaps in a powder bath (or kitchen too) is a great option if you're looking to elevate your space end have the countertops be the focal point.
Open Shelving Under the Kitchen Range
In our Westbrook Road renovation, we mounted a thick marble shelf with steel brackets behind the wall to hold accessories and spices while serving as a top cap to the marble backsplash. A statement all on its own, this Danby Vermont marble was an investment that continues to pay itself forward.
Vintage Area Rug in the Living Room
Area rugs can transform any space. Taking time to source a one of a kind rug not only gives your space it's on unique vibe, it typically has a story to come along with it too. Most vintage rugs are more than 100 years old, and can withstand elements that other fibers cannot. A great way to pull your hard surfaces and furnishings together with a multi color palate too!
Full Room of Wallpaper (not just an accent wall)
We love a small space with big impact. Check out our Tiny Powder Rooms with Big Impact blog here to see more inspiration. Consider wallpaper on all 4 walls in a smaller space. Yes, this can be an investment, especially if you have a premium wallpaper selected, but so worth it in the end. This bathroom in the Kath home is one of the most talked about spaces of their home, including a peek at the newly launched bathroom vanity collection.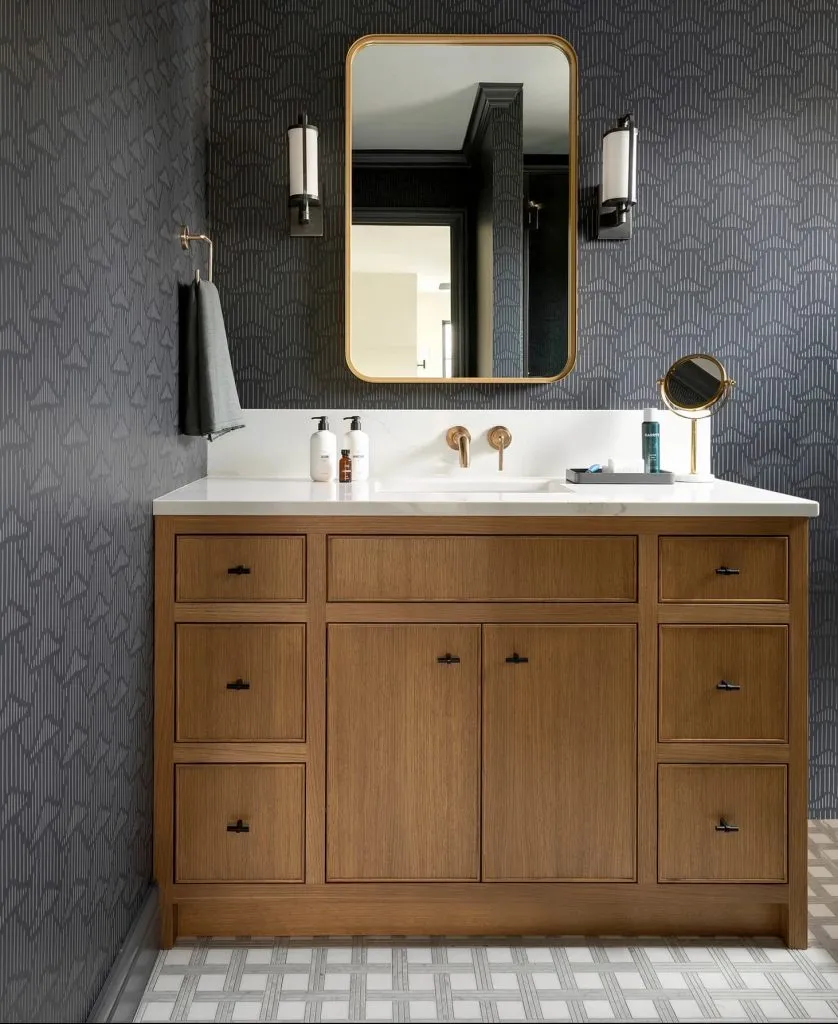 While there are many more ideas we could add to this list, the above options continue to be reoccurring conversations we have with our clients. We suspect they may be crossing your mind too as you're preparing to take on a renovation of your own.
Interested in connecting about your home renovation?
Some recent projects from our team we think you might like:
Kath Home, St. Albans Road, Ridge Road
Keep up with our latest inspiration by following us on Pinterest and Instagram.