So You're Doing a Renovation – Now What?
Well, if 2020 has taught us a few things – being flexible and prepared tend to top the list professionally. The pandemic has created a pinch in lead times, inventory levels can be nothing short of a design hazard, and showroom visits feel reminiscent to Black Friday super sales. This being said, there is still hope for anyone planning a renovation in 2021, yes even if you're starting demolition in January.
Our clients range from very hands on and need a small nudge or selection resources to completely removed and we handle it all. So we've decided to gather a few thoughts below on steps that may help you – regardless of where you fall in this spectrum, when planning your renovation.
Gather Your Design Inspiration
We like to think of this in three steps, review, remind, remove. Review your gathered inspiration, remind yourself why you love what you've saved or made as a final decision and remove what no longer makes sense (style, budget, availability). Staying on top of your design selections and firming these up early are key to a successful renovation, making changes and last minute decisions during construction is stressful to both you and your builder.
Prioritize Design Decisions
I am going to break this down into three items, we are not limited to these areas, but we've identified these as critical early decisions you will need to make.
1. Appliance Selection
We've all heard, lead times on appliances are a horror story. This is true, the good news, we don't need the actual appliances until the very end of the project. Even the quickest kitchen turnaround can be 12 weeks long, so if you order your appliances just before you begin demo, you should be ok. This isn't too far off track from where we used to be, appliances are an early decision anyway as specifications are needed for final cabinet design.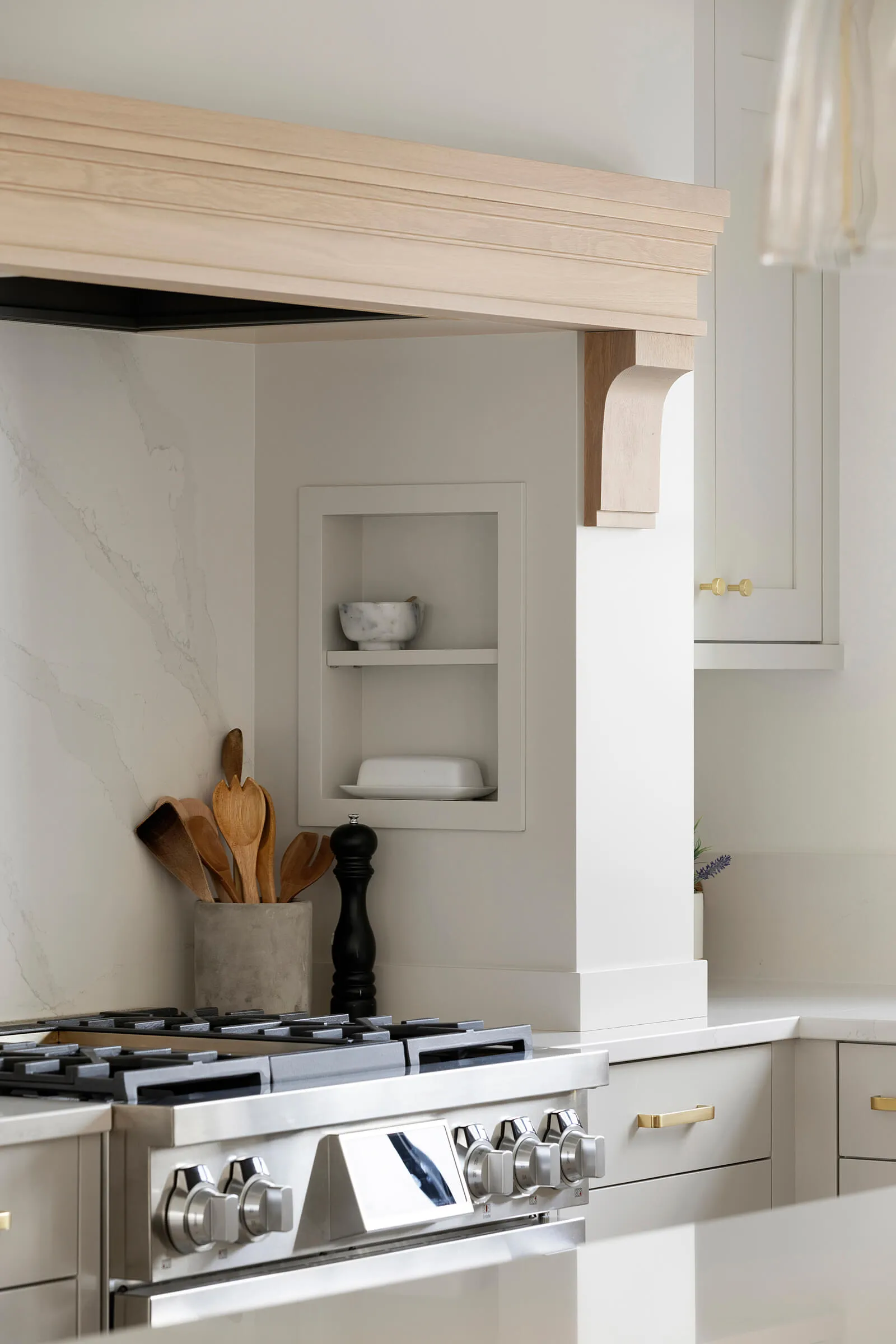 2. Flooring Selection
All builders handle this phase differently, but we prefer to put your flooring in early, after framing and sheetrock are complete. We build and install cabinetry on top of the flooring. Also lead times can be 3-4 weeks right now on the most sought after wide plank white oak options. Visit local showrooms to grab large format samples and bring these home to view at different times of the day with natural and artificial lighting.
3. Plumbing Fixtures
This topic is not new around here, we've posted a blog on how to select your pluming fixtures with our Drew Avenue project. These are important for two reasons. First, your plumber will need these for rough in installation (any plumbing going directly into a wall – shower fixtures, pot fillers, wall mounted faucets) before sheet rock goes up. Second, this helps you determine overall finishes you will be using, matte black, brass, polished nickel, all relevant choices that can help solidify the remaining selections you need to make.
Track Your Spending
Your builder will provide frequent budget updates, but it's always a good idea to track your own. This can help with a last minute decision to splurge on an area you hadn't expected to as one example. Often you're 'shopping' during hours your builder isn't on the clock, no need to wait until Monday as you will have a good idea of where the budget sits. And, we're all human so it's a good idea to double check the pricing your builder sends to you.
Ask Questions
Talk to your designer and builder, often. There is no such thing as a dumb question here. Determine what system works best for you. Do you prefer email communication, weekly in person meetings (or zoom calls nowadays), maybe quick off the cuff text messages work well? Set expectations early with your team, so everyone gets off on the right foot.
Prepare For the Unexpected
Remodeling is messy. Both figuratively and literally speaking. However, we like to balance this with the end result, it is rewarding and worth every hiccup along the way. But you are not the exception, every project has a surprise, or two or three. Prepare yourself, and know there is a solution to everything and remind yourself to be flexible and prepared, just like our opening sentence to this post. These hiccups can be structural surprises, inclement weather, a back ordered item, an out of stock item, damaged goods upon arrival, or wait for it .. as the client you may even change your mind, more than once.
Don't Forget to Have Fun
Renovating your space is supposed to be fun, each phase packed with excitement and the visions of your new space becoming a reality. One you will never live to regret with a sound investment into our home. Get to know the people working in your home, ask the lead carpenter a few questions, bring coffee for the plumber, share a mood board with the electrician. After all, you may need that same electrician again down the road for a much smaller task.
Oh boy, we sure hope this was helpful. Renovations are overwhelming, even for the best of us. We love being a resource for you, tag us in your finished space – we'd love to see how you've made your own improvements!
Katie + Jkath Team
Interested in connecting about our design services?
Some recent projects from our team we think you might like:
Keep up with our latest inspiration by following us on Pinterest and Instagram.