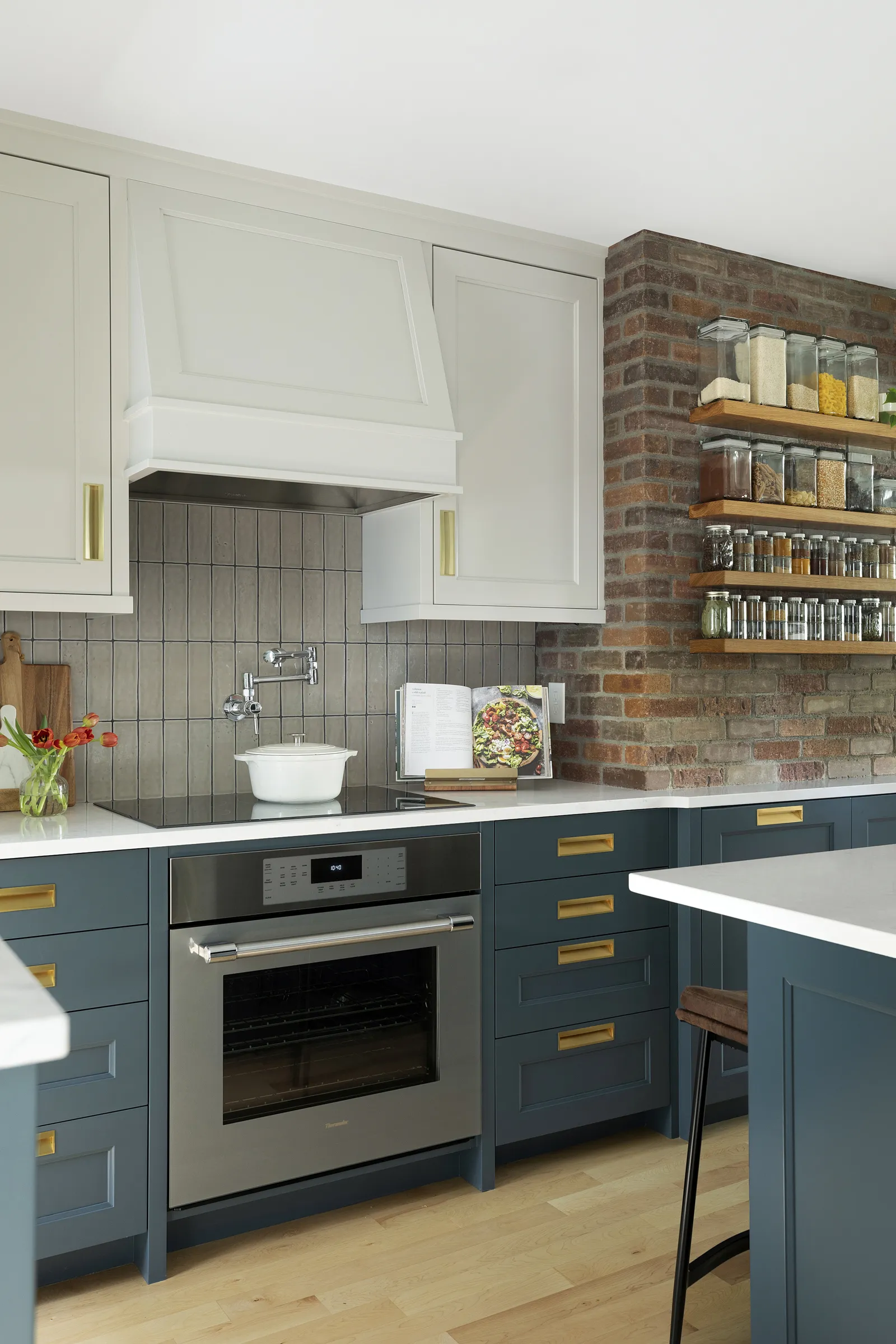 Smart Design in a Charming City Kitchen
"The house is a touchstone to remind me to inspire people to feel the magic… It's meant to be whimsical and fun. None of it is to be taken too seriously – except for love and kindness." -RuPaul, Architectural Digest 2023
The above sentiment, found in a recent issue of Architectural Digest perfectly encapsulates the design and execution of this kitchen renovation in Saint Paul. A charming kitchen in the city, appropriately sized for the Tudor style home, is now renovated to invite family, friends, and book club in.
Before
When we came to this client's home, the home's kitchen was in the expected state we see in older Saint Paul homes. It was closed off from the adjoining dining room, with each span of wall space cluttered with small awkward cabinets and countertops, attempting to maximize every inch for storage. However, it wasn't smartly planned.
The Jkath Design team came in to reinvent the floor plan. Reinstating the connection to the dining room makes the space feel larger and invites people to gather in. The cooking surfaces and refrigerator were relocated to more appropriate spaces. Then layering in smart storage solutions, pops of character and fun, and a brilliant building team, the kitchen has been reimagined.
After
In the new layout, an expanded opening to the dining room allowed for more walking space to create an island with seating. HanStone Montauk, one of our favorite quartz colors, is perfect for meal prep and the marathon of holiday baking.
The prior nook with shelving now homes a paneled 30-inch refrigerator/freezer, taking it out of one of the main walkways it was before. Next to the refrigerator is a dry food pantry with a pocket door appliance garage. Opposite that, a custom radiator cover is the new coffee bar.
The sink wall feels lighter and brighter with glass upper cabinets, vertically stacked tile to the ceiling, and a paneled dishwasher. Again, a smooth quartz countertop will make cleaning a breeze.
The cooking surfaces made a big leap to a perimeter wall, as it was previously on the shared dining room wall. Optimized storage and dual backsplash make this zone pop. We'll get into the great storage in a moment.
Smart Storage & Selections
We designed for maximizing storage in this kitchen with very thoughtful selections, layout, and execution. First, recessed cabinet hardware keeps the narrow walkways clear from hip-checking pulls and knobs.
Custom tip-out cabinets house baking sheets and cutting boards in front of the brick wall. Often an awkward everyday essential to store, the tip-outs made use of a narrow space on the backside of the living room chimney. Above, shallow floating wood shelves display a gallery of spices and everyday staples. This small section of the kitchen makes the most out of a narrow space and vertical storage.
An induction cooktop with a wall oven underneath saves space in this small kitchen. This combination saves valuable space in comparison to a traditional range that would extend past the base cabinets a couple of inches. Only the handle of the oven protrudes into the walkway. A wall-mounted pot filler makes cooking seamless.
In the wallpapered nook a 30-inch paneled refrigerator keeps the door swing out of the main walkways. The built-in model takes advantage of vertical space. Built-in appliances are a luxury making the most of every inch in small kitchens. The smaller-than-traditional refrigerator promotes wellness design to keep produce fresh and reduce food waste. This size is perfect for smaller city kitchens.
Thoughtful Details
The homeowner really wanted an orange range. However, prioritizing an induction cooktop won over. So we found other ways to incorporate her favorite color. In the storage nook, the classic Daydream wallpaper by Hygge & West added a soft touch. In the glass upper cabinets, we painted the interiors a complimentary orange. A subtle yet impactful detail to make everyone smile.
The Jkath custom cabinet shop fabricated floating wood shelves, but sourced from the homeowner's family's property. This created a special tie to family traditions, as well as added another material of warmth.
The custom radiator cover with marble top now acts as the new coffee bar.
Reinvent is in our name, and that is what we accomplished at the Palace Avenue kitchen renovation. A once crammed and closed-off kitchen with inefficient storage was reinvented into a welcoming gathering place. Creative custom cabinetry and whimsical design brought this kitchen to life.
Sharing a few recent St. Paul, Minnesota projects we think you might like:
Riverwood Place, Fairmount Avenue, Princeton Avenue
Interested in connecting about your home renovation?
Keep up with our latest inspiration by following us on Pinterest and Instagram.