Six Ways To Enjoy a Minimal Home
The New Year always triggers a clean start. Holiday decor is down, sorting though accessories that once held it's place on a shelf or table top may no longer be wanted. So now what? Embrace a minimal home, or take a few of our pointers we've rounded up in this post to help you enjoy minimalist decor.
1. Clutter Free
You've heard us mention this one before, declutter several times throughout the year. It's a great way to lighten the load, and a good reminder to hit 'pause' on unnecessary purchases. We love the simplicity of this bedroom in our Drew Avenue project, clean lines and clutter free.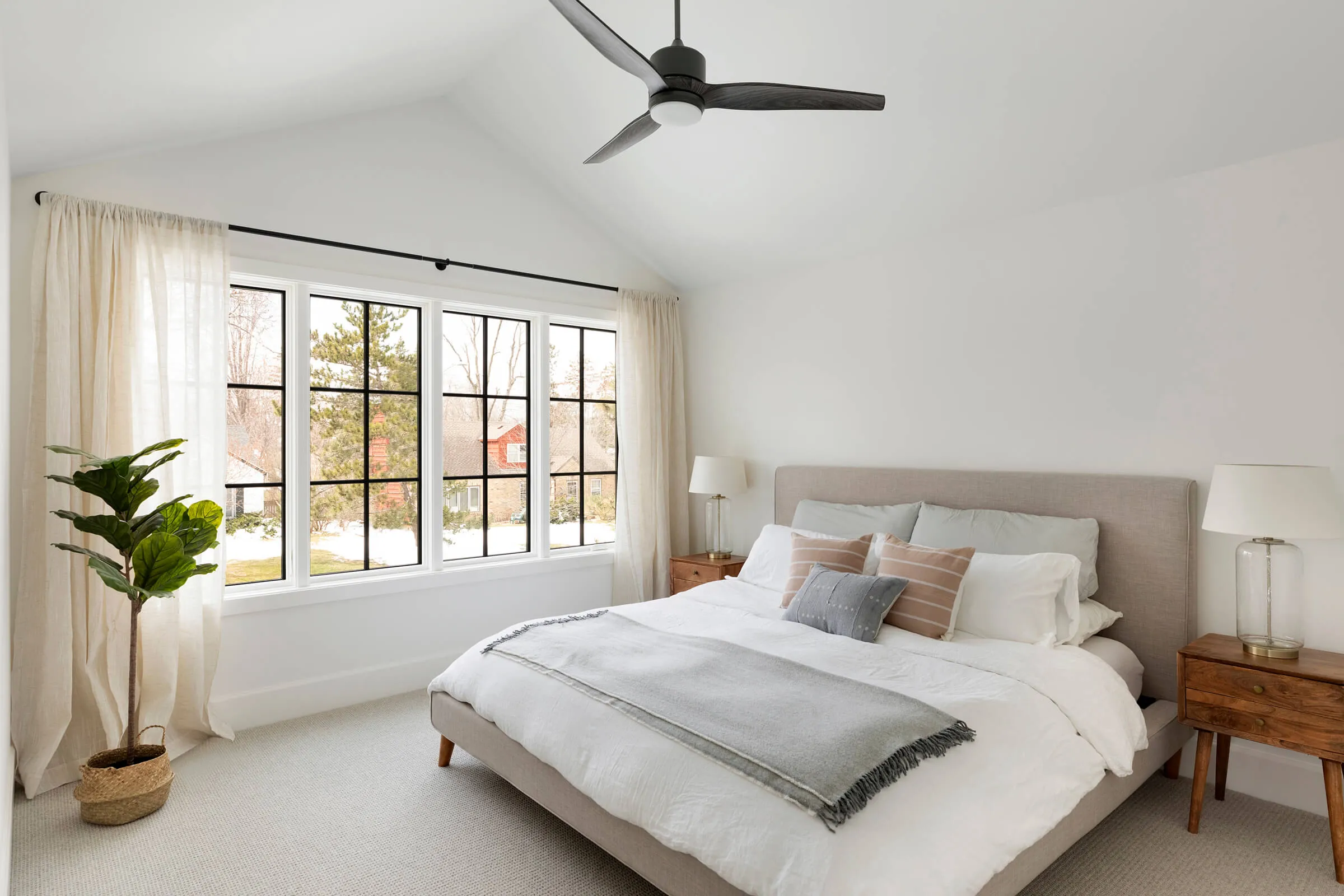 2. Neutral Paint Colors
Let your accessories do the talking, a little less permanent decor while giving your eyes a break. Focus on the large spaces such as the wall color, and keep it neutral. We love an off white wall contrasting with an even brighter white baseboard and trim. Farrow and Ball Schoolhouse White walls and Benjamin Moore Simply White trim shown here.
3. Open Shelving
Be strategic about your self decor. We love layered treasures with the opportunity to display a few of your favorite items. But don't overthink it. Consider height, texture and balance. Our Josephine Place addition shares simplicity and character, one of our all time favorite projects.
4. Bring the Outdoors In
Sometimes easier said than done with fresh house plants, but a few easy tips: go for smaller scale and easy to care for and clean plants. Oversized plants that weigh more than you are for the plant enthusiast, if you're just getting started think small. Note: we don't judge if you prefer faux plants.
5. Clean Lines
As shown in our Frontenac Place whole house renovation, we love the clean lines and slab front custom cabinetry. The beauty still lies in the craftsmanship (although hard to capture in an image) with minimal cabinet hardware decor.
6. Play With Texture
Still looking for that pop of color? Minimalist doesn't mean colorless, play with added texture in a fun wall covering. The idea here is to limit your textures. If you decide to add in a paneled wall, or artwork to your space – go for it, just know you're no longer paying a nod to minimalism.
We hope you've enjoyed a few of our tips to enjoy a minimalist home. If nothing else, let this be permission to not overthink your space. Thoughtfully curated design comes in many forms. Stay true to what design appeals to you, and don't forget to have fun!
Jkath Team
Interested in connecting about your home renovation?
Some recent projects from our team we think you might like:
Drew Avenue, Westbrook Road, Goodrich Modern Tudor
Keep up with our latest inspiration by following us on Pinterest and Instagram.