Oregon Coast – 3 Days in Cannon Beach
Our family's favorite travel destination is the West Coast. More specifically the Pacific Northwest, where we always settle in at Cannon Beach, Oregon. After a decade of repeat trips, and everyone itching to plan their next travel destination – I decided to put together a three-day guide to Cannon Beach. Maybe someday our kids will enjoy this moment in history to look back on, but hope you will find some useful tips for your next visit to the Oregon Coast.
Look for my *Insider Tips below, sharing a few things we've learned over the years of visiting this destination.
Day One On The Oregon Coast
Stop in Portland
We always fly direct from MSP to PDX and rent a car to head right to the beach. In years past we've made a tradition of stopping at Deschutes Tap Room in Portland for a local draft and lunch or dinner. A quick walk from here you will find Powell's Books and can quickly get lost in the collection they have. Established in 1971, Portland's largest independent bookstore, and perfect for stocking up on books to take to the beach.
Other fun Portland stops are Vodoo Doughnut, Tasty N Alder, and a 30-minute drive North to Multnomah Falls on the Columbia River Gorge is breathtaking.
From here, we head out … the sightseeing begins as soon as you hop on Hwy 26 to the coast, just a few miles outside the city. The mountain pass you will drive through is scenic and packed with a variety of trees, specifically their state tree, the Douglas fir. You've never seen trees so large.
Fresh Spring
Approximately 45 miles west on Hwy 26 from Portland, keep your eye out for fresh drinking water. Often there is no one else there, you can pull over and fill all your water bottles with the freshest, cold water to keep you hydrated for the remainder of your drive.
Cannon Beach
Pending the traffic, you will reach Cannon Beach approximately 90 minutes from the city. Pending traffic, we have completed this drive in less time and have been on the road for as long as two hours. For this reason alone, it's a good idea to take a morning or afternoon flight out from your original destination. Keep in mind if coming from the midwest or east coast, there is a time difference, so you will gain time when you arrive.
Lodging
The town is primarily tourism but in the best way possible. Beautiful beach homes with cedar siding, contrasting white painted trim, and almost every property are situated with a view of the ocean. You can't go wrong with where to stay. If you're headed in for a few short days, grab a hotel on the beach, and get the most out of your stay. If you're like us and can swing a full week – we prefer a larger condo or house where we can do light grocery shopping and prepare most of our meals together. Don't waste too much time on lodging, you won't spend much time inside. More lodging details here.
Settle In
The rest of the day is about getting settled, getting to know your surroundings, and possibly grabbing dinner at a favorite local eatery, Bill's Tavern, Warren's Pub, or Pizza a'fetta.
Haystack Rock
Take a stroll on the beach and visit Haystack rock, the main attraction of Cannon Beach. It's rumored the movie The Goonie's was filmed here, in actuality, it's Pacific City, further down the Oregon Coast in the opening scene of the movie. Much of the film also took place in Astoria, approximately 15 miles north of Cannon Beach – a lovely fishing community where the Colombia River meets the Pacific Ocean. If you're in the Astoria area on a Sunday, Astoria has a several-block farmer's market worth seeing. Also, while there take a stroll on the waterfront and stop at Bouy Brewery for a local beer (the cream ale is my favorite!)
Once in Cannon Beach, you can easily find a local tide schedule. Pay attention to low tide, this is the best time to visit Haystack rock when tide pools are visible as well as many intertidal animals, including sea stars, anemones, crabs, and more.
Beach Bonfire
Get comfortable, because the beach is exactly where you want to be when the sun sets. Grab a few beach chairs (many hotels offer complimentary chairs), or find driftwood on the beach to sit on. Always a good idea to grab your favorite bottle of wine, and settle in to watch the most scenic sunset. You can even have a beach bonfire, again most convenience stores and hotels sell ready-to-go kits for a quick fire*. This is one of our favorite memories of the beach, just us, the fire, and the ocean.
*Insider Tip: pay attention to wind speeds, if you are there for more than one night, you may choose to have a fire when the speeds are below 10mph.
Day Two On The Oregon Coast
Walk on the Beach
The earlier part of the day is actually my personal favorite. Often there is the morning haze but the wind speeds are low. And a long walk on the beach or a run is always a must in the morning. It's a quieter part of the day, and the best way to start your day. If you're walking be sure to stop at Sea Level Bakery for a cup of coffee and a freshly baked pastry on the way out to the water.
Ecola State Park
It's the closest state park in the area, another beautiful drive through the forest. Once you enter there are a variety of picnic tables overlooking the Oregon Coast, and breathtaking views of Cannon Beach*. There are a few hiking paths, one is approximately 2 miles long to the adjacent beach, Indian Beach. Many surfers on this beach, fun day viewing while eating lunch or rehydrating before turning back.
*Insider Tip: Make this drive just for fun one evening during sunset, you'll have a birds-eye view of the beach bonfires lining the coast, something only the naked eye can capture.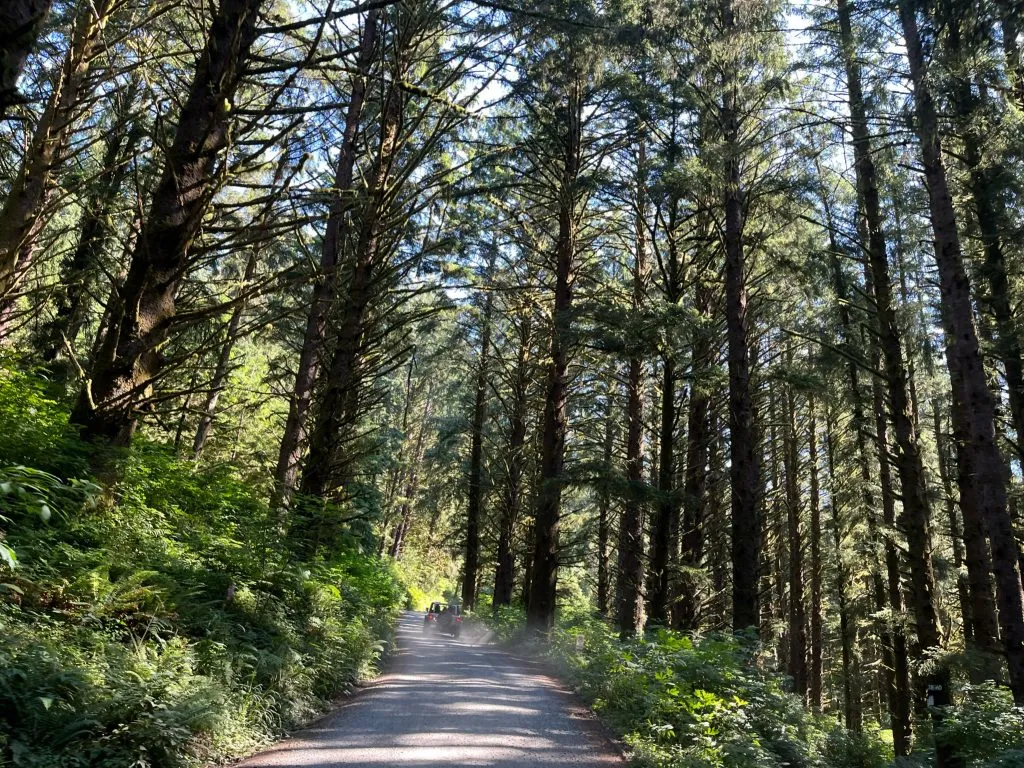 Downtown Cannon Beach
Spend the afternoon visiting the local shops in downtown Cannon Beach. With over 50 shops and boutiques (bookstores, concessions, galleries, apparel, and more), you can spend an entire afternoon here. It's always a family favorite to pick up some new Cannon Beach swag, and the Pac NW stickers are always a huge hit for water bottles, book covers, and laptops.
More Eating and Libations
Head into The Bistro for a local culinary experience, also one of the only places in town that offer live music. Currently, with COVID19, they are only offering take-out – but this blog post will live on well beyond the pandemic, so check back! The Public Coast Brewing is open with ample outdoor picnic table-style seating, a great spot to stop in and try locally brewed beer.
Sunset on the Beach
Better to end the day on the beach for the second night in a row, than inside watching TV. Get out there, you'll miss it when you're gone. Grab a blanket, and another local bottle of wine (you're next to one of the best wine regions in the country, see below for more details) and settle in to watch the sunset.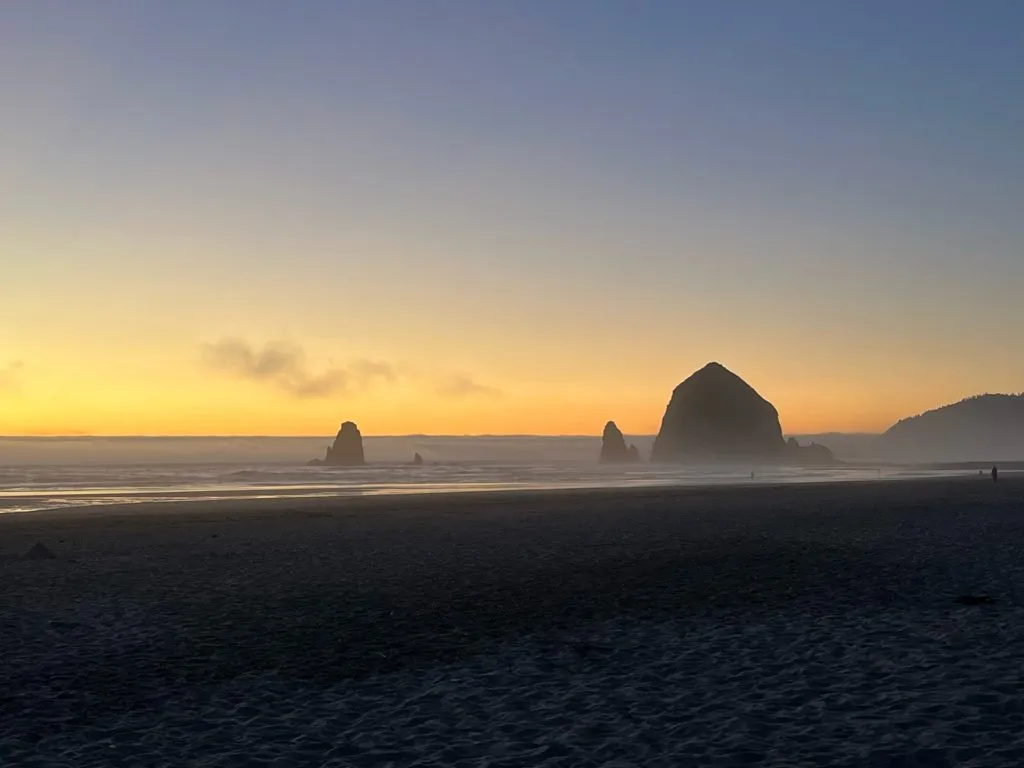 Day Thee On The Oregon Coast
Morning Coffee + Pastries
Sleepy Monk Coffee is in the middle of town, a quaint, but well-known local roaster. Often serving up the local hotels with their special brew. Get there early, or be prepared to wait in line. Take your coffee out for a stroll on the beach.
Oswald State Park
Oswald West State Park is just a few miles south of Cannon Beach, a larger hiking area with 4 miles stretching the Oregon Coast. Miles of hiking trails with breathtaking views of the coast along the way. Pack a lunch and go ahead and picnic on their private beach as well.
Art Gallery Tour
With over 10 art galleries in Cannon Beach, you can do your own guided tour, with a list here. We happen to be personal fans of Jeffrey Hull Gallery, original watercolors, and paintings. We have this watercolor in our kitchen but will be relocating it over the bed in the new home we're building.
Cannon Beach Hardware Store
Guys, it's not just a hardware store, it's a public house too. Each year the Cannon Beach Hardware Store seems to expand its offerings, I guess the word is out. Currently offering beer and food, and we're talking a full menu, not just appetizers.
Extended Stay on the West Coast
If you're lucky to spend more than a few days in Cannon Beach, here are a few other day trips worth considering, all of which we have done many times and almost always include 1-2 of these into our weekly stay.
Willamette Valley
I am biased, I realize this. But after owning a wine bar for almost a decade and visiting this corner of the world for just as long, the Willamette Valley wine region* is out of this world. It's worth a day trip, visit 3-4, or more local wineries, take in the views of wine country and pack a case to take home with you. Be careful, it's easy to join the wine clubs when out there, but hey 1-2 are ok, right? 🙂 Adelsheim Winery is what we're currently sipping on back home.
While in wine country, grab lunch at Red Hills Market, always a win with fresh, local fare.
*Insider Tip: If you're wondering how to pronounce Willamette, it's Willamette Dammit!
Pacific City
Approximately 90 minutes south of Cannon Beach, it's worth the drive alone, with several lookout points to pull over and enjoy the coast. Home to the original Pelican Brewery as well. One of our favorite reasons to head this way is for Cape Lookout State Park, actually in Netarts Bay. Really fun hiking spot, also boasting yurts, cabins, and tent camping.
The seafood restaurant we visit in Netarts Bay is the Schooner Restaurant & Lounge. Supporting local farmers, fishermen, and foragers – is a must-stop.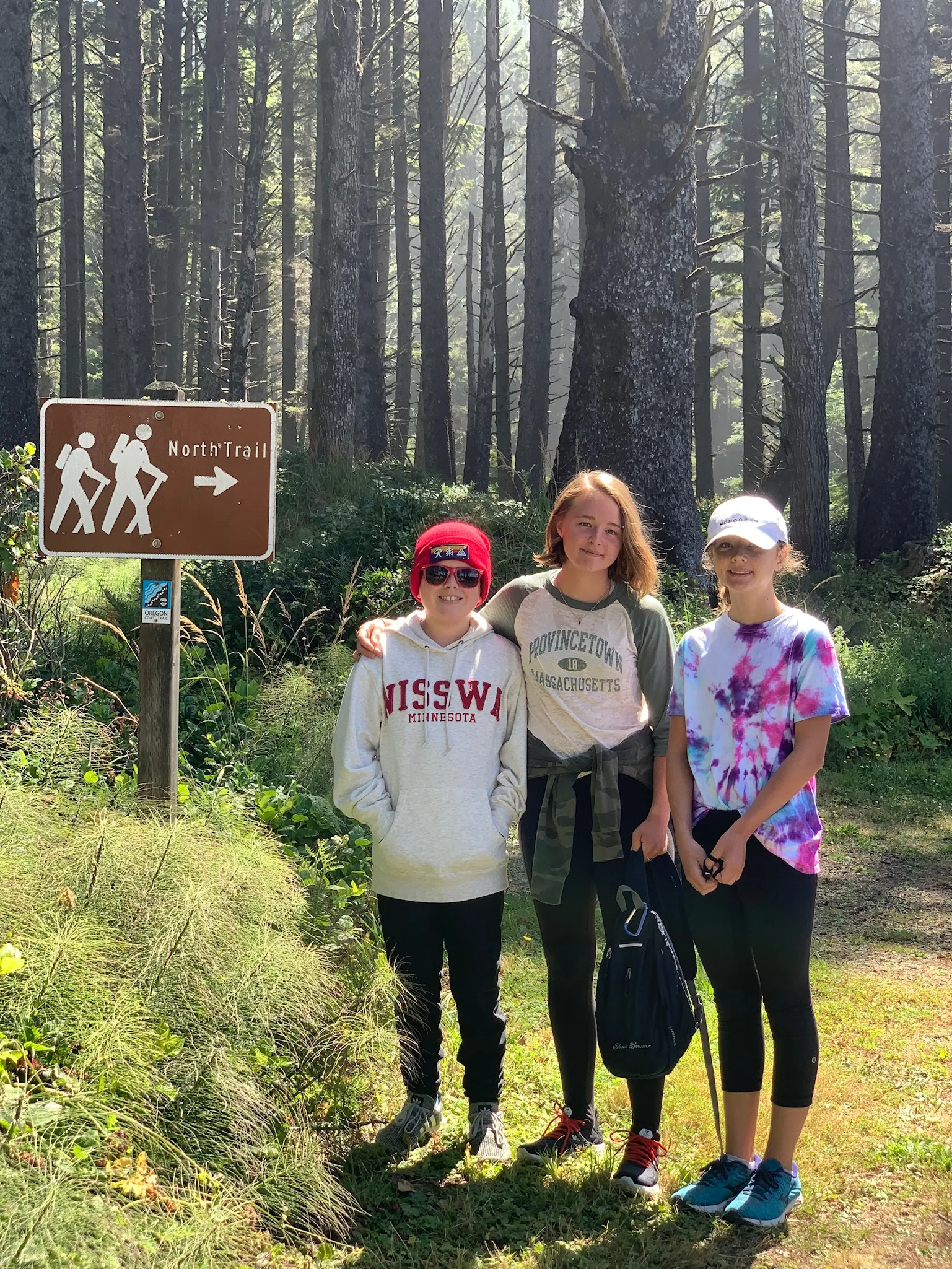 City of Astoria
With historic victorian homes, settled on the hillside overlooking the ocean, Astoria is a must-see. With a fishing village, historic museums, and walkable eateries and pubs, there is an entire afternoon to be spent here. If you have kids, the Goonies Tour* is a fun activity as well.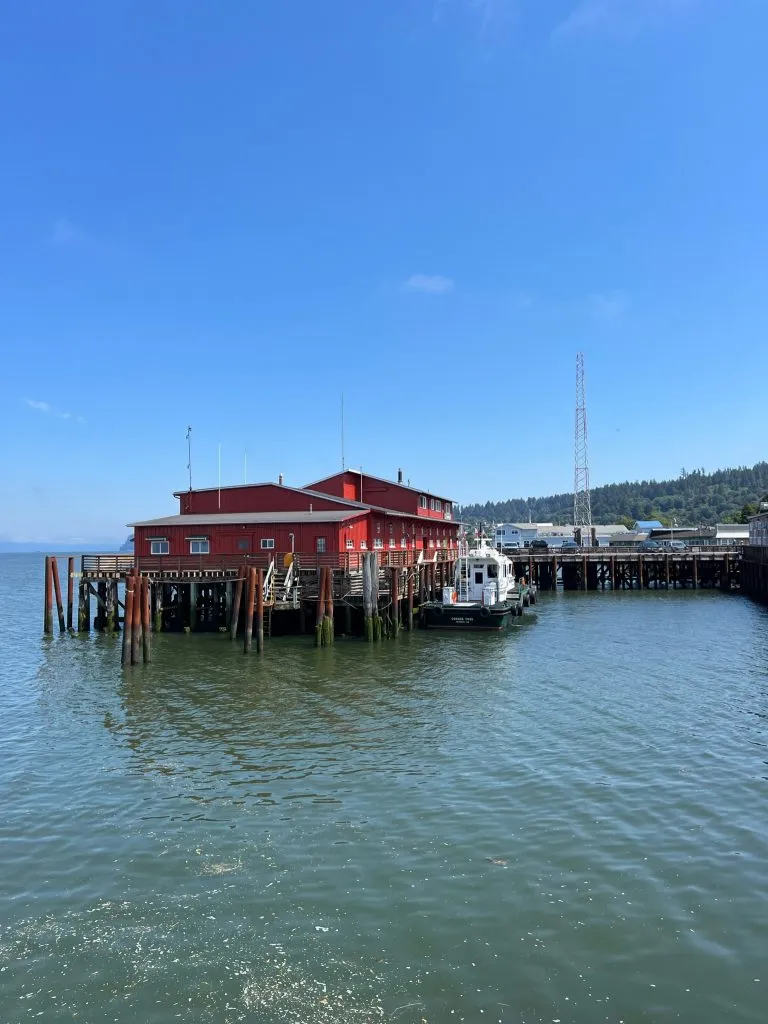 Also, when in Astoria grab lunch at Bowpicker Fish and Chips, albacore tuna fish, and chips. A converted gillnet boat, the line can be long and isn't particularly fast, but if you have nowhere else to be .. it's worth the wait.
*Insider Tip: The Walsh family home is currently occupied by a family that isn't so keen on visitors outside. You could once walk up the gravel drive and take pictures, now you have a limited view the bottom of the hill with little visibility. However, there is a Super One Foods grocery store at the bottom of the hill, near the main street (you passed it before you headed up to the house). From this parking lot, you can see the Walsh Family home and Data's nearby blue home too. Seasonally, if trees are overgrown the visibility can be difficult as well.
I hope to pass along some of my favorite vacation memories, if you have a chance to travel out west, leave your comments below!
Katie + Jkath Team
Keep up with our latest inspiration by following us on Pinterest and Instagram.