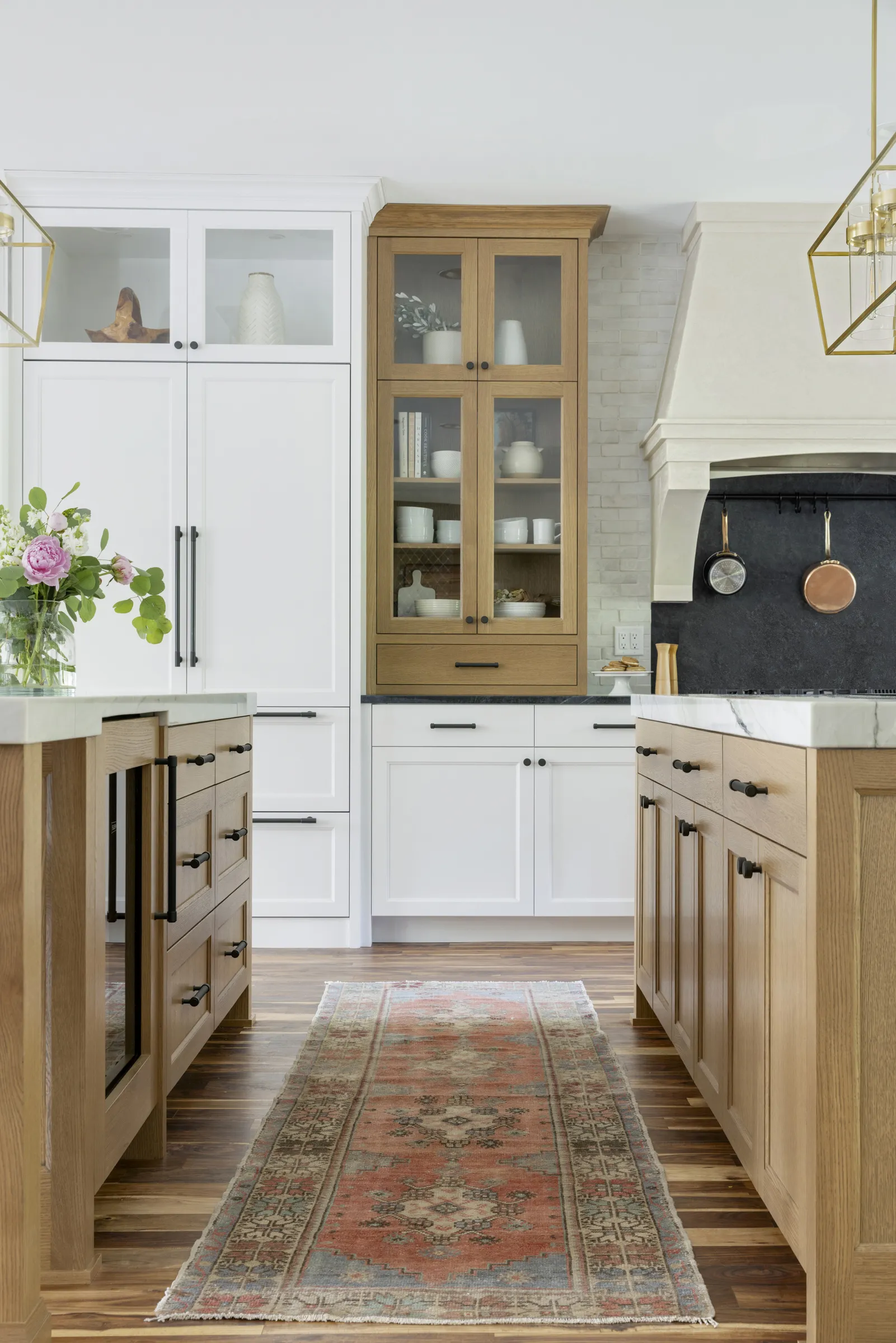 Natural Beauty Kitchen Design
Overlooking a cozy lake in a home optimized for family, the Jkath Design Build + Reinvent team transformed a family's most used space into a highly tailored, functional gathering space brimming with natural beauty kitchen design. Zones for communal prepping, cooking, and entertaining were established alongside carefully selected finishes.
The High Road renovation ultimately reinvented the kitchen. Even with a similar perimeter layout, this active kitchen feels fresh and inspiring. The open concept main level now features a kitchen that attracts everyone to join in on the fun across the kitchen and adjoining dining, living, and piano rooms.
Before
The formally custom kitchen in place was large in size, but felt like a cave in the already open concept main floor. A walk-in pantry by the side entrance of the home cut off the flow between prepping, cooking and gathering areas. The pantry also blocked natural light from traveling through the space.
A large, angled island pulled guests away from the action, eliminating the intimate feel. A secondary cooktop in a smaller island floated in between multiple sections of cabinetry, but ultimately felt more in the way than practical. The outdated hutch was also a high priority to reimagine.
It all had to go to optimize the lifestyle this kitchen and home were meant for.
After
The new natural beauty kitchen design feels cohesive and altogether connected as it serves multiple purposes. A neutral color palette partnered with the natural beauty of materials and custom cabinetry is the star. Considered applications of white, black and warm wood ties each zone together.
Now, an improved and carefully designed layout provides several zones for each function of the kitchen. Highlights include removing the walk-in pantry and repurposing an existing reach-in coat closet, double islands to serve specific purposes, and custom cabinetry details partnered with natural materials.
Chef Kitchen Approved Layout
Functional space planning was key to this layout, as with any kitchen design. In the design process our team deeply considers how homeowners and guests will move throughout their kitchen. How homeowners will unload groceries, prep food, cook, and clean up is thought out.
After removing the walk-in pantry the kitchen literally opened up, allowing space for double islands. The precious wall ovens crowded the 48″ professional range. Now the wall ovens live at the end of sink wall. While the refrigerator, range, main sink, and dishwasher stayed in the same locations, there is much more room to prep and cook.
A new pantry was created behind rift white oak doors with reeded glass in a previous reach-in coat closet. A drop zone cabinet with pocket doors next to the pantry is the perfect spot for mail, homework, and other miscellaneous items to call home.
Double islands and a custom heirloom dining hutch define the space and each use.
Are Two Islands Better than One?
Yes, two islands are better than one at the High Road project. Each island serves a different purpose to keep everyone involved. The middle island is the "working island." A secondary small induction cooktop is an additional cooking surface, perfect for specialty sauces that require precise temperatures. This island also houses a prep sink, single dishwasher drawer, compost, and garbage/recycling roll out. On the back side is an abundance of accessible storage.
The "entertaining island" has a beverage refrigerator, storage, and seating for four.
Extra thick natural quartzite countertops pairs perfectly with stained rift white oak custom cabinetry. Soft green veining is a beautiful reminder of quartzite's natural properties. It is a design feature that will transcend trends for years to come.
Linear brass and clear glass chandeliers keep sight lines unobstructed and illuminates the perfect glow.
Natural Beauty Kitchen Design
Three different types of natural stone were used throughout this kitchen design. Contrasting natural soapstone spans across the perimeter and up the backsplash behind the range. A handmade weathered zellige tile covers the rest of the walls on, adding texture and dimension with imperfect beauty.
Quartzite on the islands was mitered to be 2 1/2″ thick, allowing us to see more of the beautiful green and grey veining. In the design process we visit showrooms to view individual slabs and make the most impactful selections. Each island is a different slab with its own beauty and organic movement.
On the custom dining hutch, honed black granite blends in with the black stained white oak cabinetry. Unlacquered brass cabinet hardware and decorative grilles shine in its living finish.
Additionally, warm stained rift white oak grounds the double islands and is tied back into the range wall with a countertop hutch. Next to the plaster range good and against the zellige tile, the countertop hutch serves as both beauty and function.
This natural beauty kitchen was a dream to see completed. The Jkath design, build and custom cabinet teams worked cohesively together to improve the layout, functionality and beauty of this space. Natural materials and neutral color palette will enrich this home for generations to come.
Thanks for following along! Follow this project on Instagram on the #jkhighroad.
The Jkath Team
Sharing a few recent St. Paul, Minnesota projects we think you might like:
Miriam Park, Fairmount Avenue, PrincetonAvenue
Interested in connecting about your home renovation?
Keep up with our latest inspiration by following us on Pinterest and Instagram.