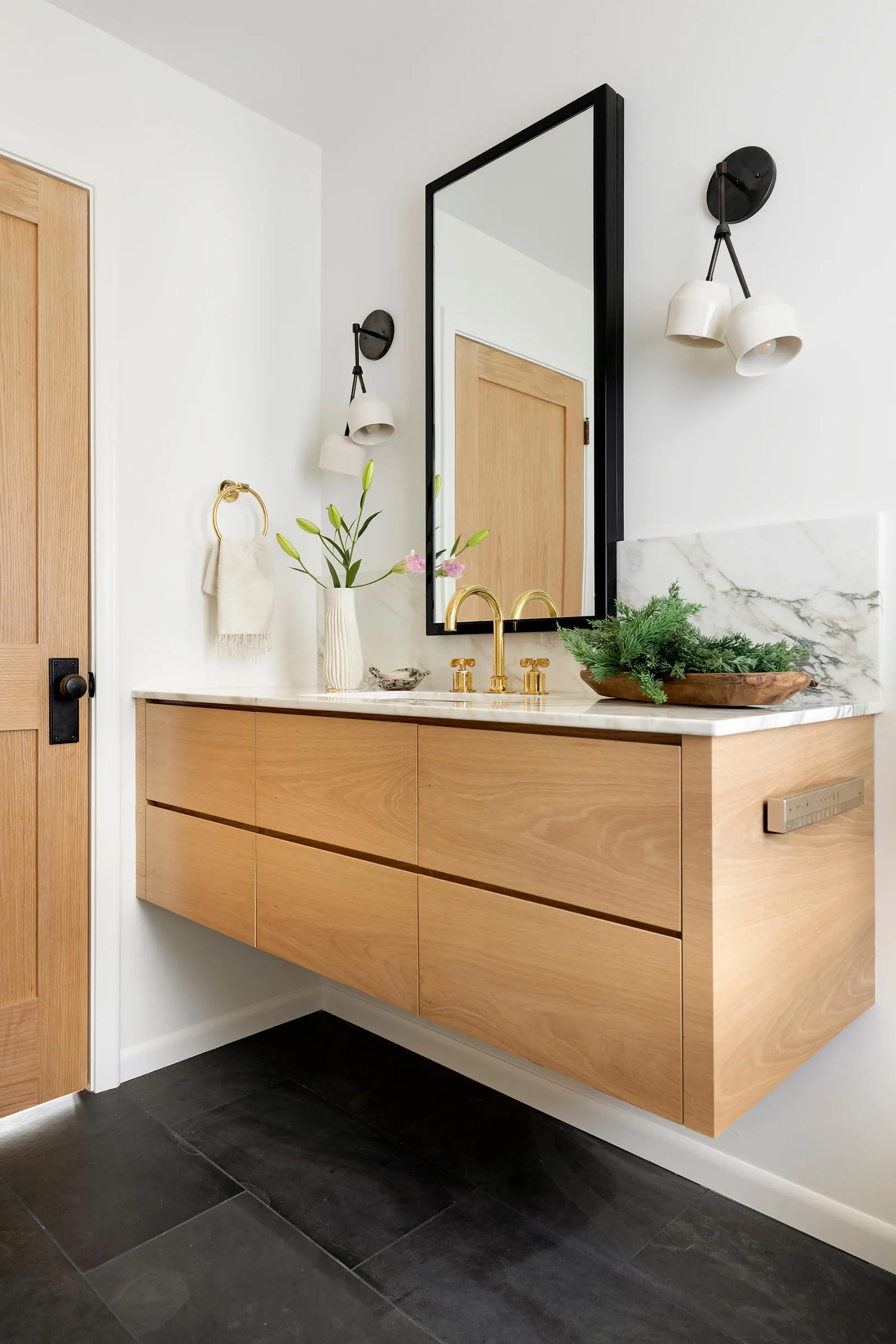 Modern Bathroom Vanity Design Styles You'll Love
Bathroom renovations take almost as much planning and material selections as a kitchen. Selecting everything from tile, plumbing and light fixtures, shower glass vs. curtain, accessories, and, of course, vanities. Our team custom designs and builds vanities making every detail unique to your home. Today, in no particular order, we're sharing our favorite modern vanity designs styles we think you'll love and should consider for your bathroom renovation.
Reeded
The reeded vanity in the owner's suite was one of the most talked about elements from this Spring's Parade of Homes tour. Each front was carefully made to ensure the reeded lines lined up from drawer to drawer. The Jkath cabinet shop team really outdid themselves with this piece, sometimes making a drawer front 2 or 3 times to get it perfect.
Reclaimed Wood
You know how much we love using reclaimed wood! On everything from vanities to ceiling beams, floating shelves to full-on cabinetry, using reclaimed wood adds textured and beautiful imperfections you can't quite replicate using new wood. How can you beat 100+ year old wood from a historic shelter? Thanks, Manomin Resawn Timbers!
Painted Vanity
Paint color is one of the many custom considerations for your vanity design. Choose a color that complements the space like in the Drew Avenue owner's bathroom or can be a colorful contrast.
Wood Vanity
We install wood vanities in most of our bathroom renovations. Wood vanities are more durable compared to painted, making it perfect for high traffic and kids' bathrooms. Warm wood tones add warmth and nicely contrast cool tile selections.
Floating Vanity
A floating vanity design to swoon over. The clean lines and modern design nod to elevated modern design style with integrated pulls. Consider your existing storage, as you will lose about 12 or more inches of storage space to achieve the floating feature.
Kerf Cut Detail
The kerf cut detail adds texture and directional rhythm to a vanity design. Consider this modern design style if your vanity is maximizing its storage space by being in a rectangular or square shape. The kerf cut is high end design with optimal functionality.
Wall Mounted Faucet
There is something so cool about a wall mount faucet, it's a surprise modern design element. Read how to select plumbing fixtures throughout your home.
Inset
Inset cabinetry is one of the most beautiful custom cabinet details, rooted in traditional design. An inset vanity cabinet is high in design style impact. You may loose about an inch of storage per drawer, but look at it – it's worth it!
Maximum Storage
Look at all this storage! The Country Club owner's suite bathroom in a rich black paint beautifully contrasts the light marble tile throughout the bathroom. This vanity maximizes the storage space down to 1/8 of an inch.
Console Sink
This custom marble console sink vanity with black legs is a stunner vanity design style. Of course a console sink doesn't provide much storage, making it perfect for powder bathrooms.
Split Double Vanity
Dreamy, right? When space allows split up your double vanity to two separate parts of the room. This a great use of space in large bathrooms, can solve some space planning complications, and as well as give you your own separate space.
We hope these vanity design styles inspire your bathroom renovation,
Katie Wick + Jkath Team
Interested in connecting about your home renovation?
Some recent projects from our team we think you might like:
Whitegate Lane Owner's Bathroom
Drew Avenue Whole House Renovation
Westbrook Road Owner's Bathroom
Keep up with our latest inspiration by following us on Pinterest and Instagram.