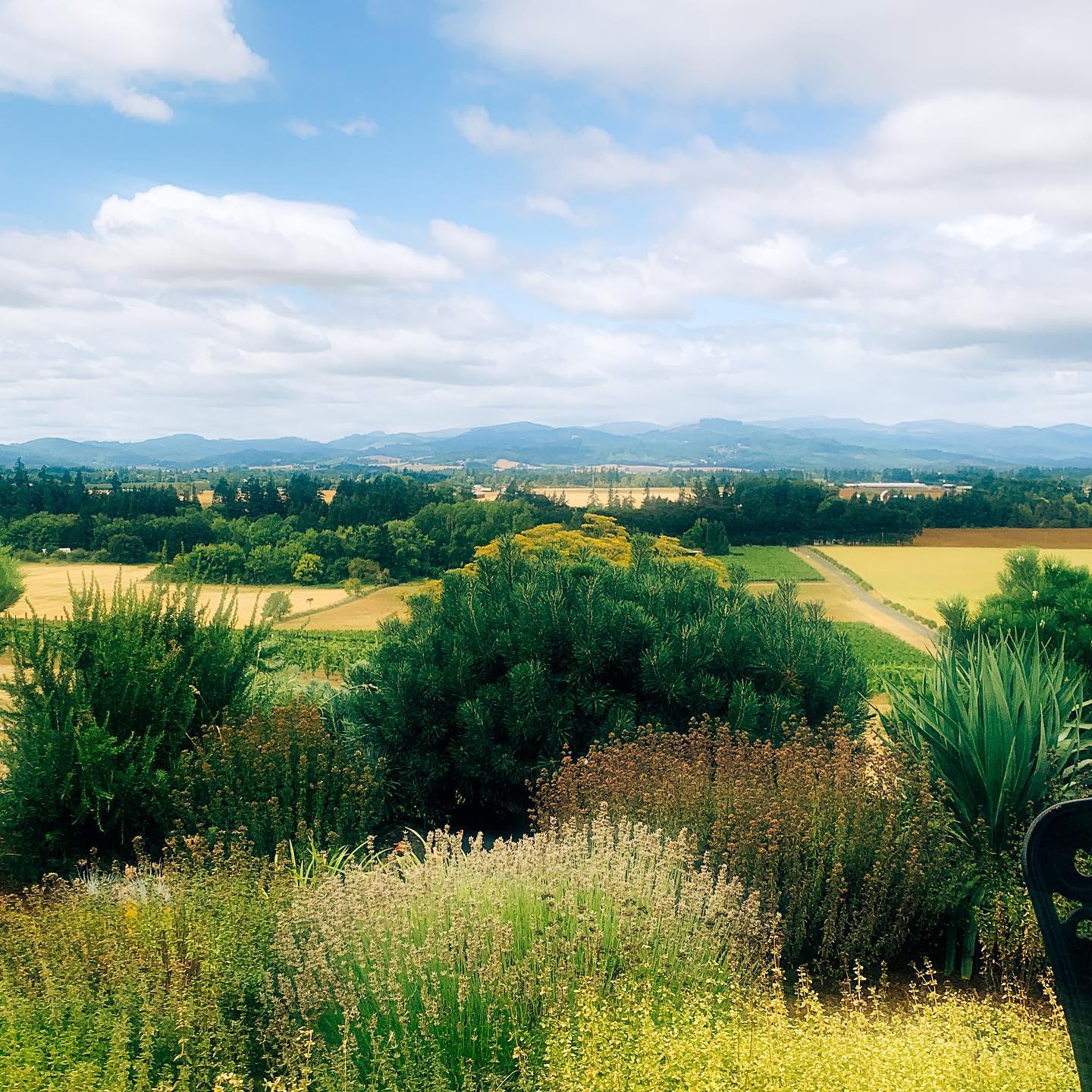 Sunday Saves: It's Willamette, Dammit!
We're here enjoying the beauty of the Pacific Northwest, along with a trip inland to the valley – seeking some of our most favorite wineries. This is Pinot Noir country, a perfect recipe with rolling hillsides, cool ocean breezes, and the appropriate amounts of rain and sunshine. We slow played it this year, and only visited two wineries with an extended stay on the property at each. If it's two or five wineries, we're sharing a quick and easy guide to navigate the Willamette Wine Region.
Make a Reservation
A positive change since COVID, all wineries require reservations. They're relatively easy to come by, but may require a few days notice of pre planning. We were able to get reservations on the way to wine country, but noticed a few of our favorite wineries were booked out a few days. Reservations were a pleasant change, we felt welcome with the staff ready and waiting, a reserved place to be seated outdoors with a planned time frame. It'll help map out your day.
A one stop shop to help plan your Willamette Valley visit here. For reference, we only come for one afternoon at a time. We drive in from the beach, approximately 90 minutes, stay for the afternoon and either head back to the beach for dinner or stop along the way. One could easily make a 2-3 day stay in the valley as well.
Adelsheim Winery Calkins Lane Grapes
Get to Know the Area
The Willamette Valley is comprised of 7 major growing regions that are accessible by car within a days trip. (not all regions in one day, but you'll have time to move through a few).
Our favorites have been the Yamhill – Carlton region, in the foothills of the Chehalem Mountains. Head to the Anne Amie Winery while here. Close by is the Newberg region with favorites in this area Adelsheim Vineyard (we're long time club members here), and Rex Hill. While we love the single estate wines throughout, Rex Hill is a great example of a well know brand they own called A to Z, which produces wines from their region. Notably tasty, a blend of grapes, but provides the resources to keep single estate wines made by Rex Hill in business.
When in Newberg, our favorite lunch spot is the Red Hills Market. The secret is out, it's BUSY, so give yourself at least an hour to order and get settled. It'll be worth the wait.
If you're headed to McMinnville, you'll have to stop at Yamhill Vineyards and don't forget to hit the town for light shopping and lunch. Jesse and I enjoyed a bottle of 2016 Yamhill Pinot Noir last night – sublime!
Professional pinot drinkers may be wondering why I have not mentioned some of the well known wineries in these regions, Archery Summit and Domaine Serene to list a few. If this is your jam – by all means. I haven't found their wines to be worth the investment if you decide to take a bottle home with you ($100+). We do enjoy purchasing a few bottles at each winery along the way – I'll cover that next, but $50 – $65 a bottle or less feels like a sweet spot for us when packing it up to send home.
Anne Amie Estate – Chehalem Mountains
Become a Club Member
As mentioned, we're club members at Adelsheim Winery. We've also been members with Rex Hill in the past. Both great options for estate wines you cannot find back home, and they offer club memberships for as few as three bottles shipped a few times a year. I highly recommend this for a few reasons. If you head back to the area, your tasting room fees are waived ($20-$40 per person is the range we've seen), and you're encouraged to learn more about wine. A small case of wine is a night out on the town for dinner – it won't break the bank, but a fun way to stock your cellar and impress your friends and family. Or how about being able to work a wine list the next time you're out to dinner? This is the easiest way to get started.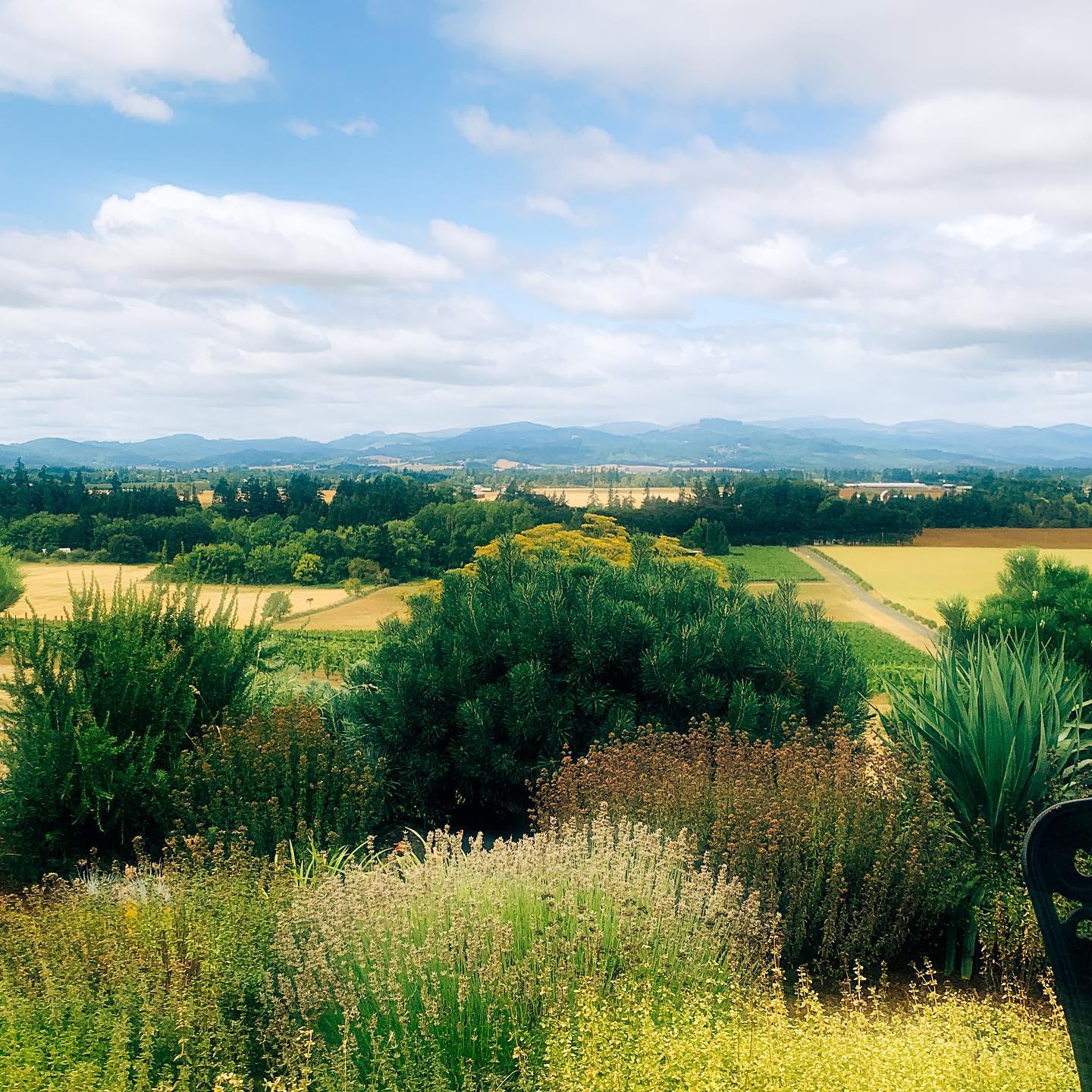 Anne Amie Vineyards
Adelsheim Tasting Room on The Patio
How to Bring Wine Home
This one is always a bit tricky given we're visiting in the Summer months and shipping wine home isn't ideal with the hot temperatures. Most of the wine we're purchasing is at least two or more years aged and has been stored in a climate controlled cellar. You'll want to take care of it until it's final destination. This year at our last winery stop we asked the winery to package it for shipping with compostable packaging, we added our bottles from another winery and we plan to carry it with us to the airport and check it with baggage claim. An additional option, if you're grabbing just a few bottles would be to purchase a wine packer at the winery with built in bubble wrap to slide into your suitcase.
A final option, ask the winery to package your wine, hold it and ship it to you at a later time when temperatures throughout the country cool off. We have a case of Rose headed our way in September, currently being held for us at the winery. This may be easier if you're purchasing large bulk from one winery. Also, when asking for special accommodations, it's customary to leave a gratuity sizable for the service you've requested.
And, most wineries will waive your tasting fee if you purchase a minimum amount during your visit, one bottle or $75 were the two options we came across.
Image by Chelsie Lopez Production for @noshandgather
I hope this encourages you to head out and try something new – wine country, maybe a fancy glass or bottle of wine, or treat yourself to a wine club. Cheers!
Sharing a few recent projects we think you might like:
Thanks for following along,
Katie Kath + Jkath Team
Interested in connecting about your home renovation?
Keep up with our latest inspiration by following us on Pinterest and Instagram.