How to Select Whole House Plumbing Fixtures
You've seen our whole house reveal of Drew Avenue, in case you missed it you can view the Kitchen, Dining and Living Room, Powder Bath and Mudroom, Master Bath and Bedroom, and Kids' Bathroom blog posts here.
Today we're taking you through our plumbing selections and how (also when) to make these selections for your custom home. Insider tip: this is one of the earliest decisions you'll need to make (aside from the actual floorplan). Once the Drew Avenue house was framed we sent in our plumbing subcontractor to complete rough-ins for all plumbing valves. While the installation of these selections comes much later in the process, the decisions need to be made relatively soon.
The best place to start is to gather inspiration from Instagram, Pinterest, or your online media source of preference. Linking to our pages here so you can see a collection of similar items.
Kitchen Plumbing Selections
Items for consideration are the kitchen sink and faucet, also the finishes. You will want to tie into other finishes such as your appliances, lighting, or cabinet hardware. Also, a great place to mix finishes as well.
Here were selected the Kraus Oletto Pull Down Faucet in a beautiful brass finish and a 32″ Undermount Single Basin Sink. You can see with ease the brushed brass was complimentary to the other selections in this kitchen, but a minimal statement piece all on its own.
Sink basins are also a real consideration, one basin versus two. Consider how you use your current space and know this is entirely a preference, there isn't a right or wrong way to go. In this case, we opted for a single undermount, as we did not want this to be the statement piece, and needed a high-performing solution with expansive space for dish storage.
Laundry Room and Powder Bath Plumbing Selections
Items for consideration are the laundry sink, faucet, and bathroom sink and faucet.
Where we held back in the kitchen sink, we went for the statement piece in the laundry room. The Turino 33″ Fireclay Apron-Front Sink is a showstopper and even more beautiful in person with its contemporary design. We paired this with the Esina Single Handle Pull Down Kitchen Faucet, timeless matte black to compliment the grid windows throughout the home. Also, offering a dual-function spray, perfect for all laundry room needs.
The powder bath has the Elavo, a unique 17″ square undermount ceramic sink. We loved this selection for a smaller space and for maximizing vanity countertop space. We paired this with the matte black Indy Single Handle Faucet. The Italian craftsmanship behind both products offers a clean and uncluttered look that works so well in this Modern Traditional home.
Primary Bathroom Plumbing Selections
Items for consideration are the vanity sink(s), faucets, toilet, bathtub and faucets, shower trim kit, and accessories (toilet paper holder, robe hooks, and towel holders).
You will need to decide if you want a bathtub in your master bath, dimensions, and freestanding or not. Otherwise, a standard shower and the necessary plumbing selections are the next considerations. Much like the kitchen, you can be playful and mix metals as well, there is a lot to consider in this space. When in doubt stick with one finish and mix in patterned tile or a painted custom vanity to add customized details.
When possible, go for the double vanity, great for resale and function. We selected the Kraus Natura Rectangular Undermount sinks with the Indy Single Handle Faucets again in matte black. The Natura sinks hold proprietary features with a matte finish, stone composite for durability and non-porous surface resistant to tough stains (goodbye makeup mess!).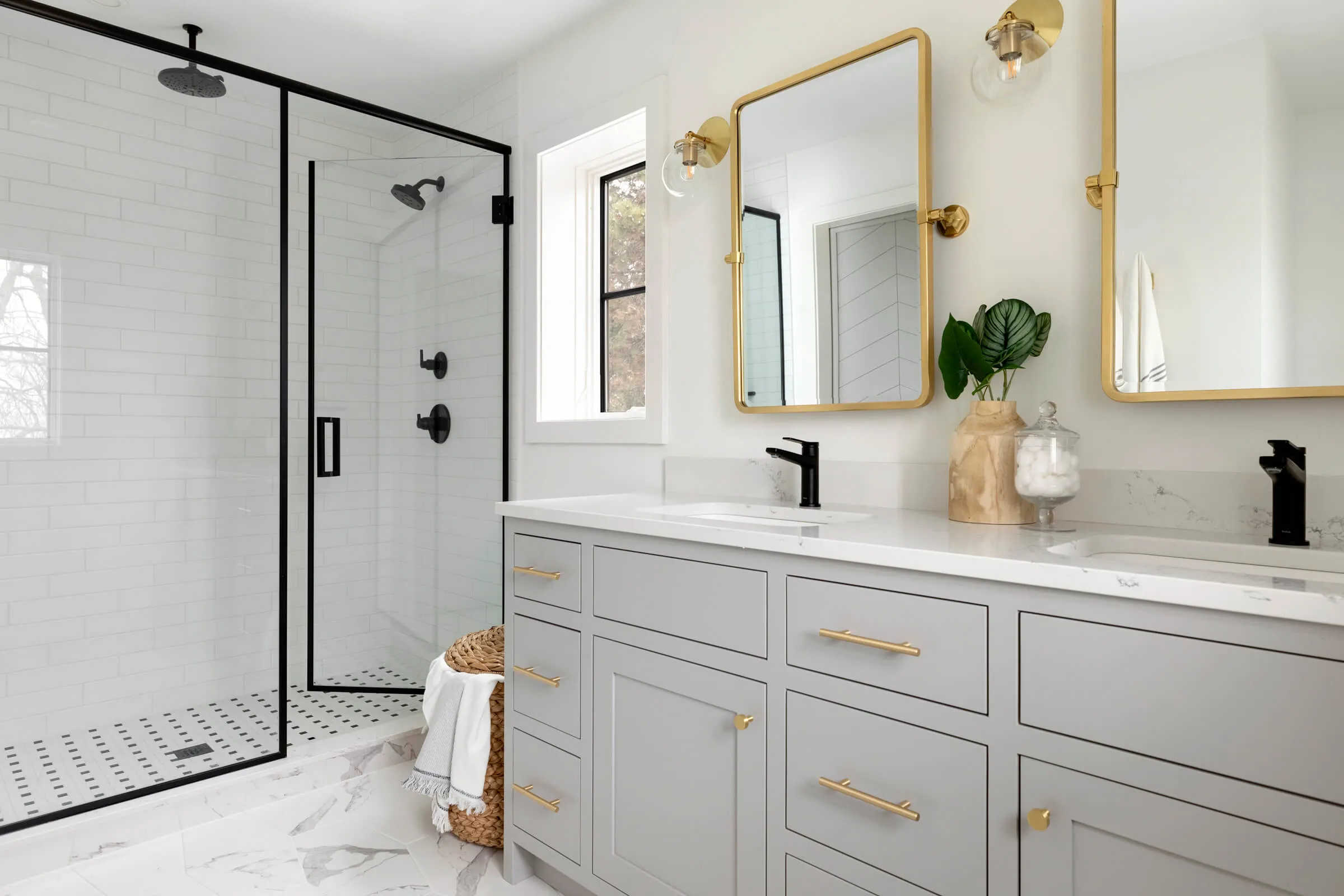 Kids' Bath Plumbing Selections
Items for consideration are vanity sink(s), faucets, toilet, bathtub and faucets, shower trim kit, and accessories (toilet paper holder, robe hooks, and towel holders).
We always opt for a colorful and playful kids' bath, if our clients are open to it. Fortunately, in our Drew Avenue whole house renovation, we were thrilled when our client selected this blue and white chevron wall covering. This became the focal point for the remaining selections.
The 21″ Elavo Rectangular Undermount Sink and Indy Faucet in matte black are shown here. These sinks are both quality and value sinks. Also featuring scratch and stain-resistant ceramic finishes.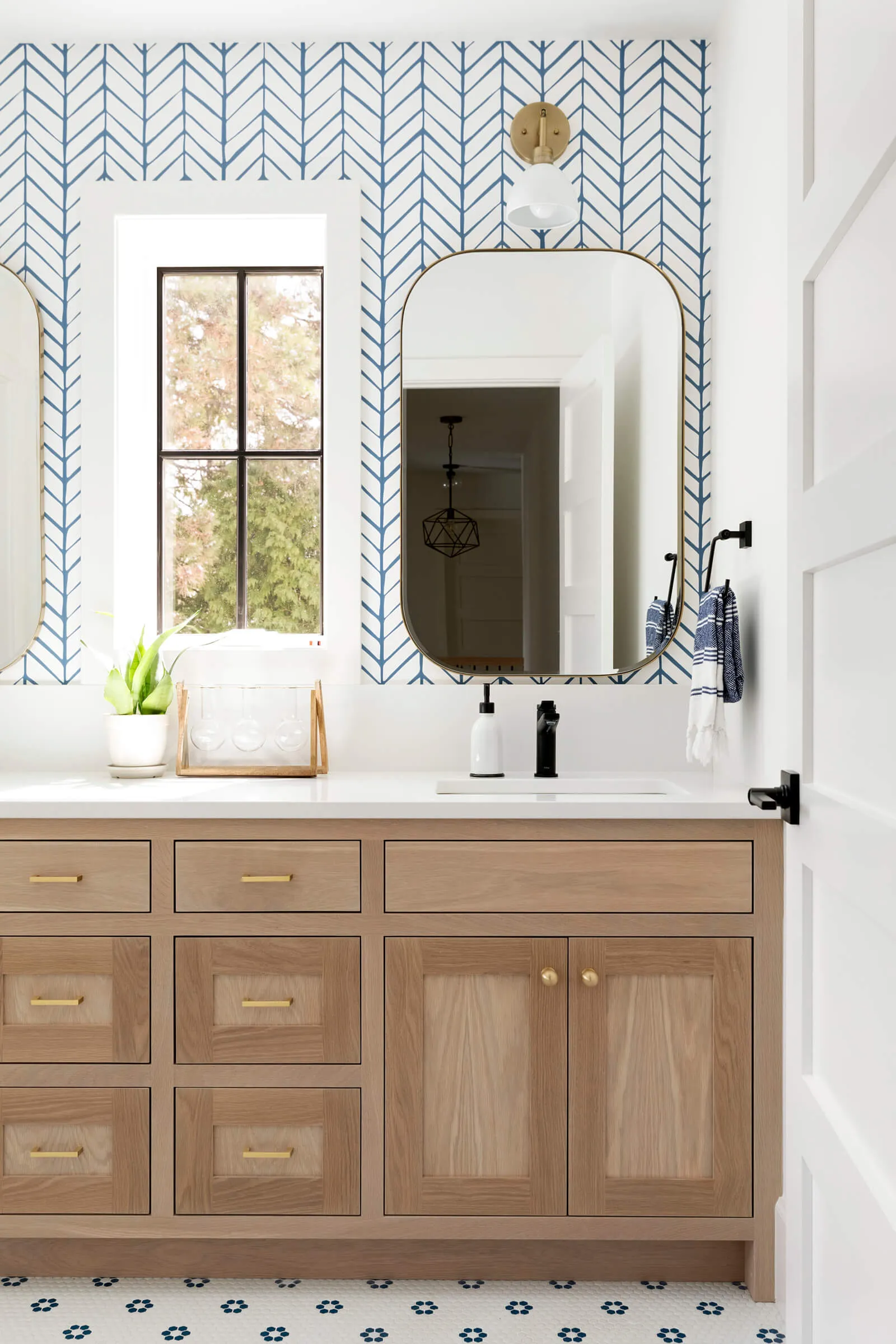 Plumbing fixtures can be a wide variety of budget-friendly to investment pieces you'll have for a lifetime. Where there may be an opportunity to grab the wish list item such as the fireclay apron sink, you may find savings in durable, yet approaching vanity sinks as shown in this kids' bath to offset your budget. Visiting a local plumbing showroom to narrow down your selections and see items in person is also a great idea when making several selections at once.
Good luck and have fun!
We love being a resource for you. As a disclosure, this post contains affiliate links. If you click on one of them, we may receive a small commission (for which we are very grateful for) at no extra cost to you.
Jkath Team
Interested in connecting about our design services?
Some recent projects from our team we think you might like:
Adrian Circle, Westbrook Road, Goodrich Modern Tudor
Keep up with our latest inspiration by following us on Pinterest and Instagram.