How to Select Appliances When Doing a Kitchen Remodel
By now, you're onto the fact we've wrapped up our most recent whole house renovation, the Goodrich Tudor, with the full reveal posted last week (see here). The timeless updates to this space make this 1920's Tudor a new home for decades to come. But what really matters, are the actual selections we spent tireless hours on to pull this incredible look together.
With so many sources of inspiration these days (who needs to travel anymore), it can easily be overwhelming. We have good news for you. We're going to breakout the single most important and timely decision you'll need to make in your kitchen update … the appliances.
We own our own cabinet shop and always provide custom designed cabinets to retrofit every renovation we take on. This means we need to be very precise from the onset. The general space planning begins with just that. Decide which wall does the sink belong on, as well as where do all major appliances sit, and build from there. Sometimes we're working with an existing layout, and often we're tearing it all out and starting from scratch. The good news, customization is endless, so we often tell clients to start with their must have's. This means go appliance shopping!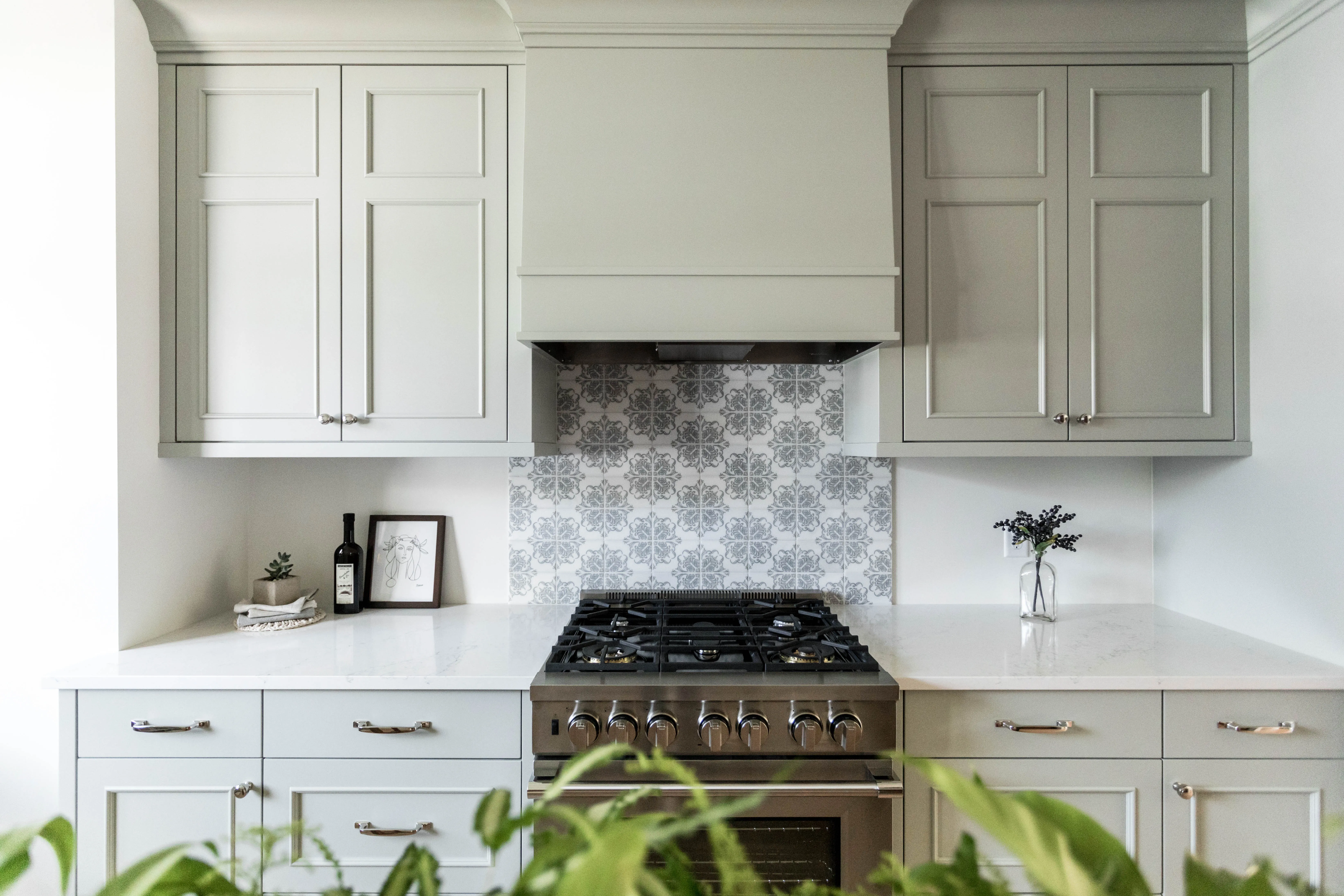 Appliances should not only be functional, but we also firmly believe in the aesthetics. They are a long-term commitment, you need something to stand up to the duration of your new kitchen, but will also feel somewhat permanent as your cabinets, countertops and often your backsplash are all designed custom with these appliances in mind.
Insert, Beko Appliances, as we've had so much success with their products and they have easily filled the niche of many client needs. We love the simplicity of their design and chic finishes to perfectly align with our custom cabinetry. Their pro style 30" dual fuel range really fits the bill and speaks to the custom, boutique finished space we're always after. And, if you're not familiar with what dual fuel is, listen up: the oven itself is heated with electric while the burners are heated with gas burners. In short, if you're a baker like me, electric convection ovens are the way to go, more even heat throughout the oven. But, a gas cooktop is so necessary for quick heating, especially for busy families on the go like ours.
I'm also certain the flexibility of this central burner would be a game changer in a smaller, city kitchen, when going to a 36" range doesn't make a lot of sense. The ability to cook with a fifth burner and to hold food to stay warm is everything.
We love a French door refrigerator, period. The 36" counter depth option works beautifully in this space. What we enjoy most about this design is the interior filtered water dispenser, removed from the exterior facade, which so many of our clients are asking for in their new appliances. The fingerprint-free stainless, on all of their appliances, is also perfect for young families. Let's face it, teenagers are the worst when it comes to fingerprints, our kids are in and out of our fridge multiple times a day. We have this same make and model in our own home and we love it. We especially love the EverFresh+ technology in the produce drawers. Big win to keep our CSA veggies fresh for days.
To round out this kitchen, we selected the top control 24" dishwasher, but know they have a solid 18" version, you can read more about this product in our Nokomis Ave project. Their small space solutions are so sensible, especially when we're talking about Europe's leading appliance brand.
The most notable feature here is the exclusive wash feature. You will no longer have to thoroughly clean your dishes before you load, as this dishwasher takes care of this for you. Additionally, the SilentTech option also means you hardly notice when it's running. Zero distractions for the busy family that may be getting homework done, catching up on the latest Netflix Series or simply winding down for the night with a good book.
Now that I am certain you're off to go find your local dealer for Beko Appliances, take note that whatever appliance package you go with, this is an early decision in the renovation process. All permanent features in your kitchen are designed around these pieces, custom cabinetry, countertops, and backsplash. Test drive early and ask your local dealer to demonstrate these appliances, make sure you understand their functions and what sets them apart from their competitors. I think you'll agree and find Beko Appliances has wisely spent time in the operations of their product and advanced technology, keeping aesthetics to a simplistic vibe, letting the rest of the kitchen stand out.
The innovative feature's Beko Appliances offer keeps us coming back. Their entire line of refrigerators, dishwashers and laundry appliances are PACKED with smart solutions. Thank you Beko!
Jkath Team