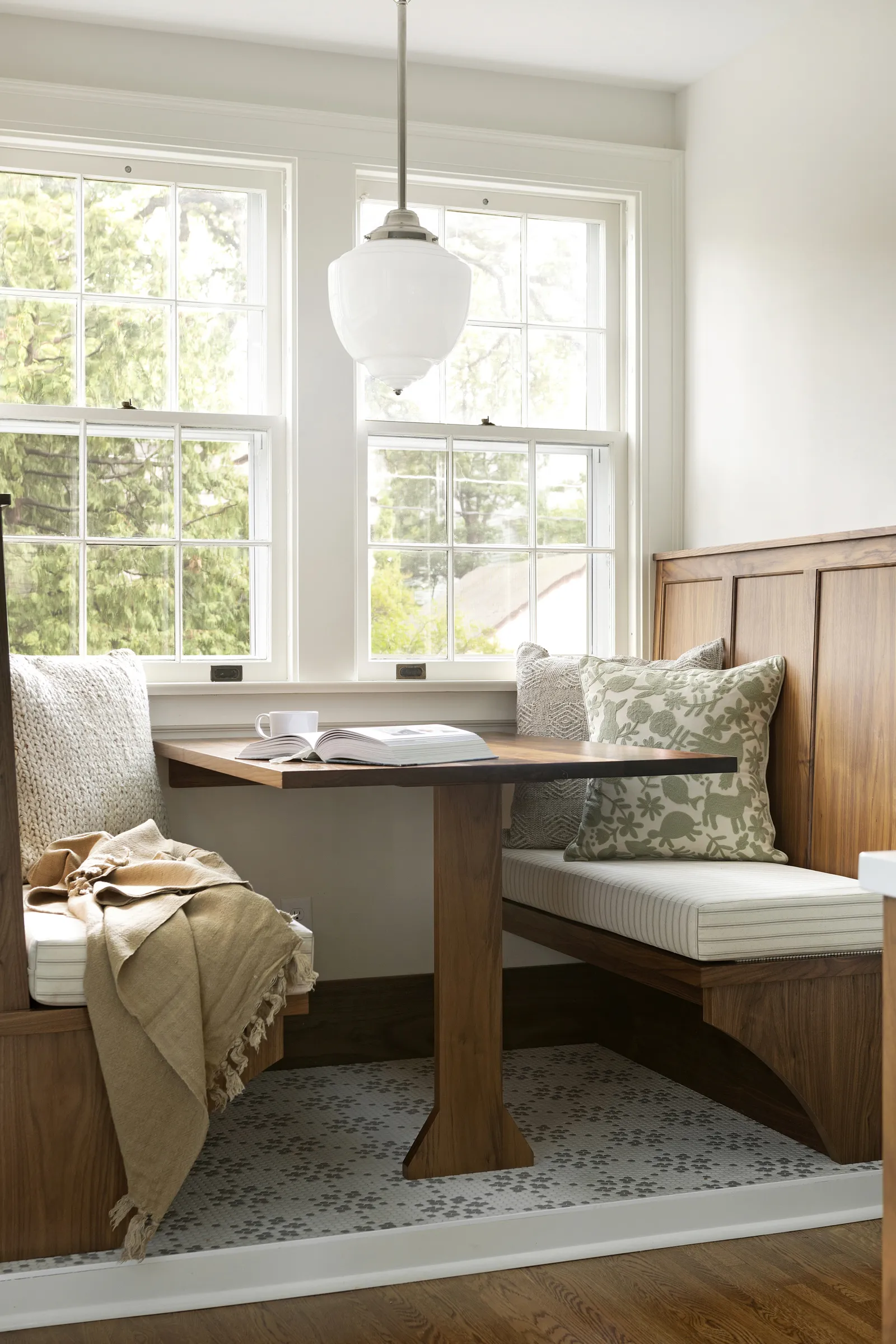 Home Design Trends That Will Transcend
Trends are always a hot topic when working through design decisions with our clients. Wondering what will last for the next decade, what is going out of style, and what new ideas we can infuse to make a space uniquely theirs. With dozens of projects in our portfolio, we've learned a few things along the way and are sharing some design considerations that will transcend with time.
Consider Neutral Cabinetry, Adding Pops of Color
Our latest reveal, Palace Avenue is packed with color, but what we love about this space, grounding neutrals are still the theme. An easy blue kitchen island that feels versatile and timeless, with natural brick tones, off-white painted upper cabinetry, and warm backsplash tile accents. The pops of color are within the finished interior of the upper cabinets with a glass door, and easy paintable item down the road or change in door style, however with an accent piece, it will stand the test of time.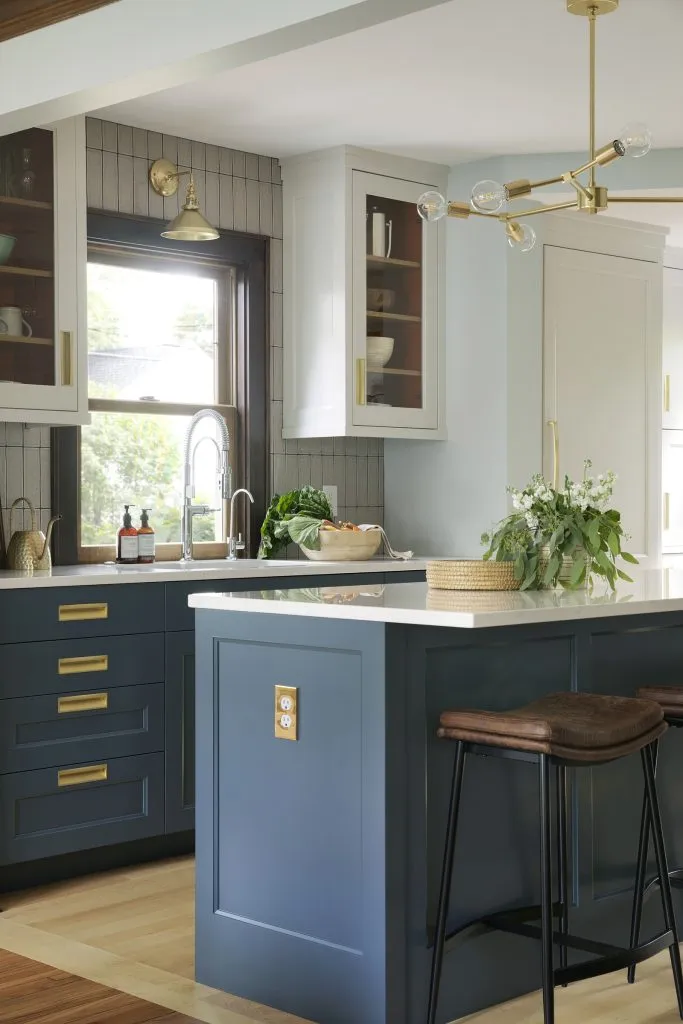 Architectural Millwork
You've heard it here, we own a custom cabinetry shop and obsess over quality cabinetry, millwork is no exception and an extension of what we offer to all client projects. Paneled walls, moldings, or added crown molding details in small to large spaces will always prevail. These styles come and go, but the added millwork adds interest in any room, one that can be painted or stained.
Natural Stone
Using natural materials, when the budget allows, of course. Natural stones have an aging process and get better with age. There also needs to be a tolerance for these, imperfections, inconsistent veining, and possible hairline cracks that grout will pick up. It's a beautiful design choice and will add depth to any space. Our Fairmount Avenue kitchen pictured below has Tupelo Limestone pavers from Orijin Stone.
Wallpaper – Small and Large Spaces
Can you believe it, we're not calling this a trend of the decade, we think it's here to stay. Wallpaper has become a much more approachable and affordable design aesthetic with limitless options, and access to online purchasing. Samples are easy to obtain, and applications can be down with a DIY method, or by hiring a local expert. We recently wrapped up a project with 4 different spaces that have wallpaper. Read our blog on How to Hang Wallpaper, Like a Pro!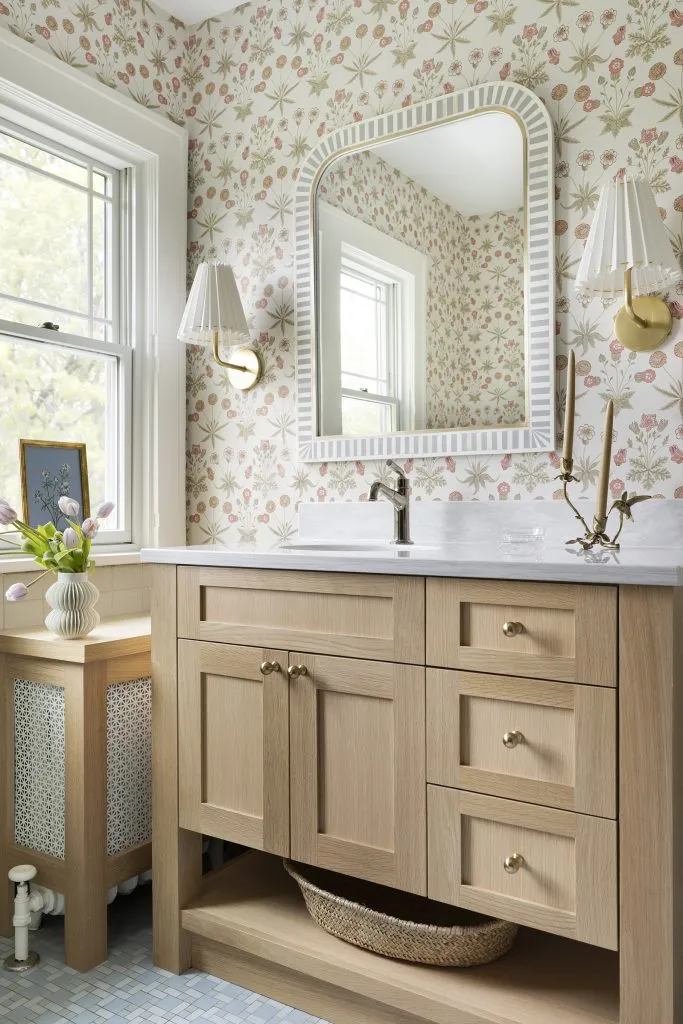 Mini Gallery Walls, Small Spaces
While we love an oversized wall covered in meaningful art, our firm works in smaller, old city homes often and gets to play with smaller finished spaces, to create a big impact. An art collection or family photos are a great way to show off personalization dn create a focal point in any room.
Natural Wood Products
We've covered this topic many times, but using real wood has made a comeback and there are a variety of applications we stand behind. It's been around for ages and is a design feature you can't argue with when it's not manmade. Wood is often durable and requires less maintenance than the painted version we have been drawn to for the past decade.
Mixing Old and New Materials
The majority of our work is focused on renovations, which forces our design team to consider the original elements of each space. Consideration for preservation, budget-saving ideas, and infusing new elements to create an updated look. This not only highlights a unique space that feels true to the home, but allows for creative input for a finished look that will transcend time.
The below eat-in banquette prioritizes and original built-in, which we modified in size for function and rebuilt to suit and updated the wood look, refreshed the windows in their existing location and sourced an original light fixture for this space.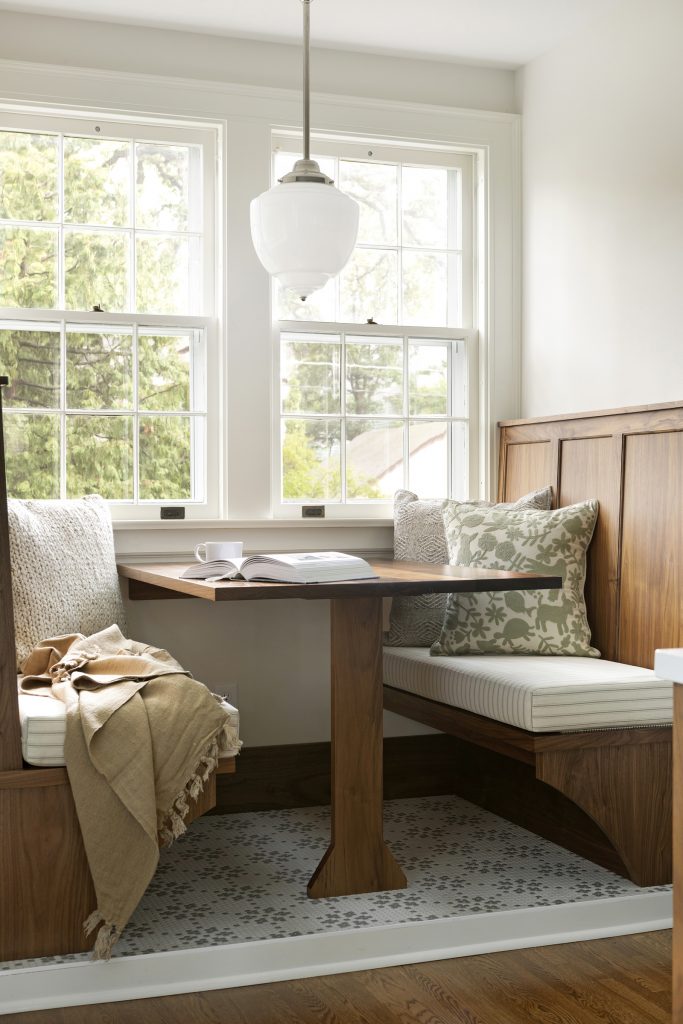 We hope tp have inspired new design ideas, or cemented a direction you may already be headed with your upcoming project.
Sharing a few recent St. Paul, Minnesota projects we think you might like:
Riverwood Place, Fairmount Avenue, Princeton Avenue
Interested in connecting about your home renovation?
Keep up with our latest inspiration by following us on Pinterest and Instagram.