Goodrich Modern Tudor
At last. Our #goodrichtudor is ready to be revealed. While we almost exclusively do client work, occasionally a project comes along that we know we can make it our own. We put our Jkath stamp of approval on it and send it back into the real estate market for a new family. This was the case with this 1920's Tudor in one of St. Paul's most coveted neighborhoods, Mac-Groveland.
We purchased this home late 2018 with a plan to renovate throughout the early winter of 2019 and into Spring. We wrestled with the idea of making a few small improvements and overall aesthetic updates, or taking it down to the studs, adding on and making it an entirely new and updated space. Nevertheless, the later option won. We did, however, pair down the addition and kept it to a modest first floor bump out to expand the kitchen and mudroom while converting two of the upstairs bedrooms to a master suite. The new master suite hosts a bedroom, two adjoining closets and a master bathroom with a soaking tub, stand up shower, and a custom vanity from our shop.
All of our whole house renovations always start in the kitchen. This sets the tone for the home, overall design decisions, and how they will flow from room to room. One of the earliest decisions we made was to keep the original wood casing around the windows, and dining room buffets. The floor trim was a toss up along with the cased arched entries, which we ultimately removed, against popular vote. In the end, we knew we needed to add modern updates, along with keeping some era specific themes in tact. Armed with this knowledge we created a few new custom pieces to give nod to the original craftsmanship of the home, adding a custom built bakers table and hutch in the kitchen as permanent pieces of furniture for the new home owners.
With ease we added neutral tone painted cabinets to compliment these custom pieces. We chose Blue Gray from Farrow & Ball, truly a classic and a new favorite. Adorned with polished nickel hardware (also classic in our opinion) from Amerock.
We partnered with our trusted tile suppliers over at Jeffrey Court to do this whole house. With a few new releases earlier this year we knew we wanted to incorporate these new styles. The kitchen backsplash, while small in space, packs a giant design impact. These field tiles are a marble stone with a hand painted botanic imprint.
We also selected Beko Appliances again, adding to the sleek aesthetics of this space. Their appliances always work well in a non-competing design with our custom cabinetry, which we have loved from the onset. The attention to detail in the construction of their premium appliances, along with high quality design, is accompanied by tech friendly features and leading sustainability practices in the appliance market. THIS, we can get behind. We also have Beko Appliances in our own home, so we can proudly stand behind the value of these products.
Countertops are always another big decision in the kitchen space. We're fans of quartz materials, for a variety of reasons. Easy maintenance, and since we're always designing for active families and couples on the go, there isn't much of an alternative. Furthermore, quartz has a solid lineup of options that also blend nicely with any design scene we are currently dreaming up. We've partnered with HanStone a few times now, and have fallen in love with their boutique collection, featuring Soho on the kitchen countertop and backsplash behind the kitchen sink. We love the creamy undertones and grey veining. A slight departure from the white on white trend we've seen so much of, but still neutral to compliment the other textures in this space.
And where we came from ..
We painted all of the walls Dove Wing, by Benjamin Moore, neutral yet creamy base color to allow the wood casing to stand out, along with the architectural detail of enhanced arched entries throughout the main floor.
In the previous media/tv porch area, we added space with the bump out and converted it to a powder bath and formal mudroom. A big need for any midwestern family battling cold winters and boot season.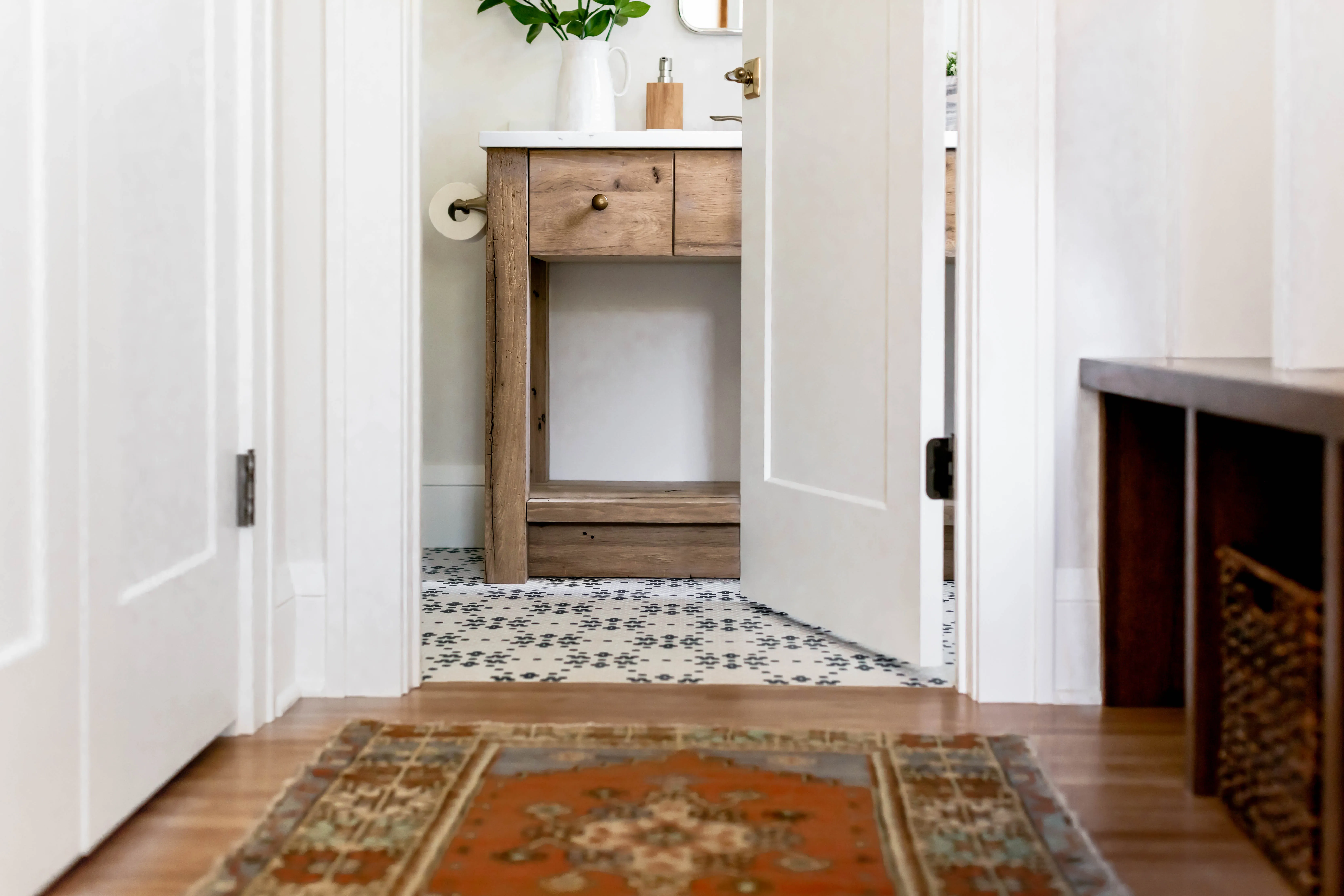 The formal dining room and living area was cleaned up as well. The cased arched entires were changed to sheetrock for a cleaner and more sophisticated design. We painted all the baseboard trim and refinished all the original hardwood floors. We also partnered with local business Hennepin Made for the gorgeous hand blown glass dining room pendant and Tonkdale for all the fresh greenery throughout the home.
The second story had seen more recent improvements with all the wood casing painted white, wallpaper added to all of the rooms and carpeting changes throughout. We stripped all of these items, along with light fixtures and did a total upgrade of plumbing and electrical throughout. One of my favorite details in the entire house is the painted gray baseboard, window and door casing in all of the second story rooms. For this we chose Farrow and Ball Purbeck Stone.
As previously mentioned, we converted one of the 4th bedrooms into a master bath to create a much needed suite with accessible closet storage for 2. The before image of the 2 bedrooms is shown here, the entrance on the left was eliminated, leaving the bath accessible via the master bedroom only for complete privacy.
And the reveal ..
We used more of Jeffrey Court's new releases for the master bath shower wall and floor tiles. The wall tile is a Herringbone Mosaic in Classic Statuario from their Chapter 15 collection. Also from this same collection we sourced the 1″ Penny Round Mosaic for the shower floor.
From the Transitional Modern collection we used a more vibrant pattern from HanStone on the vanity countertop. This is their Aura design, we love the moody gray tones that compliments the painted gray wainscoting throughout this space.
The kids bath packs a major design punch as well. The only original element in this space is the bathtub. Why? It's cast iron and not going anywhere with ease, so with some elbow grease we had it cleaned up to look like new and modified everything around it.
We sourced tiles from Chapter 14, Jeffrey Court, which may be the most talked about tile element in this entire home. The Press featuring the Union Mosaic in black and white hex glass tiles, also with a matte finish. What was so fitting of this selection, these tiles are inspired by newsrooms of the early 20th century, using tiles from architectural design of that era. FITTING!
We hope you've enjoyed learning more about this whole house renovation. For additional design details, and history behind this renovation, take a look at the video here.
You can also view our highlights of this project with videos and tours of the home in progress.
Instagram highlights HERE of the #goodrichtudor.
Jkath Team