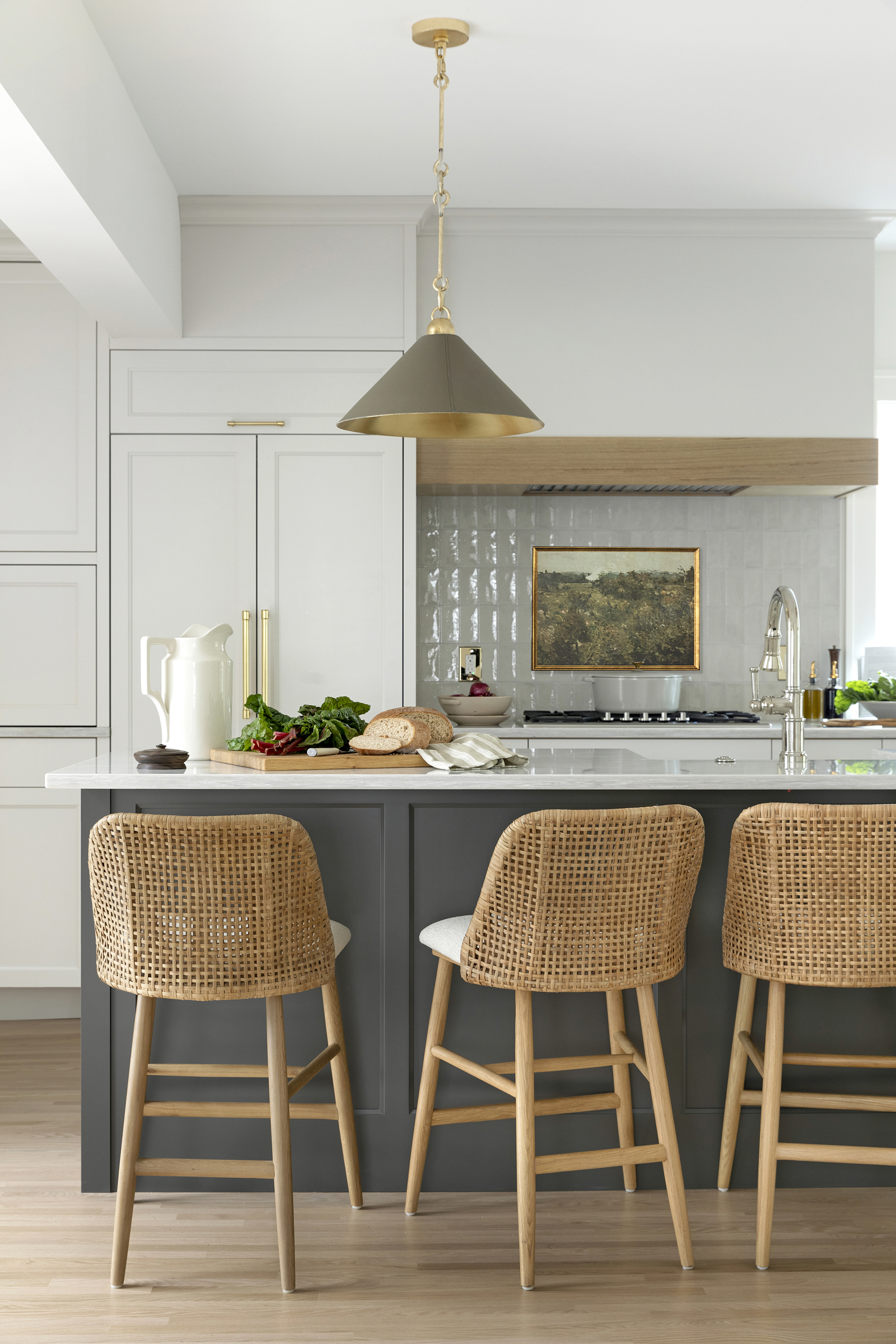 Favorite Painted Kitchen Cabinetry Colors
With quite literally millions to choose from, selecting paint is the top finishing decision homeowners pine over. In our years of experience, we hold handfuls of trusty go-to paint colors that have easily become Jkath favorites for painted cabinetry. These have been tested and designer-approved for results that will stay timeless for years to come. Our top 10 favorite painted cabinetry colors are signed, sealed, and delivered to you.
Give your cabinetry permission to stand out even more against our favorite neutral paint colors for walls.
How to Choose Paint Colors
1. Lighting – Consider the amount of natural versus artificial light needed to illuminate the space. This will affect whether you want light or dark cabinetry.
2. Overall Mood – Identifying the overall ambiance you want to create in a room will guide the cabinet paint colors to use. Are you channeling light and airy, moody modern, or a colorful neutral?
3. Application – Is white the best for your family and lifestyle or would a stronger color better resonate with you?
4. Mix & Match – If you're looking to use multi-tone cabinet paint colors throughout a single room or multiple adjoining rooms, consider how the colors work together. Don't worry, they all don't need to be the same, but in the same family is great!
Enhancing Your Cabinetry
Kitchen and bathroom renovations are the biggest investments you can make in your home. Having stylish, well-made, and highly crafted cabinetry with smart storage solutions will make an incredible difference for the end result and your lifestyle moving forward. Consider V-Groove, decorative larder cuts, and inset cabinetry to elevate the overall design.
See our favorite kitchen cabinet trends.
Limewash
A bright taupe that chameleons with the daylight. This perfect off-white for cabinet paint sways between warm and cool tones to match every finish. Limewash by Sherwin Williams has been a go-to for several years for every architectural and cabinet style.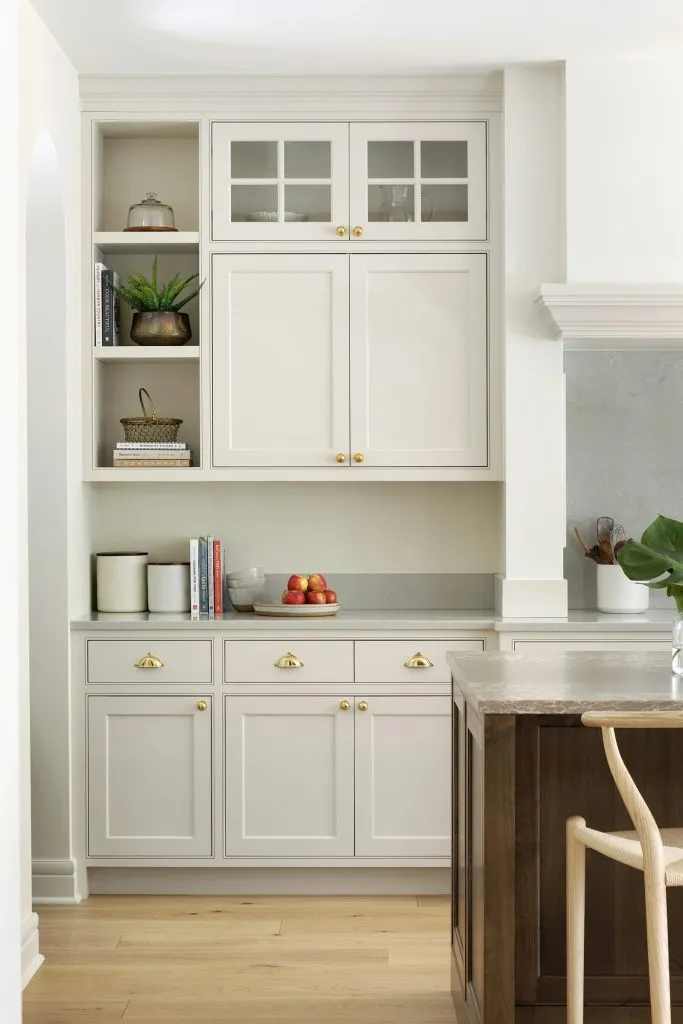 Wrought Iron
She's cool, calm, and collected. Wrought Iron by Benjamin Moore is our go-to for a dark hue for cabinet paint that isn't pitch black. When light reflects off the lacquer finish, the space still feels bright. When used in a space with minimal natural light, prepare for a total vibe to be created.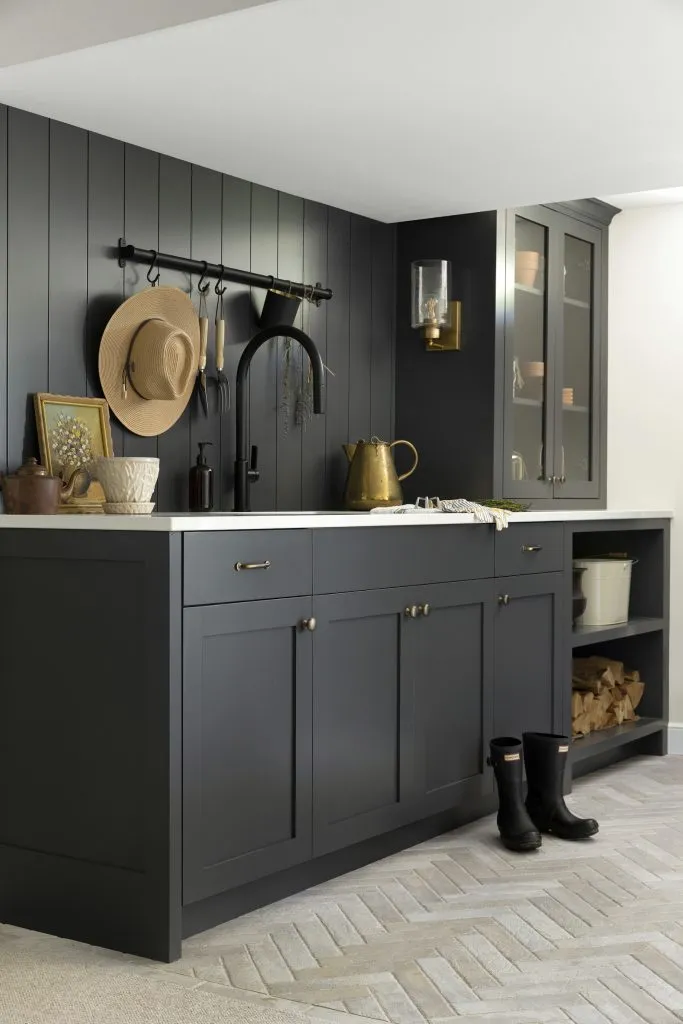 Woodlawn Blue
We can't go too deep down the list without bringing up Woodlawn Blue by Benjamin Moore. Used in the Princeton Colonial project, this dreamy, subtle blue almost becomes a neutral cabinet paint color as it ties together the rest of the finishes in this kitchen renovation.
Dark Olive
Dark Olive by Benjamin Moore is the perfect gateway color in cabinet paint. If you're looking for more personality than a neutral white, black, or wood tone, Dark Olive is for you. The deep earthy tone feels natural and is perfect in combination with natural stones such as marble, soapstone, or quartzite.
See the moody and modern color palette in the Adrian Circle project.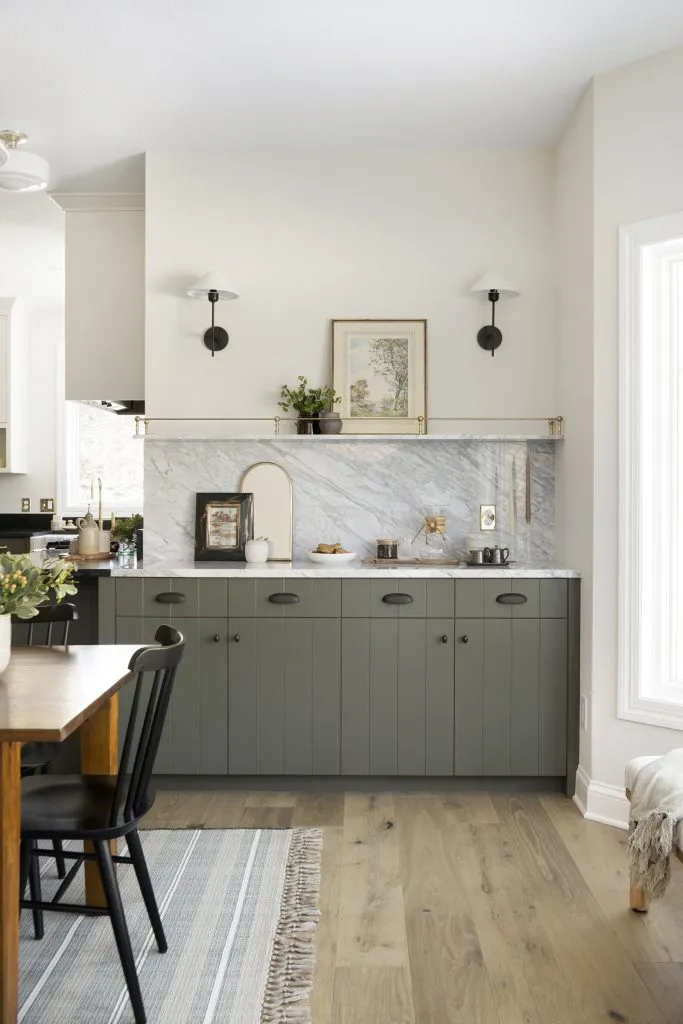 Snowbound
The crisp, bright white we love. Snowbound by Sherwin Williams wins out when clients want a bright white cabinet paint color. It effortlessly goes with any mix of finishes, as you can see in the Fairmount Avenue kitchen. This color will never feel dated, especially when paired with timeless design elements like limestone pavers, unlacquered brass, and a rich alder island.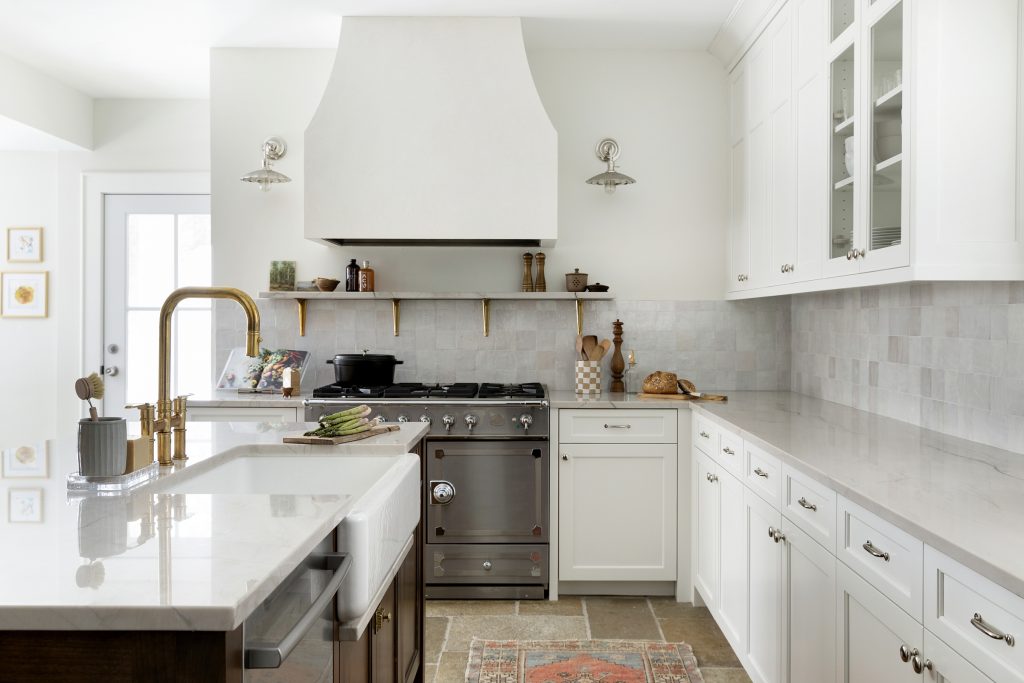 Boothbay Gray
Boothbay Gray by Benjamin Moore is our favorite cabinet paint color to turn to when a homeowner, albeit bashfully, tells us they want to explore some color. This muted, calming color is wonderful for mudrooms, bathrooms, and a calming room such as an office or bedroom. This blue-gray easily pairs well with lighter warm tones like white oak or cool polished nickel.
Hardware
This olive-tone green is too cool not to include for our favorite cabinet paint colors. Sherwin Williams Hardware really enhanced the style in this mudroom by painting cabinetry, millwork, and walls all the same color.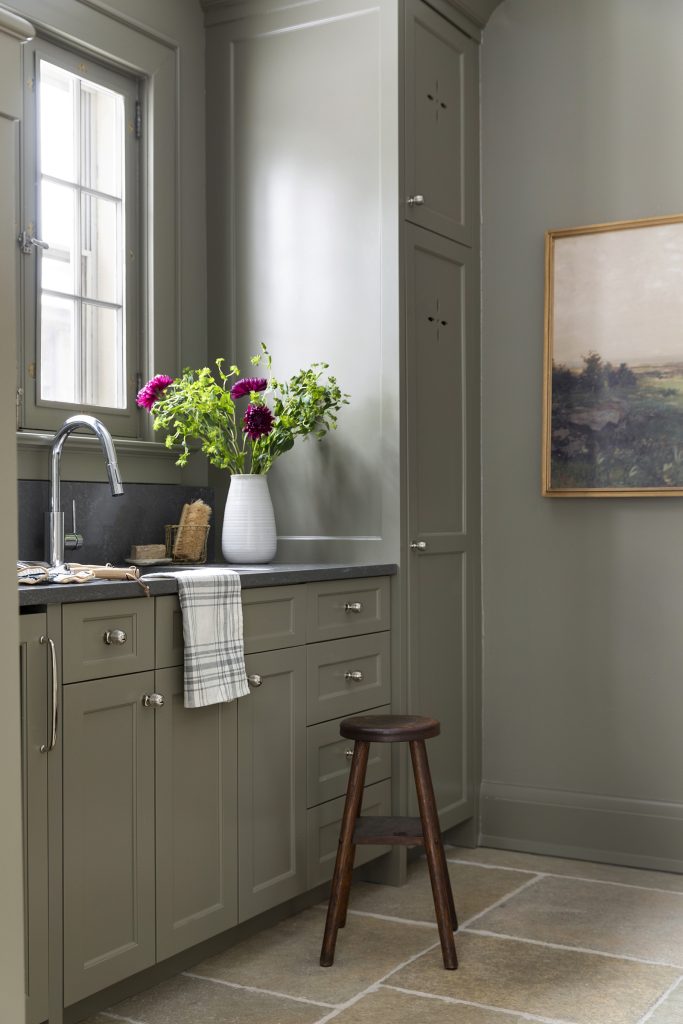 Balboa Mist
Balboa Mist by Benjamin Moore is a perfect light gray with warmer undertones for the cabinet paint. This is a wonderful choice for homeowners who want a light and airy kitchen but with contrast to white walls. It pairs beautifully with various wood tones and metal finishes.
Urbane Bronze
Another favorite dark neutral with more brown than black undertones is Urbane Bronze by Sherwin Williams. It is one of the coolest colors on the market, especially for cabinet paint. This custom coffee and wine bar stands out in the most perfect way.
Blue Gray
The name may be a little deceiving because Blue Gray by Farrow & Ball finishes as an alluring green on cabinetry. This soft green is a great tie-in to the architectural Tudor style, a timeless fit for modernizing older homes to today's styles and beyond. Pair with polished nickel cabinet hardware and unlacquered brass plumbing fixtures to tie it all together.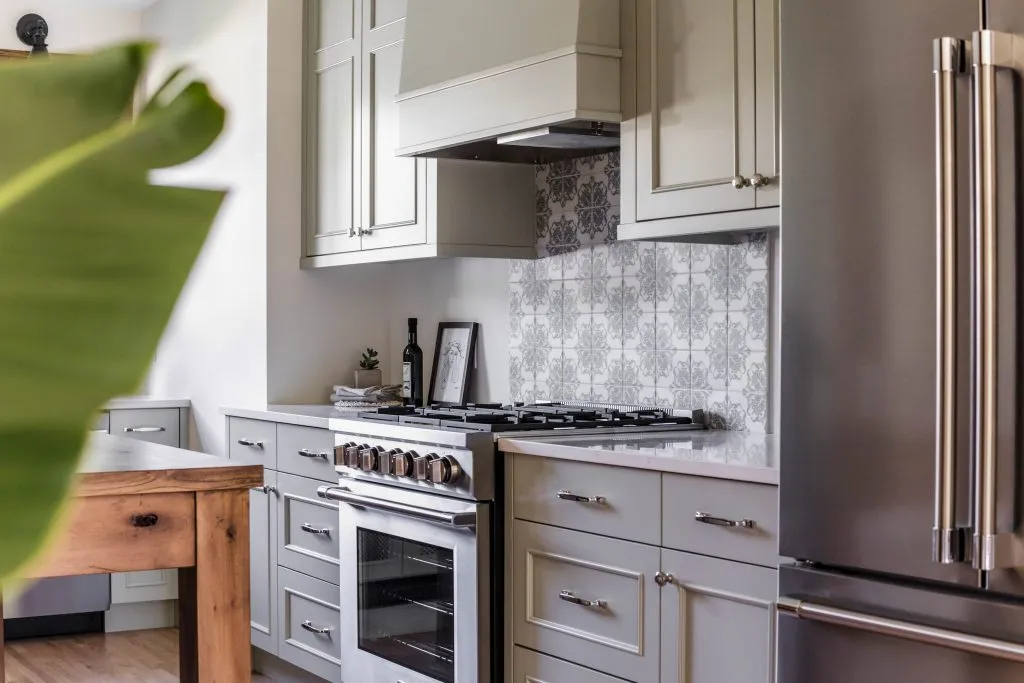 Selecting the right cabinet paint colors will enhance your home's personality and architectural style. Identify the ambiance you want to create within a space and if a light, dark or colorful neutral is the right fit for you.
Interested in connecting about your home renovation?
Some recent projects from our team we think you might like:
Kath Home, St. Albans Road, Ridge Road
Keep up with our latest inspiration by following us on Pinterest and Instagram.