Modern Traditional Whole House Reveal
As we shared earlier this week, Jkath was lucky enough to bring three more awards home from the NARI Contractor of the Year Awards. Jesse is always in his element at these events, chatting it up with other builders. One of the awards we took home was for our #ardenave whole house renovation.
Let's take a peak into our Arden Avenue project. This project came to us back in 2018 and we were able to wrap it up early 2019. Our clients had recently purchased a new home with a few recent updates in the city of Edina. The clients however, had a vision of living in a modern traditional home with an expanded kitchen footprint utilizing space from the formal dining room by removing a wall. This kitchen + dining is not only perfect for keeping track of the kids, but revolutionary for hosting larger crowds.
Everyone loves a good before + after. Take a look inside this home before we got to work.
As you can see, there was a nice set up for gathering in the kitchen, but with this young family, a must have was an open kitchen to dining room footprint so they can have eyes on their young kids running through all the rooms.
All white kitchens have been trending recently, again this family wanted something different, and opted for something darker. Take a look inside our mood board for this kitchen makeover.
It is a long creative process from start to finish, from finding the color palette, to sourcing the perfect light fixture to compliment the space. While this is how our mood board started, take a look at what changed and what we decided to keep. We were on the spot with our palette, however, our clients decided to go with Soot by Benjamin Moore for their cabinet color. Every little detail matters and we want to help make sure your forever home is exactly how you imagined it.
By removing the wall that divided the Kitchen and the dining room, we were challenged with appliance placement, given the layout of this home and the existing staircase. We took this moment to play with a modern galley inspired kitchen and our clients were all for it. Checking all the boxes for this heart of the home kitchen, functionality being the top priority and accessibility to move around with a less compartmentalized space were key factors.
With almost floor to ceiling windows, our clients didn't need a dramatic chandelier. We opted for these simple pendant fixtures that complimented the room, without stealing all the attention away from the beautifully crafted dining table and views to the outside.
Working with these clients was a lot of fun, especially when they told us they wanted to mix in some fun wallpaper to their custom built pantry.
The pantry wasn't the only room with a play on floral prints. Check out the main level powder bath update.
The pantry wall covering is from one of our favorite stores, Anthropologie. The powder bath is from another go to resource, Hygge and West. Walking from the dining room, through the kitchen, past the pantry, you'll find this cozy dinette and living room.
Another great before + after of this space.
Here are additional details of the wood beams and the dinette we crafted with Manowmin Resawn Timbers, local Minnesotan and female owned company.
Let's head up stairs to look at how the rest of the house turned out.
Here is a look into the kids bath. We picked a color palette that would grow with this young family. We try and make tile selections as seamless as possible. Choosing this simple yet timeless mosaic tile by Jeffery Court, is sure to be a favorite in the house. We also used a simple white subway tile in the shower and around the room. One of our very first mood boards ended up having a lot of our final selections on it.
Creating a master bedroom for these clients was an absolute dream. For your master bedroom suite, you want a space that reflects you and your spouse's personality. And yes, there are more Manowmin Resawn reclaimed wood beams included in this one. This is one of my favorite before + after reveals.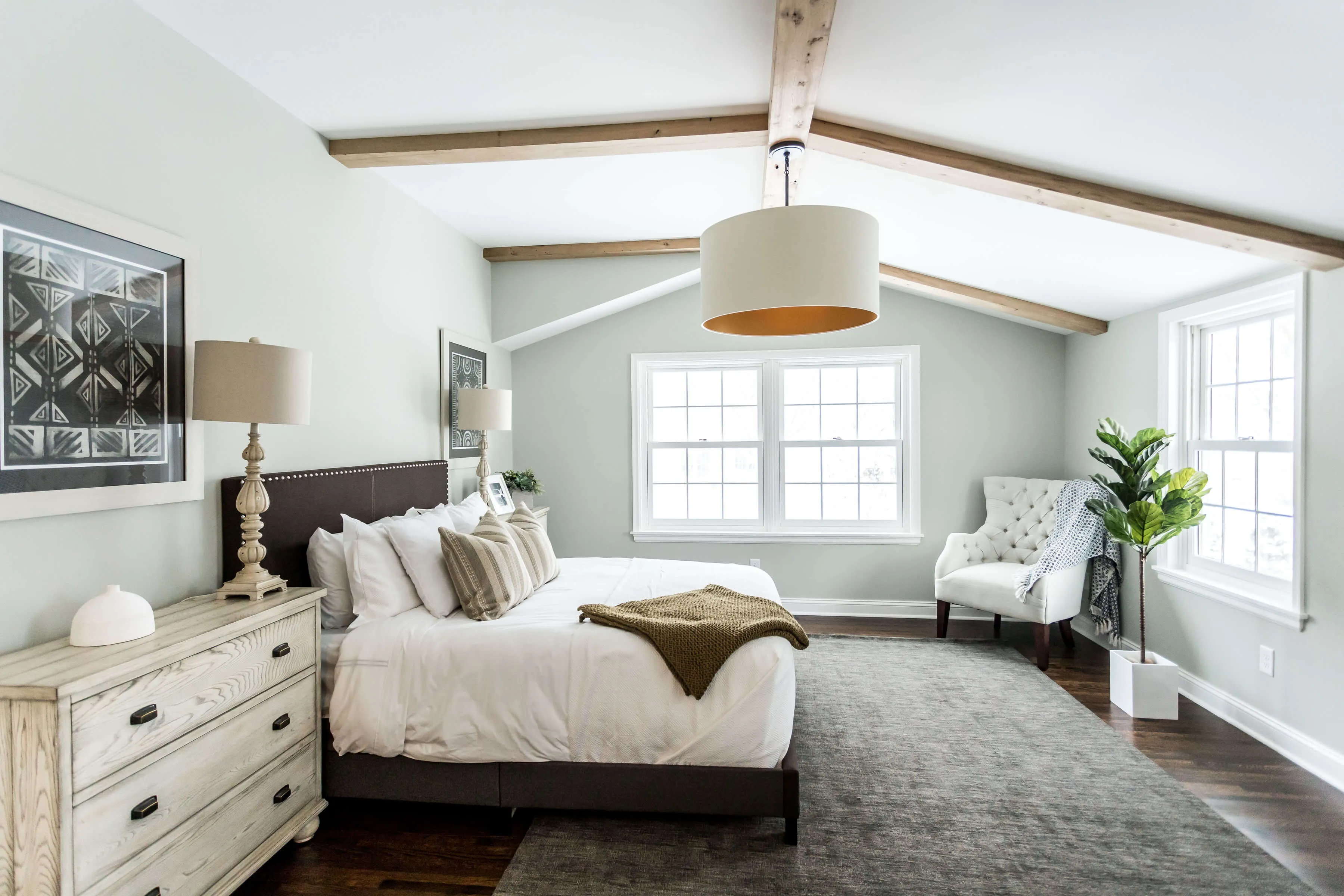 No better way to wind down in a space as relaxing as this.The updates don't stop here. We also created an ensuite master bathroom for this couple. All white bathrooms truly reflect a spa like atmosphere, with added white oak custom cabinetry from our cabinet shop for contrast.
We also used Jeffery Court tile in this space as well. One of our favorite stone tiles for master bathrooms is this field tile in iceberg. We used it in our Dayton Ranch project as well. Definitely a top pick by our clients!
One last bathroom reveal for this young family. Check out this guest bath transformation.
Both the floor and shower tile is by Jeffery Court and is available through their Home Depot line. Although we kept the same layout with all the plumbing in the same location, we updated all of the finishes.
Sometimes a bathroom needs a quick refresh with an updated color palette and new tile throughout. Cosmetic upgrades can elevate a space, but make sure when you are investing in your forever home, you are updating the appropriate appliances and plumbing so you're all at once so you're not constantly living in a construction site.
Now back to this kitchen… where hosting dreams are made of.
Looking forward to a weekend where we can relax and have some friends over. This kitchen and dining space has us daydreaming about that weekend.
Live tour here:
Jkath Team
Follow us on Pinterest and Instagram for more project reveals like this one.
#ardenavenue #wholehouserenovation #kitchenremodel #cityliving #jefferycourt #moderntraditional #woodbeams #cozy #LiveInTheDetails