Doing Neutral Right in Home Design
Many homeowners fear going too neutral in design will result in a boring or dull space. However, tonal or neutral selections are one of our favorite ways to create an inviting and interesting home. Use the principles of design to do neutral right.
When it comes to the "hard" finishes, i.e. cabinetry, countertops, tile, flooring, etc., a neutral color palette is always a more secure investment in design longevity. Neutral color palettes will live through design trends with much more minimal updates needed along the way. When your home craves a refresh, instead of replacing the hard finishes, update the soft finishes, such as light fixtures, hardware, and home decor, that are easy to change.
Here is how to do neutral right in home design.
Balance in Design
Balance is the visual weight of your space. Imagine if the living room feature wall at the Country Club project was a bold color. While cool, it would be overwhelming in this modest-sized space. The neutral color of the grand fireplace and built-in bookcases visually balances the space from the heavy cabinetry and millwork and showcases the decor.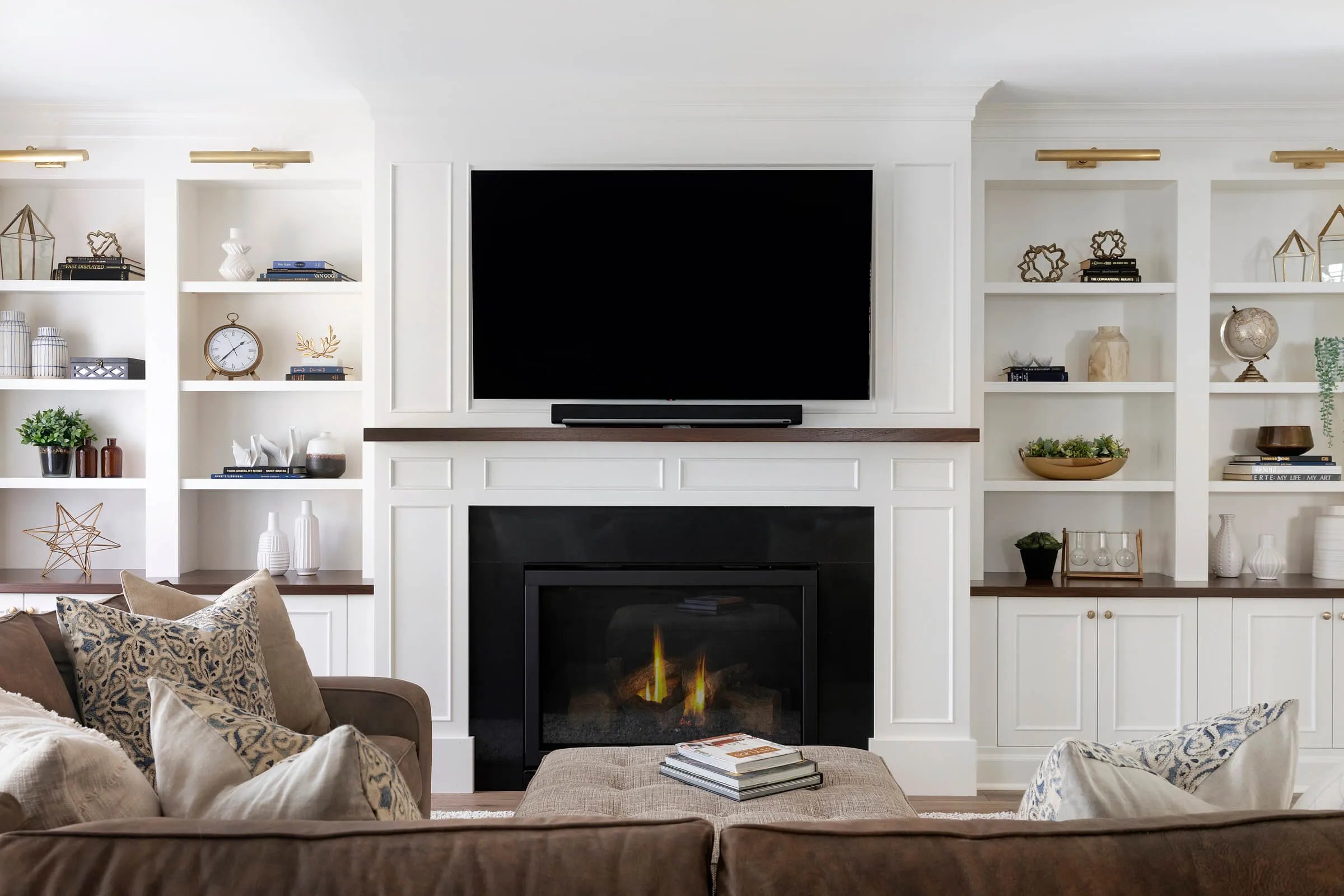 Dramatic Emphasis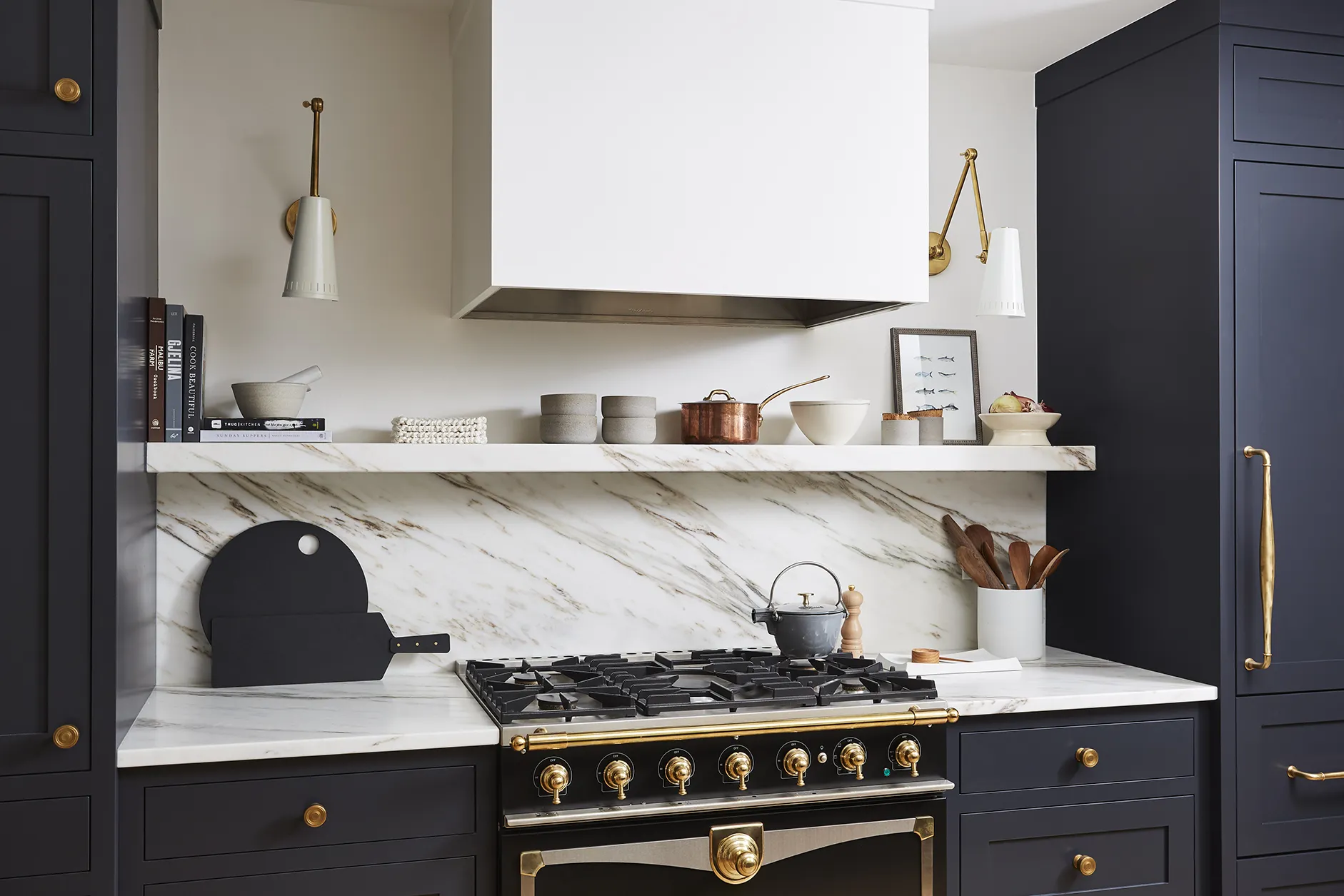 A dramatic La Cornue range, sweeping movement in the marble, custom cabinetry in Farrow and Ball Railings, and complimentary brass hardware. All of these elements, while neutral in color, demand an emphasis on their own and make a large impact together.
Contrast with Texture
Light and dark, polished and rustic, large and small scale, and smooth and textured are just a few ways to accomplish contrast while using neutral tones. Incorporating textural variation is a great way to accomplish a thoughtful design.
Rhythm with Continuity
Like a beat in a song, rhythm in interior design holds everything together and creates continuity. This can be accomplished by running the same flooring throughout an entire level of a home for seamless transitions between spaces. Incorporating the same finishes or patterns throughout multiple spaces will also create stability.
Scale and Proportion
Scale is the actual size of something. Proportion refers to the general size of an object in relation to another. Selecting appropriately sized finishes and furnishings is very important in design. Scale and proportion align with balance, visually balancing the weight of objects within a room. The gallery wall with large mat frames at Silver View Drive is proportionate in visual weight to the double chandeliers.
Details for Big Impact
Live in the Details® is our mantra. Incorporating well-thought-out details into a space, even in a neutral color palette, elevates the design. The beams in the Kath Home wrapped in reclaimed white oak are a great example of detail. This provides added emphasis and texture to the cool tone space. Be it millwork and molding, a backsplash detail, a mix of materials, etc. Finding ways to add small details makes a big impact.
When you combine all of these principles together, you create a harmonious design to do neutral right. Remember, a neutral palette doesn't mean a dull design. Create an inviting space that will outlast trends.
Have a great weekend,
Jkath team
Interested in connecting about your home renovation?
Some recent projects from our team we think you might like:
Drew Avenue, Westbrook Road, Goodrich Modern Tudor
Keep up with our latest inspiration by following us on Pinterest and Instagram.