Decorating Your Mantel: Two Ways For the Holidays
The holiday season is upon us! Decorating seems to come earlier each season, and this year we find ourselves in the mood. Thankfully we captured timeless holiday decor in our Goodrich Tudor home, that we can re-share with you this season. Decorating Your Mantel: Two Ways For the Holidays with source links updated to reflect this seasons favorites.
We love classic interiors, and happen to be huge fans of timeless decor that you can invest in and bring out again and again each season. We're taking you though two very unique holiday looks, with installation inspiration and all items source linked. It's never too early to get a head start on shopping your seasonal decor.
Transitional Holiday Decor
We have been using this term a lot around here. Transitional items in your home are so important. It can be less of an investment and can be displayed through multiple seasons. We love being able to use the same items year after year. Always continue to invest in the pieces that you believe are timeless. This means faux garland, you can always style your faux garland with real accents to enhance the look and add variety season after season.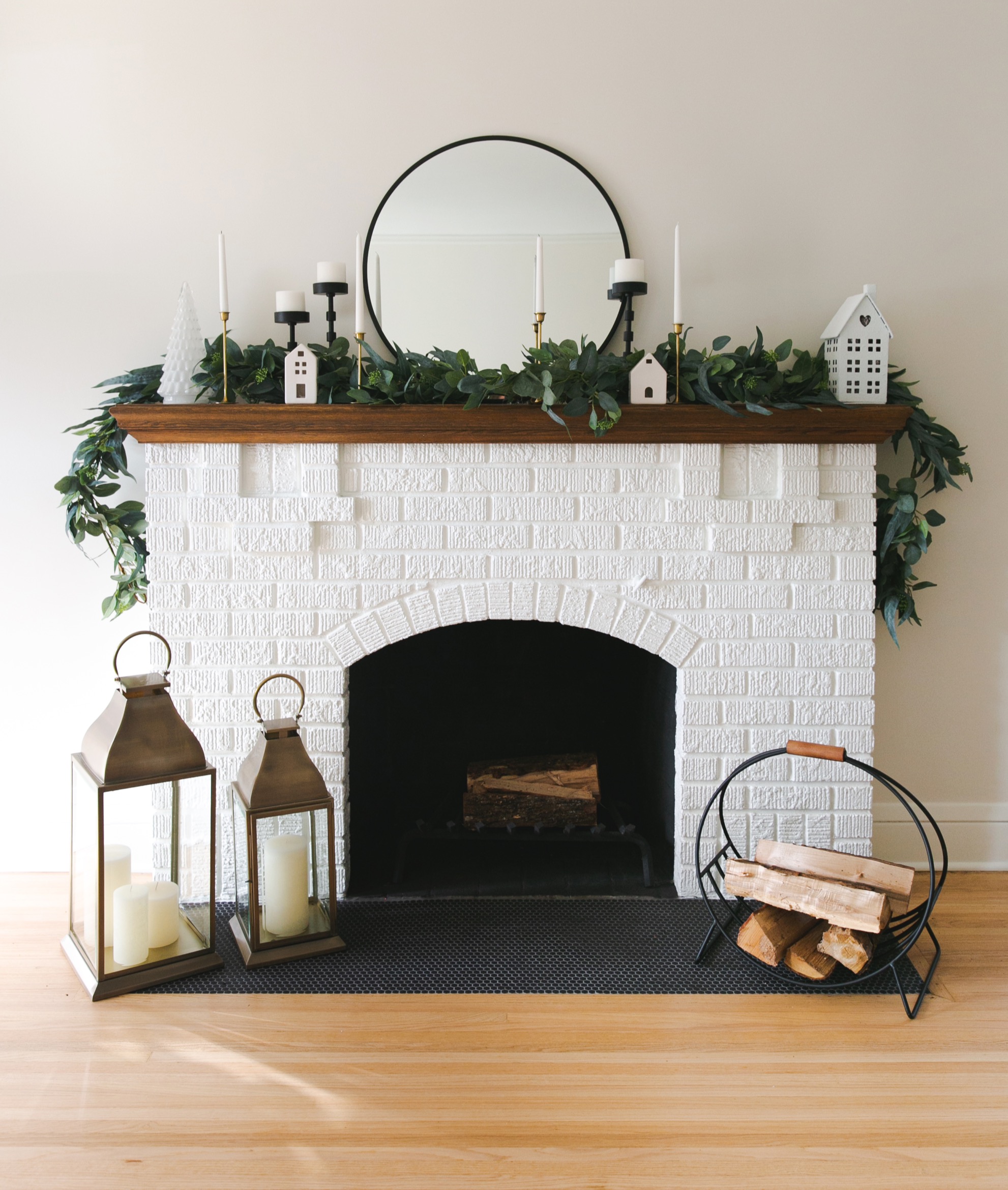 Get the look of this transitional mantel by shopping the links below.
Small lantern | Large lantern | Black candle holders | Brass candle holders | Round Mirror
Log holder | Ceramic white houses | White glass tree | Faux Garland
Holiday Sparkle and Glow
How about adding a touch of glamour to your holiday mantel? We love mercury glass, silver and gold as timeless accents to elevate your mantel this season. Layering a mirror or holiday art behind your accent pieces adds interest and dimension to your space, making it even cozier for your guests this season.
Small white tree | Large Silver Tree | Silver candle holders | Faux Garland
Cheers | Blue Area Rug | Beaded Framed Mirror
Bonus Holiday Decor for the Home
The transitional look and shimmer inspired look that we created can both easily be dressed up. This is something you might consider when you start to get closer to the holidays or are throwing a party. Here are a few looks to incorporate into your transitional decor when the holiday spirit hits.
Extra Real Greenery
We love sprucing up our faux garland with small real greenery pieces. This adds just a little element to enrich that space – and also smells great! Head to your local greenhouse to grab spruce tips or the likes.
Snowshoes as Decor
We loved styling snowshoes for this look. They look great leaning up against the fireplace, hanging on the the wall or in your rear entry. It's pretty difficult to get your hands on some vintage snowshoes, but if you can, you should. It adds a fun nostalgic element to your scene.
Vintage Stockings
This may be a new tip, update your stockings to a not so updated trend, go vintage! We found these Faux Fur Stockings, they are customizable as well. If your mantel is already full, hang onto to these and add to the days leading up to Christmas – if this is the holiday you and your family celebrate.
Charming Fiber Trees
Add even more glam trees to your shimmered inspired look. Many of these gold shimmery trees have a light option as well, which can be fun for night time or a party. The best part about mantels, they can be dressed up or down in minutes.
This post contains affiliate links. If you click on one of them, we may receive a small commission (for which we are very grateful for) at no extra cost to you.
Jkath Team
Interested in connecting about your home renovation?
Some recent projects from our team we think you might like:
Drew Avenue, Westbrook Road, Country Club
Keep up with our latest inspiration by following us on Pinterest and Instagram.