Dayton Ranch Master Bathroom
White on White Master Bathroom Updates
This home had recently undergone updates in the last decade. Our clients travel frequently and wanted to achieve some of the design and function they were seeing during their travels. This was a new relationship for us, we agreed to start with the master bath and transform the space from dark, dated and compartmentalized. Our clients gave us the go ahead with 100% design/build autonomy to make this space a dream, spa like getaway. Our only limitation was to keep everything white.
This space is small, but it is mighty and packs a wow factor when comparing the before + after reveal. Leaving an impression for years to come in this rural ranch home.
Right away we knew this was going to be a big project from start to finish. We captured a few before images, so you could see how moody the space truly was:
Before + After
As you can see in the existing space, this room had a traditional door opening with a shower immediately to your left and a toilet closet in the opposite corner. Both of these features occupied excess space, not allowing for best use of flow and function. The built in tub, was also occupying another corner and eliminated much of the remaining floor space. Without hesitation it was clear we needed to 'open' this space up. We had three major goals for these clients, make the space feel larger, brighter, and functional.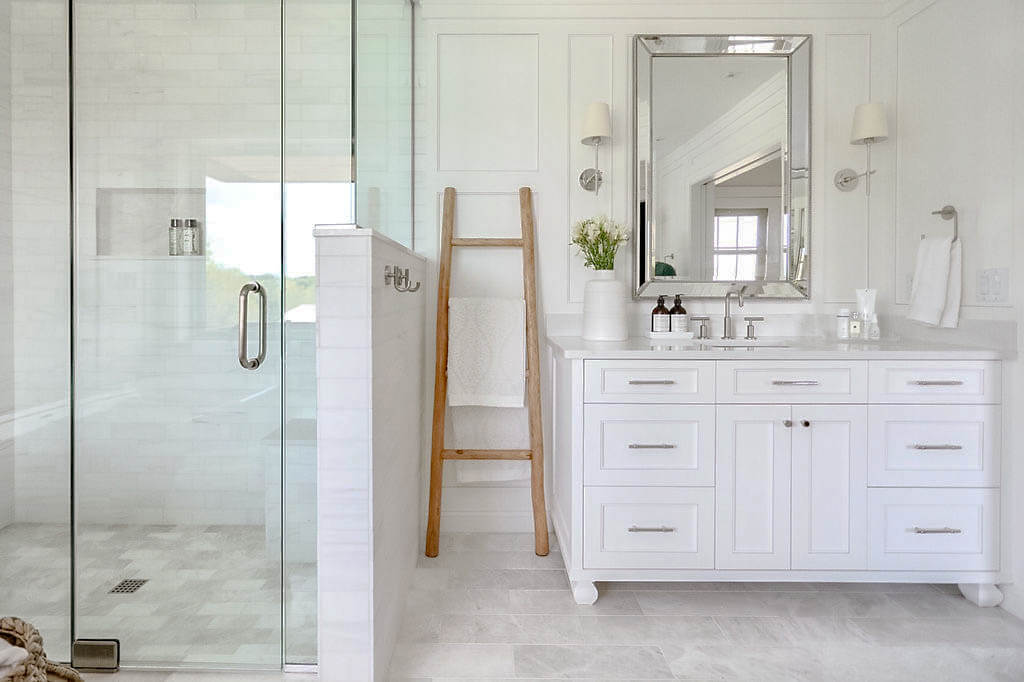 Featured is a steam shower, which allows for the floor to ceiling glass panels for total function and high design. We designed and built custom vanities and split these into his and hers. A free standing tub with intentional floor to ceiling paneled walls throughout brings this space home. There are details in every square inch of this space, custom finishes and layers of elegant materials to compliment the varying shades of all white design.
We created a wider entrance, moved the shower to the opposite side of the room, created custom his + hers vanities in our cabinet shop, and while everything IS white, it's layered with various shades of marble, quartz and paneled walls.
Texture is everything when you're using a monochromatic palette. You can see this with the polished chrome hardware in the room that creates a small contrast and brings out the different hues of white throughout the space. All marble floor and shower walls by Jeffrey Court Tile. We've used these floor tiles in our Arden Avenue master bath, we fell in love with these large format polished marble tiles, Chapter 9 Pietra Opus in Iceberg.
The Chapter 18, Rotunda collection, was the perfect compliment for the shower wall tiles. Fun fact, this collection is all about high end stones synonymous of design in historic capitals and state monuments. We also wrapped these tiles around the 1/2 wall for continued architectural detail. Featured are the Dolomite field tile in 3 x 10.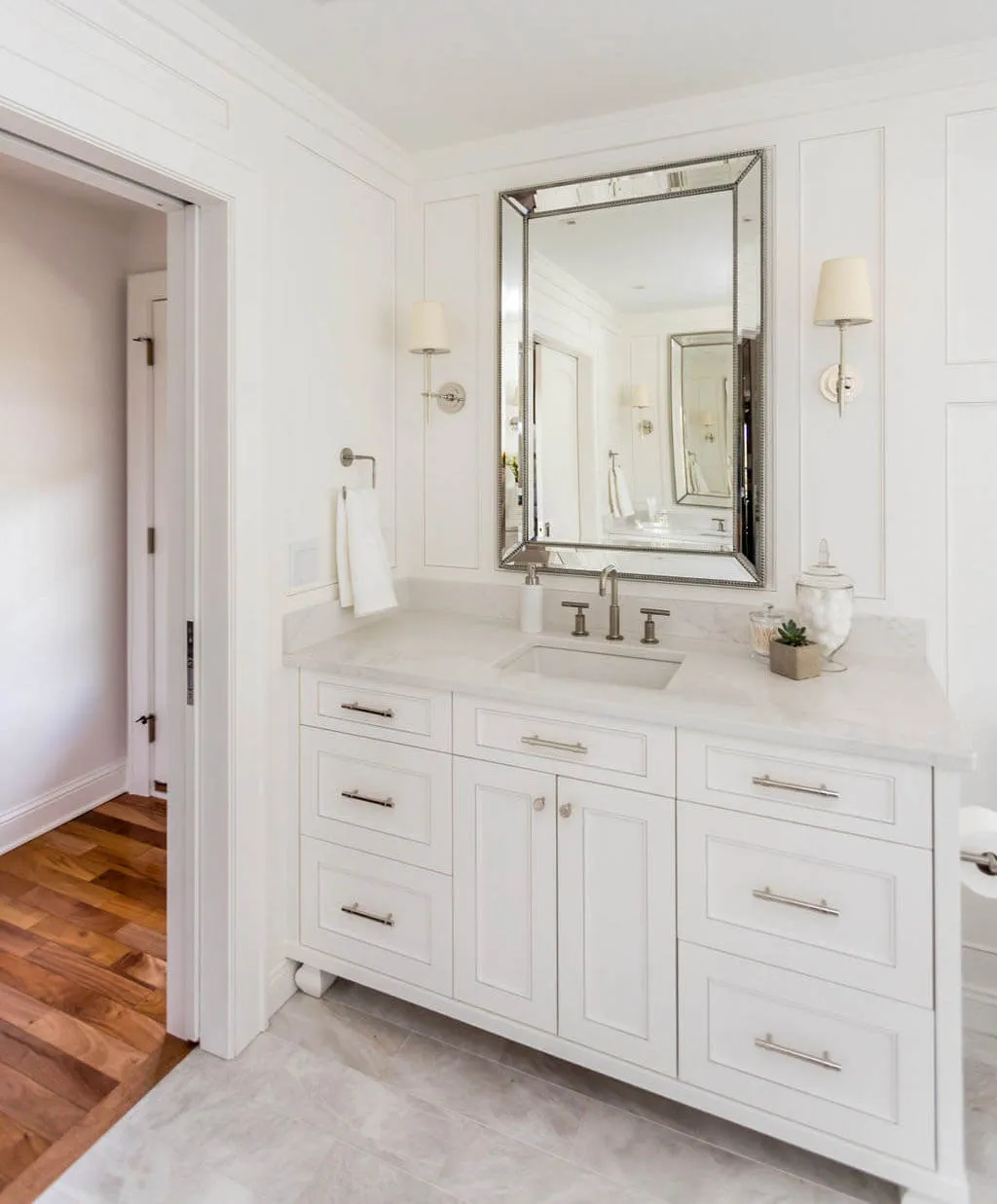 Our clients said, "Here's the space, make it better, but make it all white." This project was exciting with the freedom in design and our clients trusting our selections from the onset. Looking back at the before photos from this project, we know we have came a long way and couldn't be more happy with how we saw this one come to life.
One limitation, two months, and three goals later… a sanctuary to last a lifetime. This space was a dream to create. #daytonranch
Jkath Team
Take a look at a few recent projects that we've completed.
Arden Avenue – Whole house renovation
Westbrook Road – Kitchen remodel
Lake Harriet – Whole house renovation
Keep up with our latest by following us on Pinterest and Instagram.
#beforeandafter #daytonranch #masterbathroom #subwaytile #jeffreycourt #LiveInTheDetails #beforeandafter