Custom Cabinet Series – The Kitchen
You would not believe the number of times we get asked where our cabinetry comes from. The secret (that was never meant to be secret) is out! We have our own cabinet shop where we do all the design, 2D elevations, fabrication, delivery, and installation… we do it all.
Introducing, The Cabinet Shop series. We are sharing with you all the different types of custom cabinetry we do in a blog post series. Each post is meant to be informative and answer any of your questions about our cabinetry. We are kicking it off this week with a post on custom kitchen cabinetry.
We thought it would be fun and informative to do a Q & A on custom cabinetry in each post during the series.
What is the benefit of having custom cabinetry in your kitchen?
The overall ability to customize dimensions to fit each space uniquely eliminates fillers provided by box cabinetry which limits storage and design. There is also the craftsmanship and quality in custom cabinetry you cannot find elsewhere which lends itself to longevity for years to come. The cabinets will outlive the space in most cases. Additionally, the ability to customize wood species, finish, paint grade, and so much more.
Do you install custom cabinetry in every project?
Yes and the top reason is, we are creating a custom space just for you. It's all about functionality and craftsmanship. With this being an in-house component, there are efficiencies along the way for installing our own cabinetry. We also believe in the value of quality materials, an investment worth making in any renovation or new build. The majority of our custom cabinetry is seen in the kitchen, however, we do always create custom bathroom vanities, mudrooms, built-ins, and any other special moments in your home.
Are there some cases when it doesn't make sense to do custom cabinetry?
Not exactly, even if it's a budget renovation, you want your cabinets to perform for you. It's the most used item in most kitchens, and you never want to replace your cabinets. The ability to have soft-close doors and drawers and the storage needs that fit your space to a 1/8 of an inch are irreplaceable in our opinion. There may be a few smaller pieces in bathrooms or small storage areas (with less use) that make sense to purchase a piece of furniture. We will explore this in a later blog post.
What trends are you seeing for the new decade with custom cabinetry?
Great question, we're definitely back to natural wood tones, in some cases a combination of paint grade and wood cabinets. 10 years ago when everyone started requesting paint grade cabinets Jesse Kath, our Founder, warned against this, there will be ongoing maintenance and touch ups along the way. Clients have come full circle and are now requesting wood elements again. We're also seeing more unique custom build pieces in kitchens, specialty hutches or bakers tables to name a few. Appliance garages, unique pantries for small spaces, and small appliance storage solutions are also popular customizable options.
Here is a small portfolio of our kitchen cabinetry and a sampling of options our shop can produce.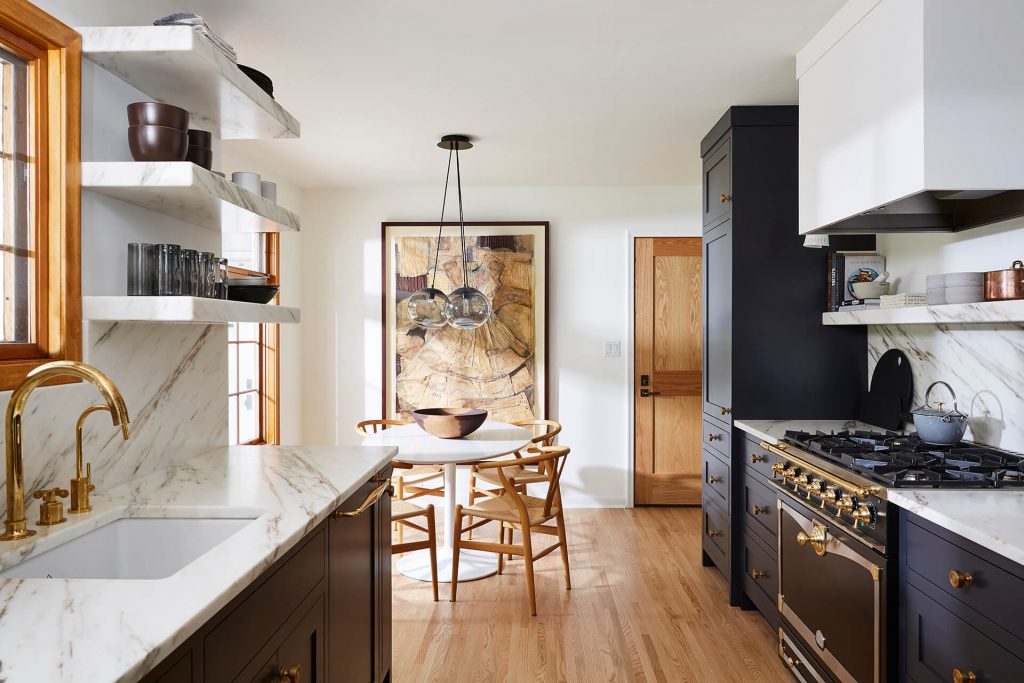 Cabinet Color: Farrow and Ball, Railings
Hardware: Armac Martin, Dougan Knob in burnished brass.
Cabinet Color: Benjamin Moore, Balboa Mist
Hardware: Rejuvenation, Vernon Bin Pull, Vernon Mushroom Cabinet Knob in aged brass.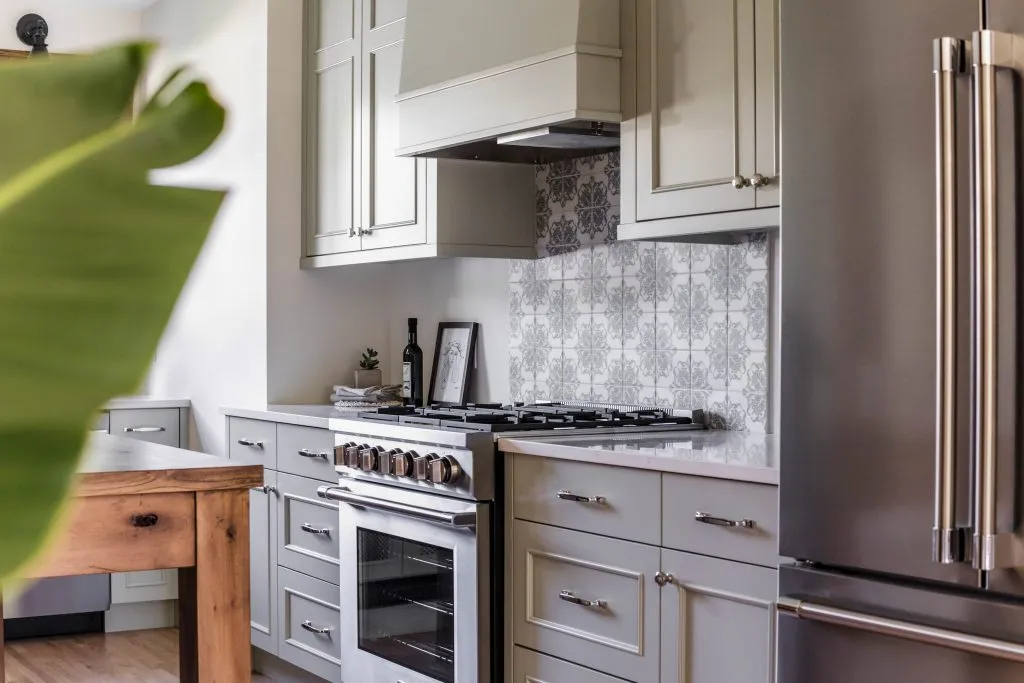 Cabinet Color: Farrow and Ball, Green Blue
Hardware: Amerock, Highland Ridge Pull & Highland Ridge Knob both in polished nickel.
Green Lake
Upper Cabinet Color: Benjamin Moore, Simply White. Lower Cabinets: Clear stain on a white oak mixed with rustic oak to achieve finish.
Cabinet Color: Benjamin Moore, Simply White
Island Color: Benjamin Moore, Wolf Gray
Hardware: Restoration Hardware, Gilmore pull & Ephram knob in aged brass.
We hoped you enjoyed The Cabinet Shop series and if you have any questions make sure to DM us on Instagram, comment on this post or leave an inquiry on our contact form on our website.
Jkath Team
Keep up with our latest by following us on Pinterest and Instagram.
As a reminder, some of the links may earn us a small commission, and for this we are grateful. Thank you.