Custom Cabinet Series – The Bathroom
We are back this week with the Custom Cabinet Series. This week's feature is cabinetry in the bathroom. We custom design and build all of our bathroom vanities, making every detail, unique to your home.
Q and A With Jesse Kath
Jesse is back with us this week to answer more questions on bathroom vanities and custom cabinetry. And since this is where we grew our business from, the cabinet shop, let's get to know Jesse, our founder, a bit better:
What year did you start the cabinet shop? 2010 – so we're coming up on a 15-year anniversary?!
How did you get into cabinet making? A previous history of working with General Mills and getting an MBA led to a career move and leaving it all behind to run a local cabinet shop as the project and operations manager. While helping the family business and getting an opportunity to learn the craft while being introduced to higher-end new construction. This ultimately led me to start my own company.
How did starting your own business lead to the boutique renovation services you now offer? After a year or so of providing cabinets only, it was clear there was more for this company. With a few opportunities to take on project management for the entire project, this led to immediate referrals and where we are today.
Do you work in the cabinet shop now? Not like I used to, we have a lead cabinet maker that oversees all the craftsmanship in the shop, along with a shop engineer and cabinet makers. At the shop, from manufacturing to delivery, and installation with our team. I am still very hands-on in the design process as a liaison from our designers to the shop. Our design team now spends considerable time developing early designs with our clients.
Share with us why custom bathroom vanities are the way to go, what are some benefits? There is always the opportunity to customize spaces, finish, and storage solutions that can be critical in most bathroom spaces. The vanity is also a high-use custom piece that will need to outlast your latest renovation, often box cabinets will not go the distance. Remember, we have our own vanity collection, while custom, available on a larger scale for a national audience.
Now to the Q and A on bathroom vanities.
Is it okay to use real wood in bathroom vanities? Yes, actually the interiors are often made of melamine because it's more durable and the doors and drawer fronts are made of real wood while the panels can often be veneered wood. This is to prevent warping and variance in humidity and temperature changes. Each scenario is different, but in general, we do a mix of real wood and MDF for durability. Both painted and wood finishes will work, but we are seeing a trend away from painted cabinetry in the year ahead.
How much money should you expect to spend on a custom vanity? The price per linear foot starts at $650. This doesn't cover the cost of a solid surface countertop with a cutout for a sink, the plumbing fixtures, and the hardware all need to be taken into consideration. A vanity can easily add up to $5,000 or more if we're talking about a custom double vanity for the primary suite.
How much money should I spend on vanity hardware? There are options here, value series lines that can easily be less than $10 per unit, or custom finish hardware that can be $50 or more per unit. Some of our favorite sources for hardware are Rejuvenation, Restoration Hardware, Emtek, Top Knobs, and Armak Martin.
We are dedicating this post to a small portfolio and looking into some of our best bathroom vanities from the last few years. We will link every project title to its full project gallery, so click through to see the project in full.
Kath House, Primary bathroom, reeded alder vanity with a custom stain.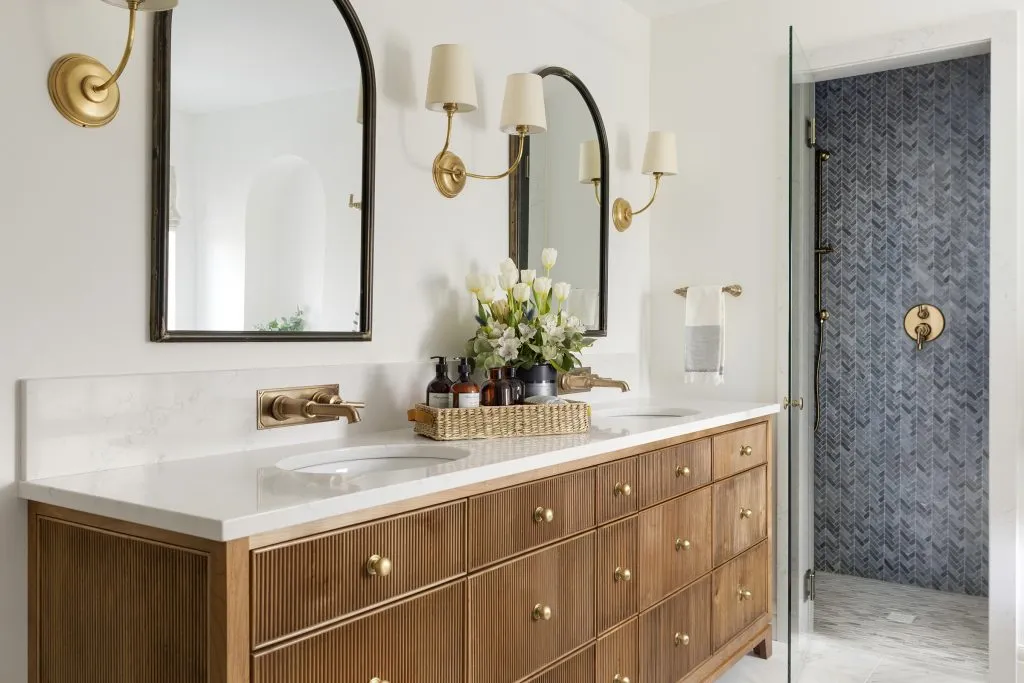 Kath House, Lower Level Bathroom. V Groove paneling with Benjamin Moore Cloudy Gray finish.
Drew Avenue, Powder bath in natural white oak.
Drew Avenue, PrimaryBathroom in Benjamin Moore Gray Huskie finish.
Hale House, Primary bathroom in natural white oak finish.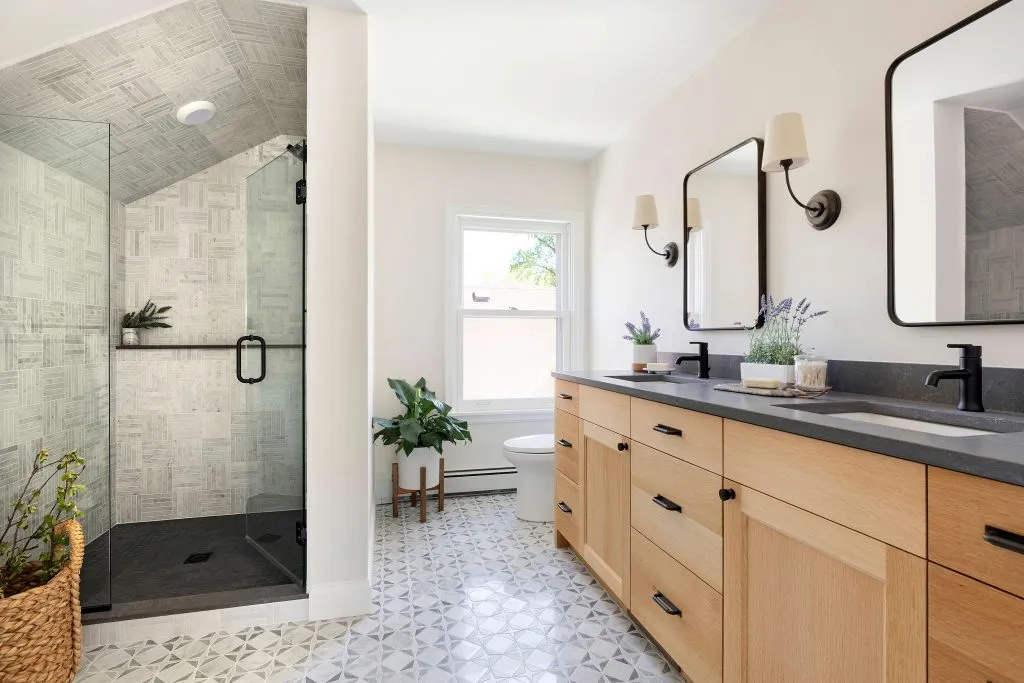 Country Club, Primary bathroom in Farrow and Ball Off Black.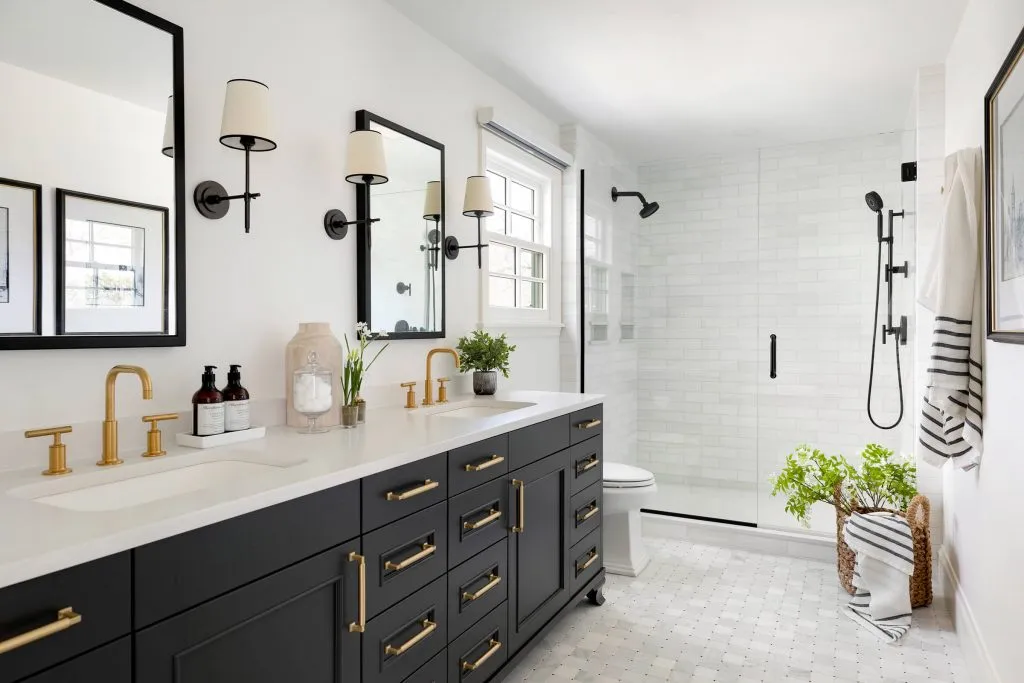 Arden Avenue, Kids' bathroom using reclaimed white oak timbers from Manomin Resawn Timbers.
Fairmount Avenue, primary suite bathroom vanity in stained white oak, beveled surround, and scalloped trim.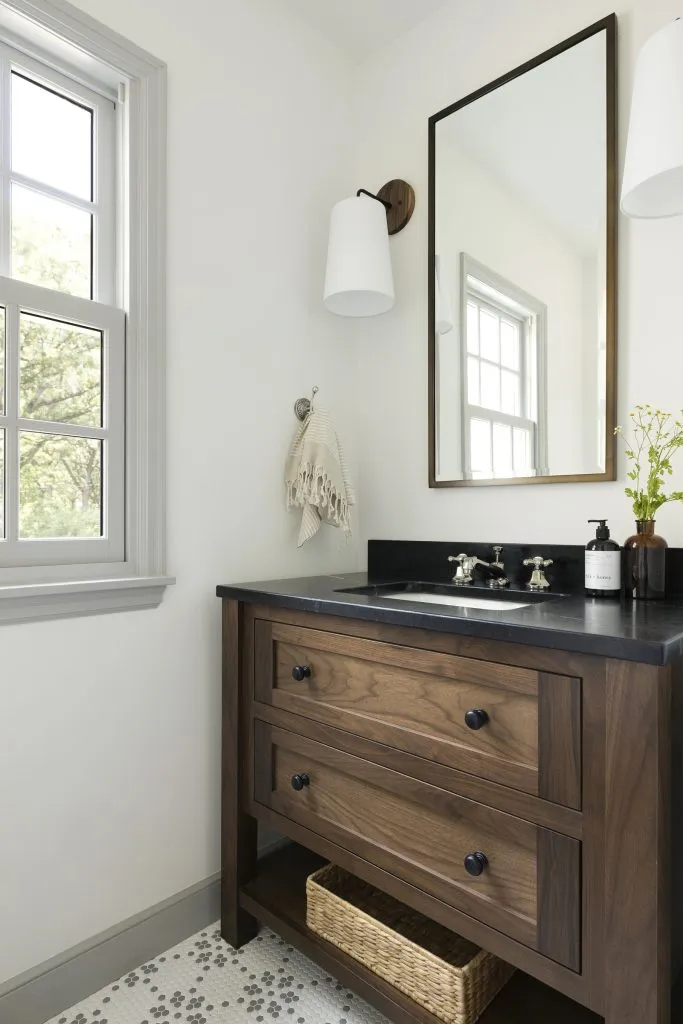 Interested in connecting about your home renovation?
Some recent projects from our team we think you might like:
Drew Avenue, Westbrook Road, Goodrich Modern Tudor
Keep up with our latest inspiration by following us on Pinterest and Instagram.