Traditional Charm in Country Club Living
We started our #CountryClub project, near 50th and France in the bustling neighborhood of Edina, MN last fall. What started as a few main floor updates and a reconfiguration of the second story owner's suite resulted in a complete overhaul.
Today's blog, we will focus on the second story owner suite reveal. And I just love this view from the hallway, we borrowed space from the adjacent bedroom, which we closed off to create a walk in closet and added hallway space that also holds a laundry washer/dryer in the closet on the left side of this image.
Some of our earliest selections included the tile. Our client has impeccable taste, with a keen eye for quality, long lasting products. We immediately jumped into Jeffrey Court's Chapter 15, Classic Statuario floor tile, with black octagon detail. The natural honed finish makes this a terrific bathroom floor selection. We paired this with the Chapter 18, Dolomite 3 x 10 field tiles. Also, in a gorgeous honed finish… we use this tile a lot in our bathroom renovations. It checks all the boxes.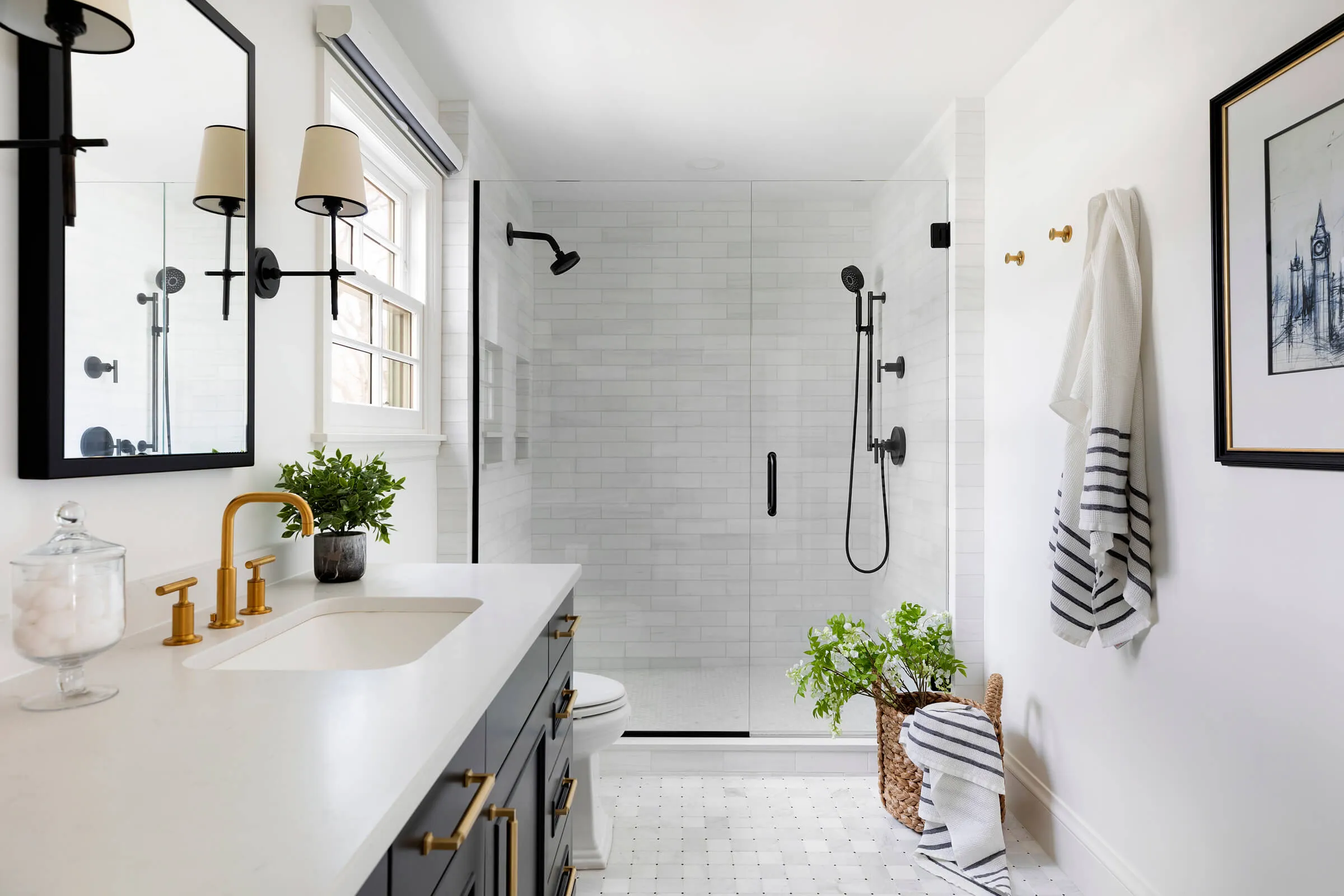 We completed the look in the shower floor with a classic 1″ hexagon tile, also in a honed marble finish.
Did you know Jeffrey Court is offering up to 4 free samples of all their tiles on their site right now? Such a great idea as many designers and clients are rethinking how to move toward in a virtual setting.
We also added a custom vanity from our cabinet shop. We finished this in Off Black – 57, by Farrow and Ball with contrasting gold cabinet pulls. Matching finishes with the sophisticated brushed gold purist faucet by Kohler.
We finished the vanity look with custom black metal mirrors, our favorite vanity lights from our friends at Rabbit Creek, and a soft wall color – Simply White by Benjamin Moore. We're obsessed with the contrasting elements, and the luxurious details in this space.
A few more sneak peeks of the master suite include the master bedroom and walk in closet. Both spaces were taken down to the studs, literally, and refinished for an all access owners suite.
And because, the #beforeandafter is such good eye candy, this is where the space started: master bedroom, master bathroom and walk in closet respectively.
We hope you've been inspired to go BOLD, black is the new neutral and it's one of our favorite cabinet finishes. Truly a unique statement.
Katie + Jkath team
Interested in connecting about your home renovation?
Some recent projects from our team we think you might like:
Keep up with our latest inspiration by following us on Pinterest and Instagram.
#countryclubreveal #masterbathroom #beforeandafter #jeffreycourt #jeffrecycourttile #custombathroomvanity #boldfinishes #mastersuiterenoviaton