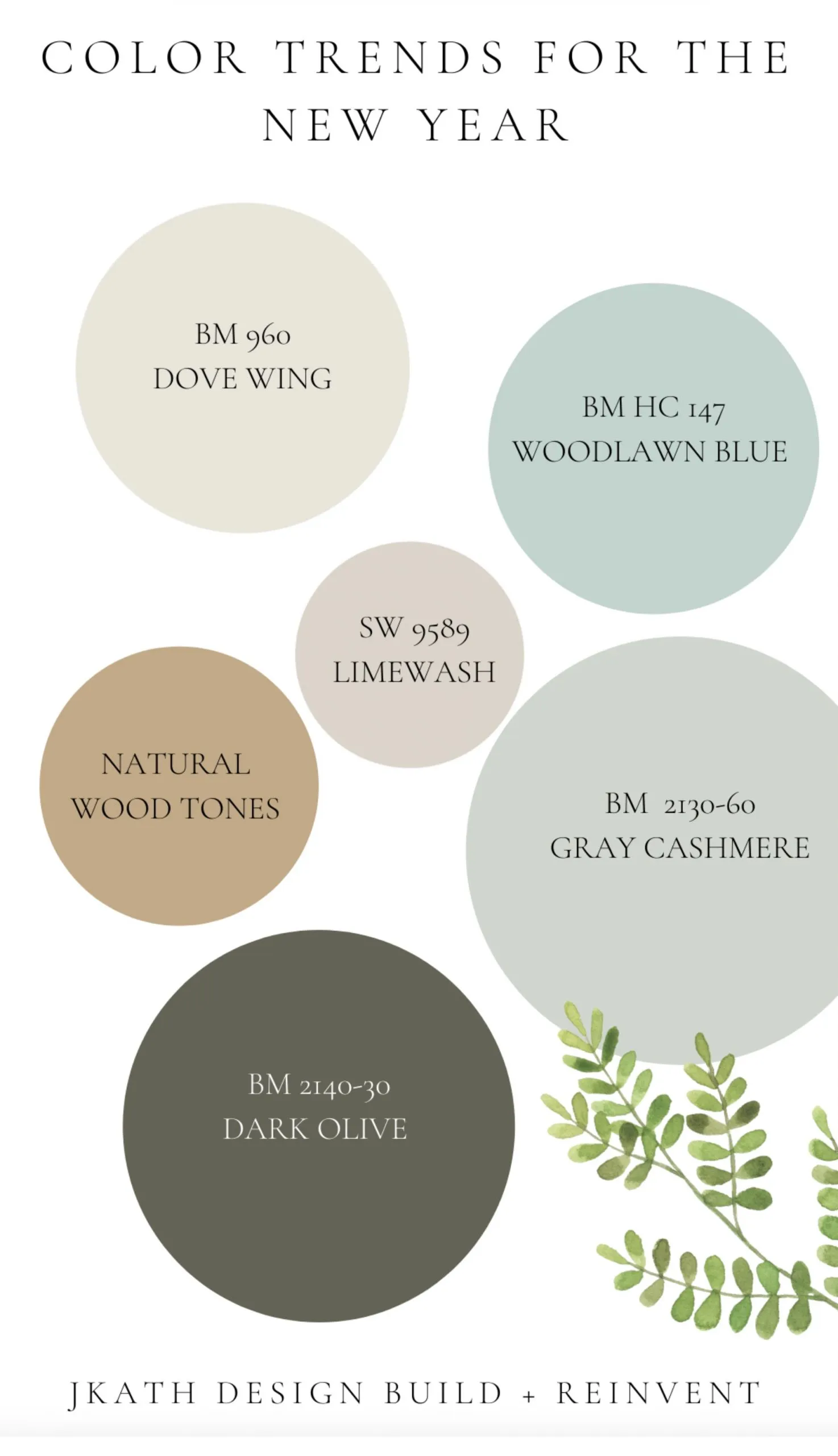 Color Trends For the New Year
We recently launched a color series and have shared our Favorite Neutral Paint Colors, Fall Inspired Color Palate and today we're sourcing a few trends we're seeing in the new year.
This color is not new to our team, and you will find it linked in the above mentioned blogs as well. Our mainstay, go to, love of our lives. You name it, we use it in almost every project. This is the perfect off white without leaning to gray or brown. This color compliments every room, with every design style.
Many of our clients are seeking that perfect off white with neutrality to compliment corresponding design choices. A newer release for Sherwin Williams, and we are hooked with three kitchens complete this year alone using this color.
Subtle pastels are back, still leaning neutral, and a nice transition from the all white kitchens we have come to know and love. Pastels are easy to work with, just like white, paired perfectly with contrasting dark wood elements, you'll have a timeless design for decades to come.
Benjamin Moore Gray Cashmere
While we haven't had a chance to photograph and finished spaces of this color, we've recommended and used this many times. It can be found in many kids bedrooms, especially teens that may need something other than white, but can stand the test of time.
Benjamin Moore Dark Olive
A popular request for cabinetry in the new year. We have sent this sample on it's way more than few times, and hope it'll come to fruition soon. This green color is soft, and neutral enough to stand up to so many other elements in your home. A contrast of gold or natural wood tones makes this color shine even more.
Natural Wood Tones
While not a 'color', natural wood tones continue to play a significant role in every room we design. Fireplace mentels, ceiling beams, cabinetry details or even cabinet hardware can now be discovered in a wood finish. Wherever we see this play out, it's a significant piece of contrast to any space and adds warmth and texture.
We hope you're loving our color series, and to inspire you for a weekend project ahead, or planning for an upcoming renovation of your very own.

Sharing a few recent projects we think you might like:
Princeton Avenue | Kath Home | 11th Avenue
Interested in connecting about your home renovation? Say hello here.
Keep up with our latest inspiration by following us on Pinterest and Instagram.