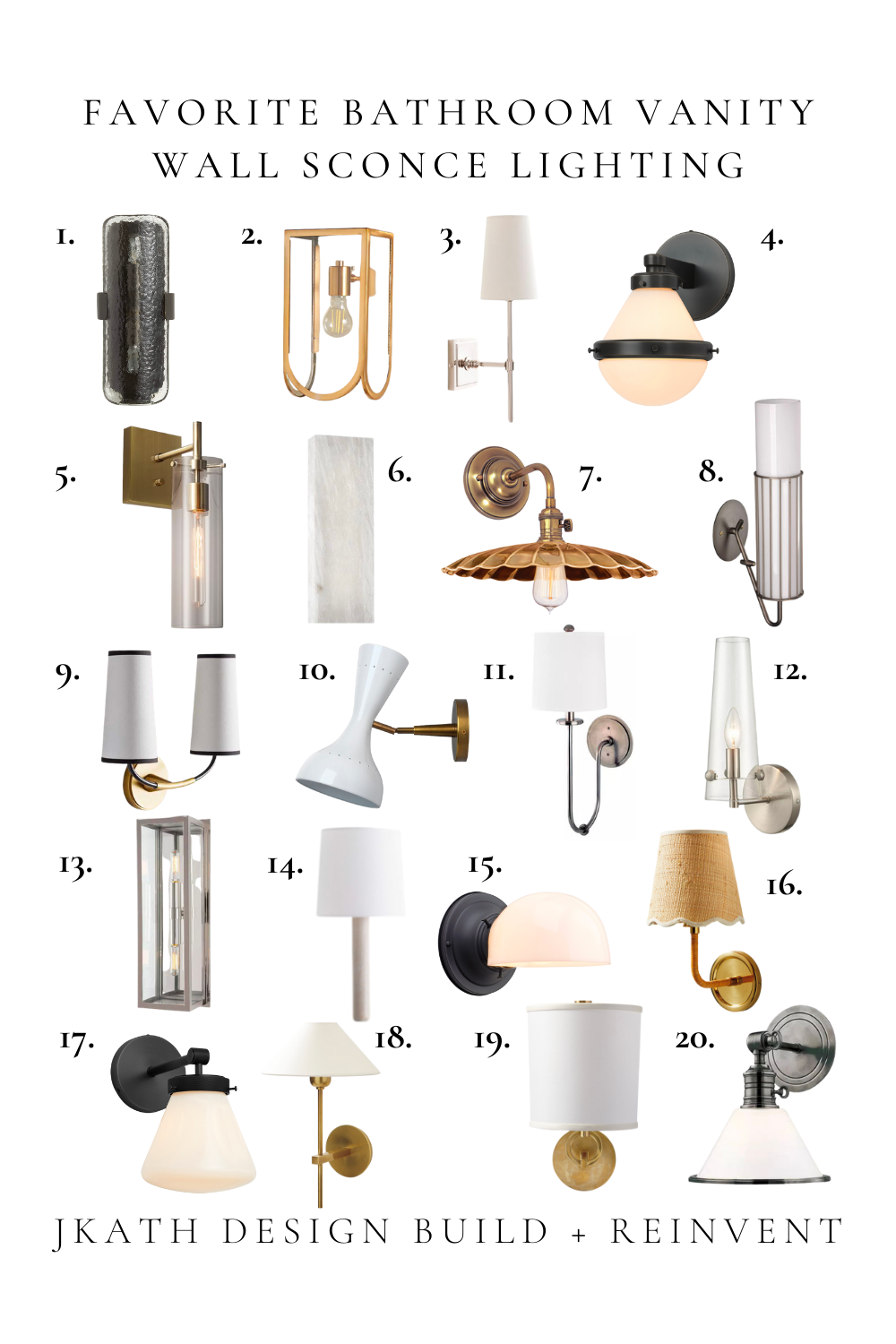 20 Favorite Bathroom Vanity Wall Sconce Light Fixtures
Lighting is one of the easiest, most cost-effective ways to make a space feel more elevated and well designed. In small spaces like bathrooms lighting is a major design element. That's why we are sharing 20 of our favorite bathroom vanity wall sconce light fixtures and our design tips to choose the right sconces.
As mentioned, we highly recommend swapping out light fixtures for an easy update through your home without tackling on a full renovation. Here are our favorite flush and semi-flush mount light fixtures to replace the dreaded "boob" light.
Tips to Choose the Right Bathroom Vanity Sconce
1. Install wall sconces on the sides of mirrors instead of above for a more elevated designer look when space allows. Lighting closer to face level is more flattering looking in the mirror compared to lighting from above that casts shadows on the face.
2. Mix two, but no more than three, metals between lighting, mirrors, plumbing fixtures, and vanity hardware.
3. Use glass shade light fixtures in small bathrooms with showers and bathtubs. Use linen shade light fixtures in large bathrooms or powder bathrooms with less regular moisture.
4. Look beyond "bathroom" lighting when online shopping. Just make sure the light fixture has a UL-listed Damp rating.
Some of the resources we link to may earn us a small commission. For that we are thankful, but would never push items we aren't truly passionate about, and likely have already given it a test drive.
Favorite Bathroom Vanity Wall Sconce Light Fixtures
1. Belmont | 2. Lana | 3. Pearson | 4. Blair | 5. Maiden | 6. Central Park | 7. Heirloom | 8. Turino | 9. Lennon | 10. Parsons | 11. Jericho | 12. Valante | 13. Ritz | 14. Lockeland Bleached Ash | 15. Thurman | 16. Larkspur | 17. Trask | 18. Waverly | 19. French Cuff | 20. Garden City
Thanks for following along. Sharing a few recent projects we think you might like:
Princeton Colonial | Kath Home | Ridge Road
Interested in connecting about your home renovation? Say hello here. Keep up with our latest inspiration by following us on Pinterest and Instagram.