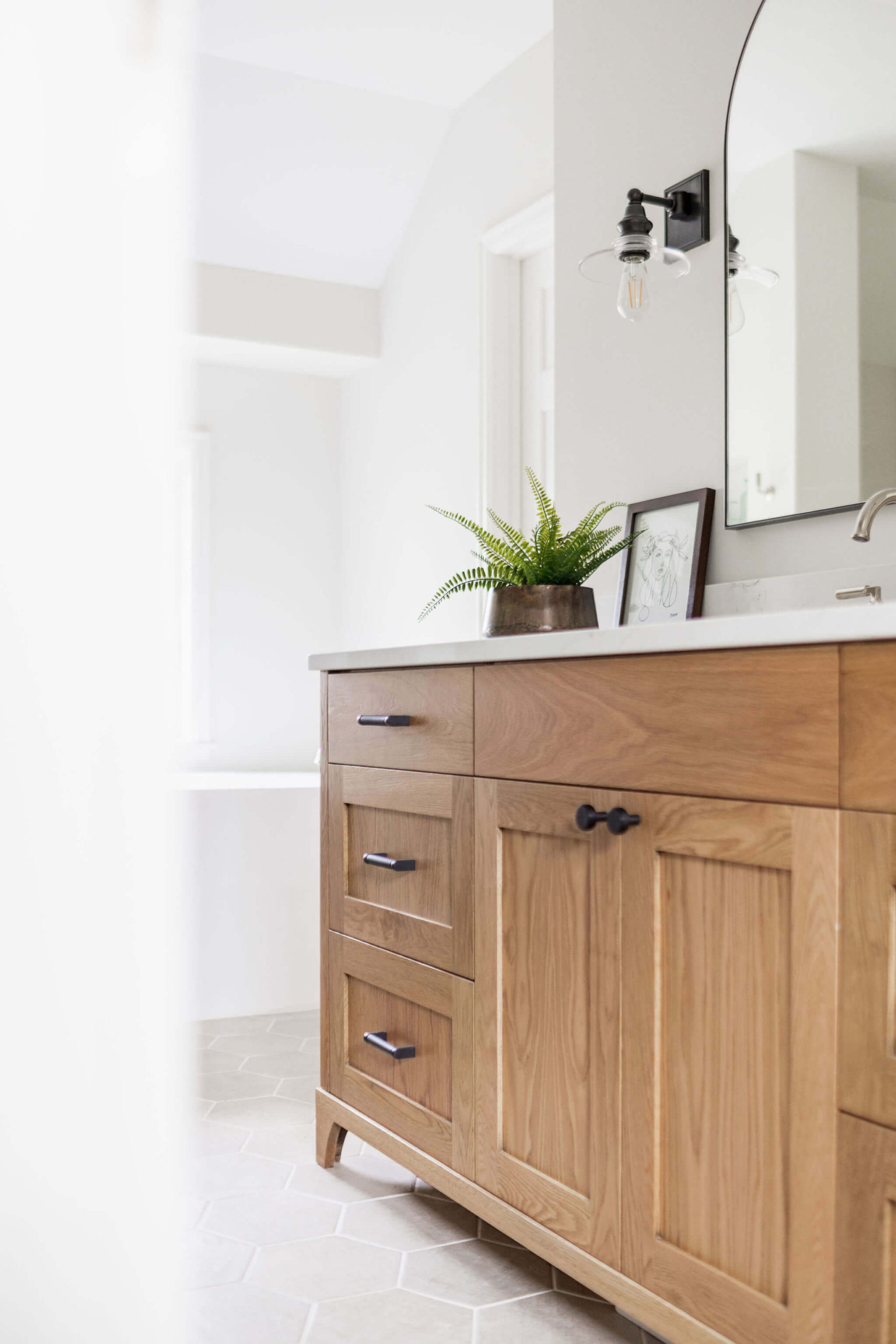 5 Must Haves in a New Primary Suite
Primary suites are a must-have on many homeowners' priority lists when house hunting, building new, or renovating an existing home. Nestled on an idyllic St. Paul street and neighborhood, the Jkath Design Build team was hired to build over an existing first-floor addition to create a spacious, well-deserved primary suite for two busy parents at our recently completed Bayard Avenue project.
When designing the space we accomplished five of our must-have design elements for a primary suite in the new addition.
1. Custom Wood Vanity
The beauty of natural wood is that it is a live material, making staining and treating it a true craft. Getting the right tone stain in the Bayard Avenue project was a work of art by our cabinet shop and finisher, they worked hard to accomplish the deep rich tone we see. We were also able to place outlets in drawers for razors, hair tools, etc., and elegant carved foot detail.
Wood vanities are more durable than paint, holding up stronger to water damage. Adding the warmth and texture of wood to a vanity is the perfect element to incorporate warm tones in a bathroom design. Check out our custom bathroom vanity collection here, featuring 5 unique designs available in three wood finishes.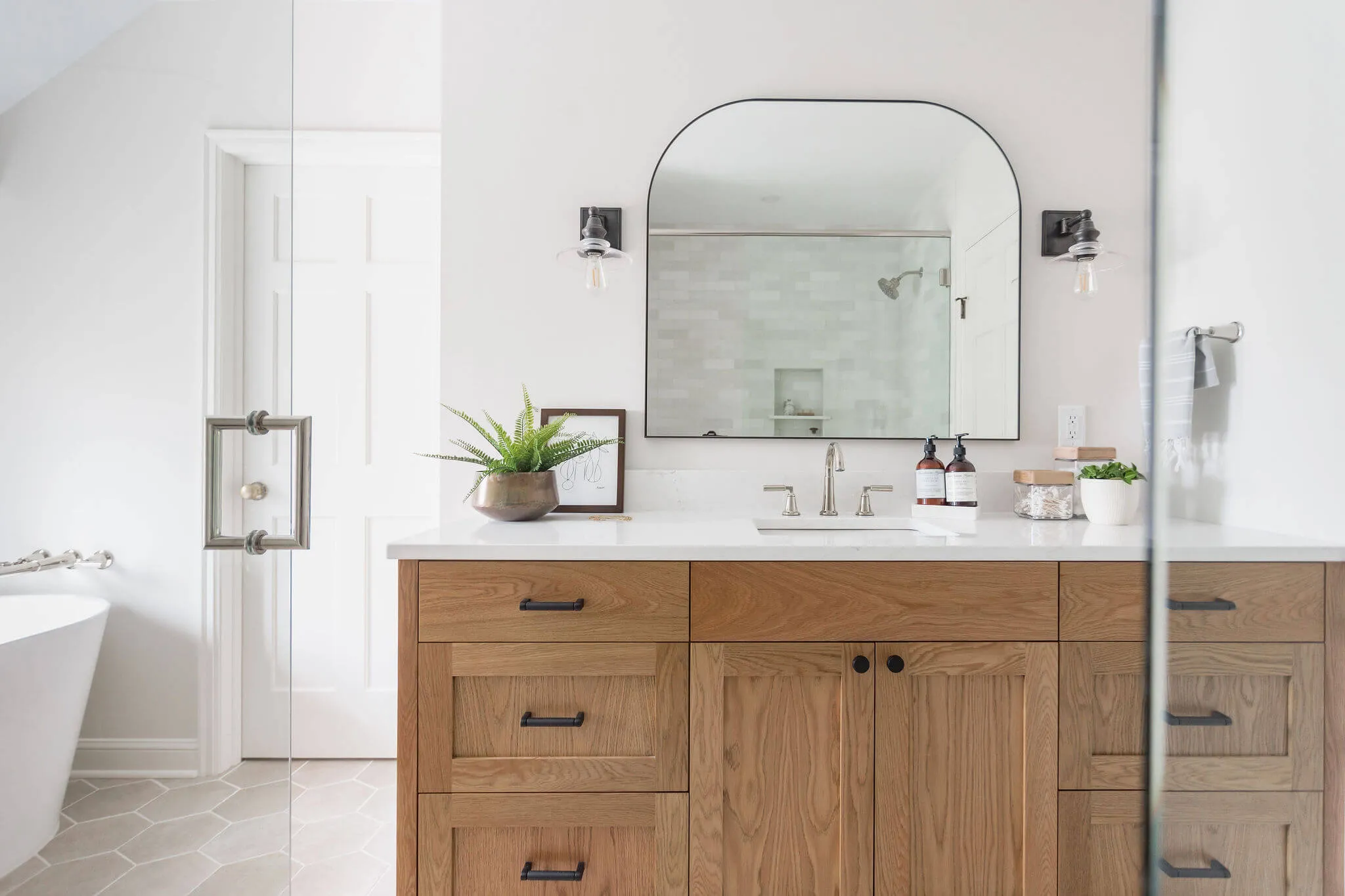 Check out more modern bathroom vanity styles you'll love.
2. Soaking Bathtub
Sink in, relax, and ring for someone to bring you another cup of coffee. This bump out area was built out for a sizable freestanding bathtub, enough space to soak or bathing several kiddos at once.
A wall mounted bathtub filler keeps the bathtub clear and and saves floor space. A large window with privacy glass lets natural light in, perfect for a city home.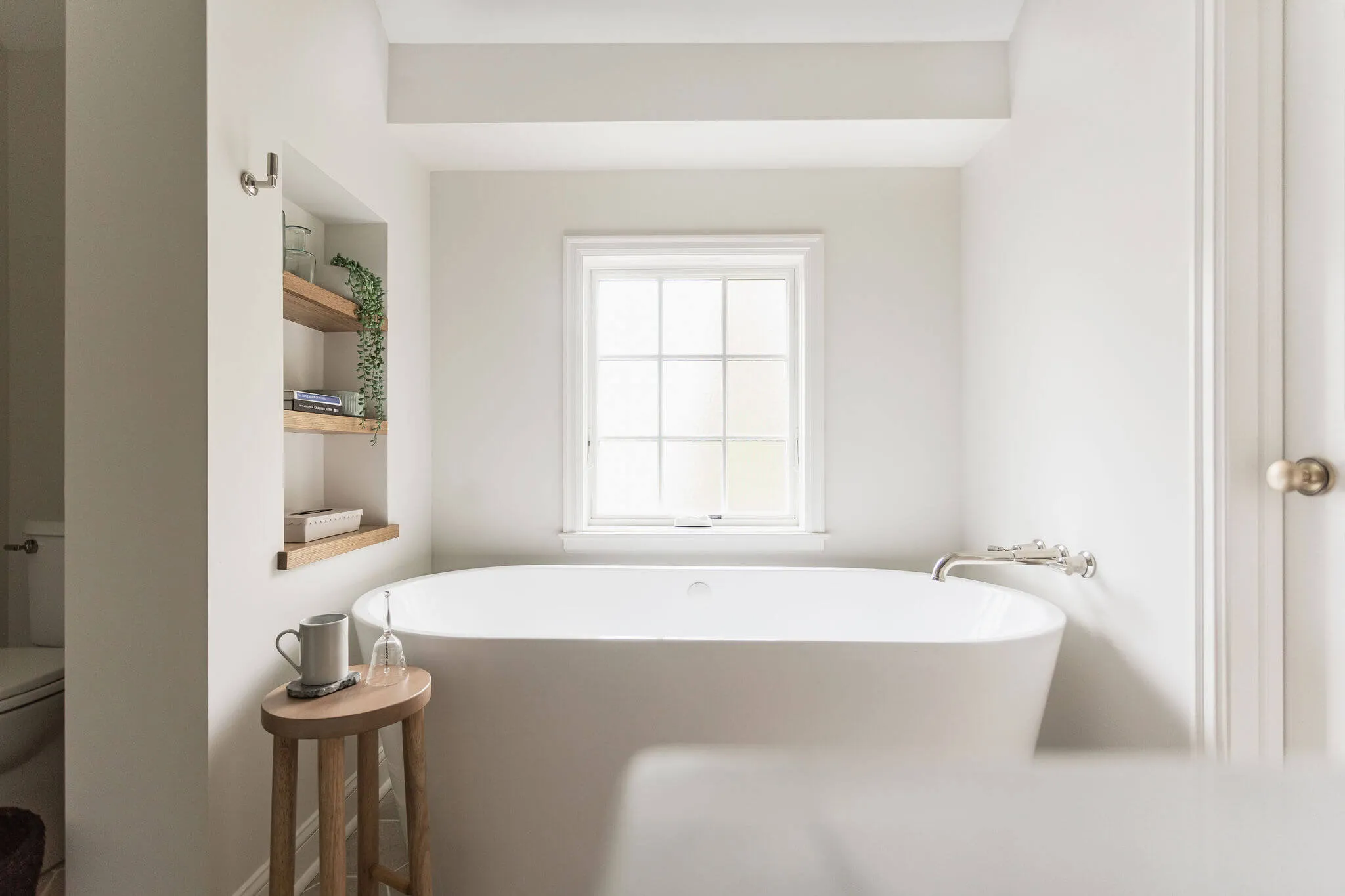 3. Custom Details
Live in the Details® is the name of our game. Crafting custom details in every space, no matter how small or passive, is where design matters most. In the Bayard Avenue primary suite a subtle curve detail on the vanity foot is a small detail that adds soft curves, replicated in the vanity mirror and shower floor tile.
Over the freestanding bathtub the team built a niche with three floating shelves that match the vanity, creating a moment for decor, candles and the necessities for a bath.
4. Walk-In Shower
This large walk-in shower features white artisan subway tile, a favorite of ours this year. The color variation of the tile brings interest and movement through the shower and differentiates from the white penny round shower floor tile. Polished nickel plumbing fixtures stand out in a timeless way. White quartz shelves in the niche make cleaning easy.
Notice our favorite shower design element: the control lever is right inside the glass shower door instead of underneath the shower head. This allows users to reach in to turn on the water without getting sprayed.
5. Large Windows
In the bedroom large windows overlook mature trees lining a running trail to a local university, making the primary suite feel like a treehouse. Over the freestanding bathtub, a large window with a privacy glass keeps the space feel comfortable while allowing natural light to flood in.
A primary suite oasis is more important than ever as a space for private relaxation. This classic neutral design will outlast all trends making it a favorite suite for years to come.
Thanks for following along,
Katie Wick + the Jkath Team
Check out a few recent primary bathroom projects we think you might like:
Whitegate Lane II , Westbrook Road , Country Club
Interested in connecting about your home renovation?
Keep up with our latest inspiration by following us on Pinterest and Instagram.