Frontenac Project – Before + After
We're so excited to share a behind the scenes look at our Frontenac Project we completed a few years ago. Our first full renovation, where we were the clients. Exploring common design practices, but adding our own personal touch while keeping a few of the home's original details.
We had our sights on a different kind of project. We wanted to lean into a modern aesthetic that was a departure from so many traditional renovation projects we had been doing. Jesse cut his teeth in the cabinet shop world servicing a variety of modern homes in the west metro, this became a fun project for the both of us. Our real estate agent was given the job to source a property with real bones, but required a creative challenge to bring it back to life. When Frontenac was found, we knew upon our initial site visit we had a story. I vividly recall standing in the front yard doing simple and quick math and said 'it's ours, make an offer this afternoon".
This house is located in one of St.Paul's tucked away neighborhoods, Desnoyer Park. Blocks from the Mississippi River paths and waterfront, heavily wooded, and boasted daily wildlife sightings .. in the middle of the city.The house needed to be entirely re-imagined. Layout, comfort, functionality and design were all primary concerns. With the single car tuck under garage and 1500 square square feet, we had our work cut out for us.
After finalizing the layout, we went to work on demolition. Taking the entire house down to the studs and in some cases, a total gut. Not only did we re-imagine the space, we replaced all the electrical, HVAC, plumbing, roof and sewer line to the city's main line. A small addition to the second story was added as well.We always ask our clients what their top 3 renovation goals are, it's easy for the scope to get beyond the budget, so this helps bring the conversation back to the primary reason we're meeting. We asked ourselves this same question.1. Expanded 2nd story for a 3rd bedroom and bathroom addition.2. Keep the kitchen on the main floor for ease of accessibility.3. Creating a custom renovation livable for years to come, cut no corners.The design process lent itself to the era of the home. The 1950's home had natural wood elements we wanted to leave in the home and design around. The redwood paneled ceiling was a stunning example and an architectural masterpiece. We left it alone in the main living area, and repurposed material on the front exterior as well as a paneled wall in the new office.
In addition to custom cabinetry from our cabinet shop, we replaced the hardwood floor with a maple hardwood, incorporated black windows and patio slider and touches of a west coast boho vibe (rattan fixtures, open shelving and a mix of wood elements).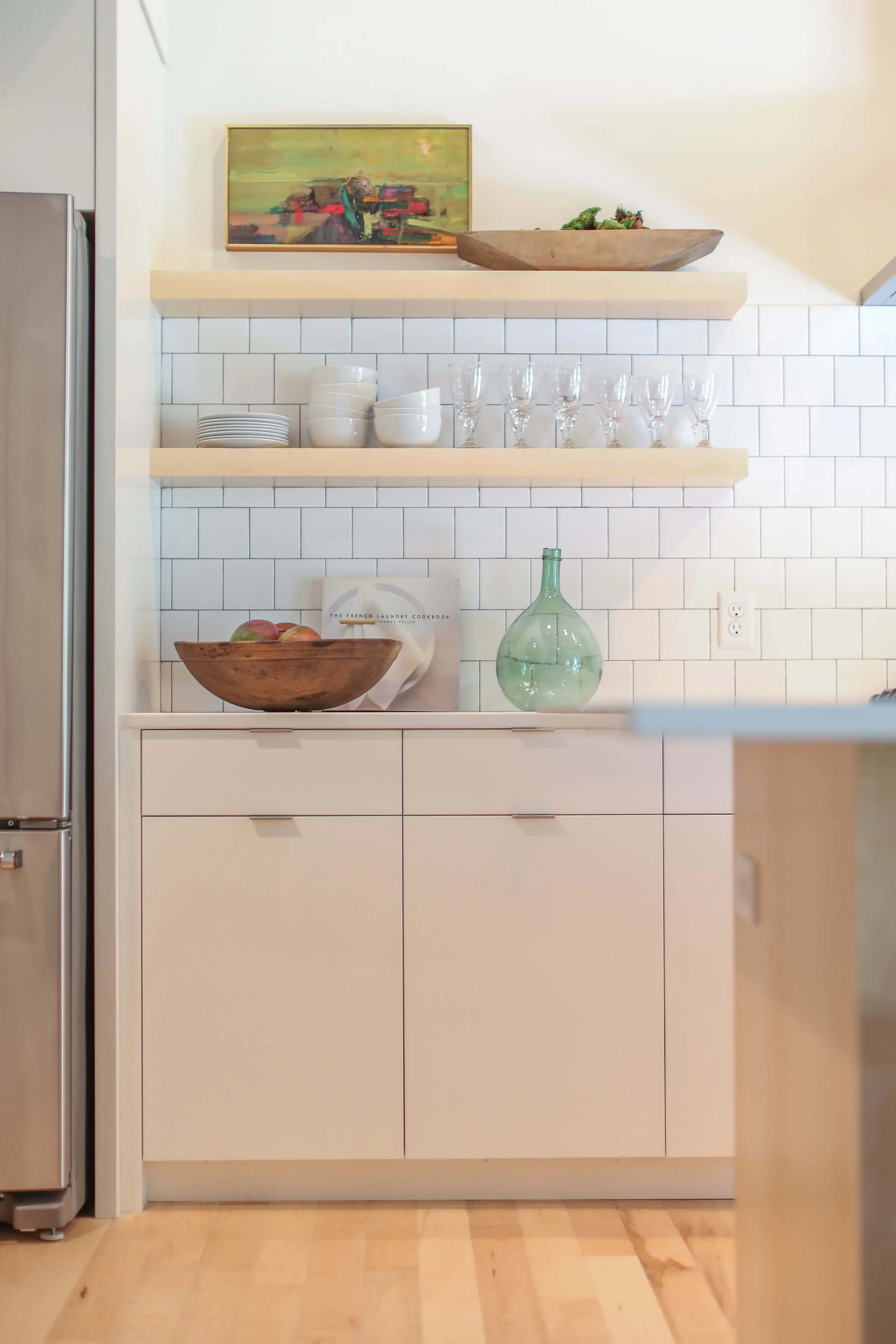 In the end we wrapped this project in 6 months, just in time to list it on the Spring Market. We accepted an offer within two weeks, and we're so happy to see this home go to a new family + new memories.
Additional behind the scenes here:
Thanks for following along + happy Summer days ahead.
Katie + Jkath Team
Interested in connecting about your home renovation?
Some recent projects from our team we think you might like:
Keep up with our latest inspiration by following us on Pinterest and Instagram.
#wholehouseremodel #kitchenreno #kitchenmakeover #midcenturymodern #StPaulRenovation #designbuild #reinvent #howyouhome #designstyle #myhousebeautiful #currentdesignsituation #homestyle #bhghome