15 Charming Kitchen Design Ideas
We are passionate about a well thought out kitchen that is functional and especially elevated in design. At the end of a kitchen renovation you get a beautiful new space. Adding charming details into a kitchen renovation is important to add cozy character, interest, and individuality that differentiates your space from all the others.
We're sharing our favorite charming kitchen design ideas we hope you consider in your upcoming kitchen renovation for both large modern kitchens and cozy cottages alike.
1. Scullery/Butler's Pantry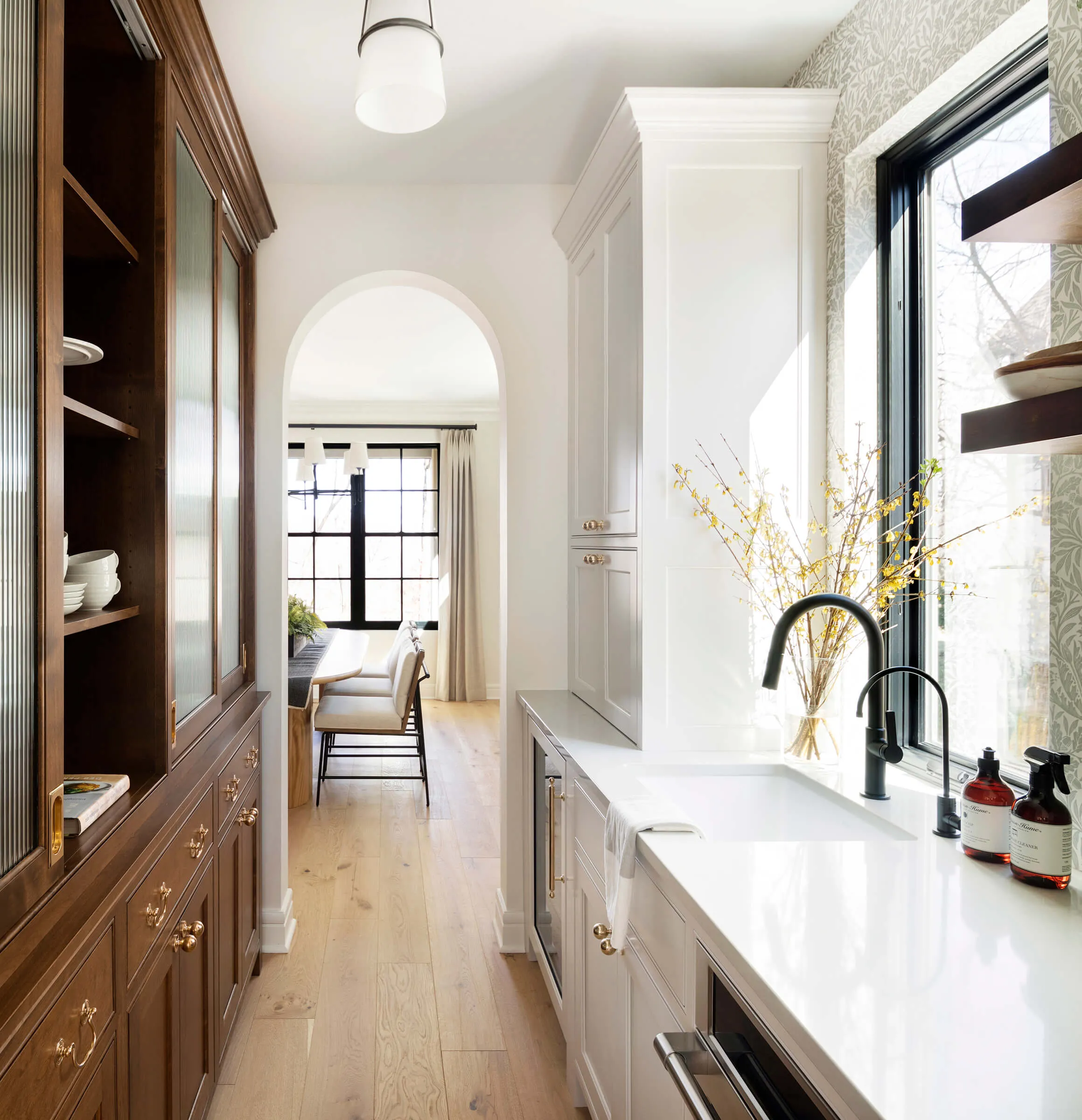 A scullery and butler's pantry are synonymous, a small kitchen within a kitchen. A scullery is a space for cleaning dishes, food preparation, and additional storage out of the main kitchen. These spaces are so charming, adorned with furniture-like cabinetry and wallpaper that definitely beats out a walk-in closet pantry with wire shelves.
2. Panel Ready Appliances
Panel ready appliances that hide the refrigerator and dishwasher is one of the most elevated design selections you can make. This turns your working kitchen into an impressive entertainment space, even in the smallest of kitchen footprints.
3. Two+ Tone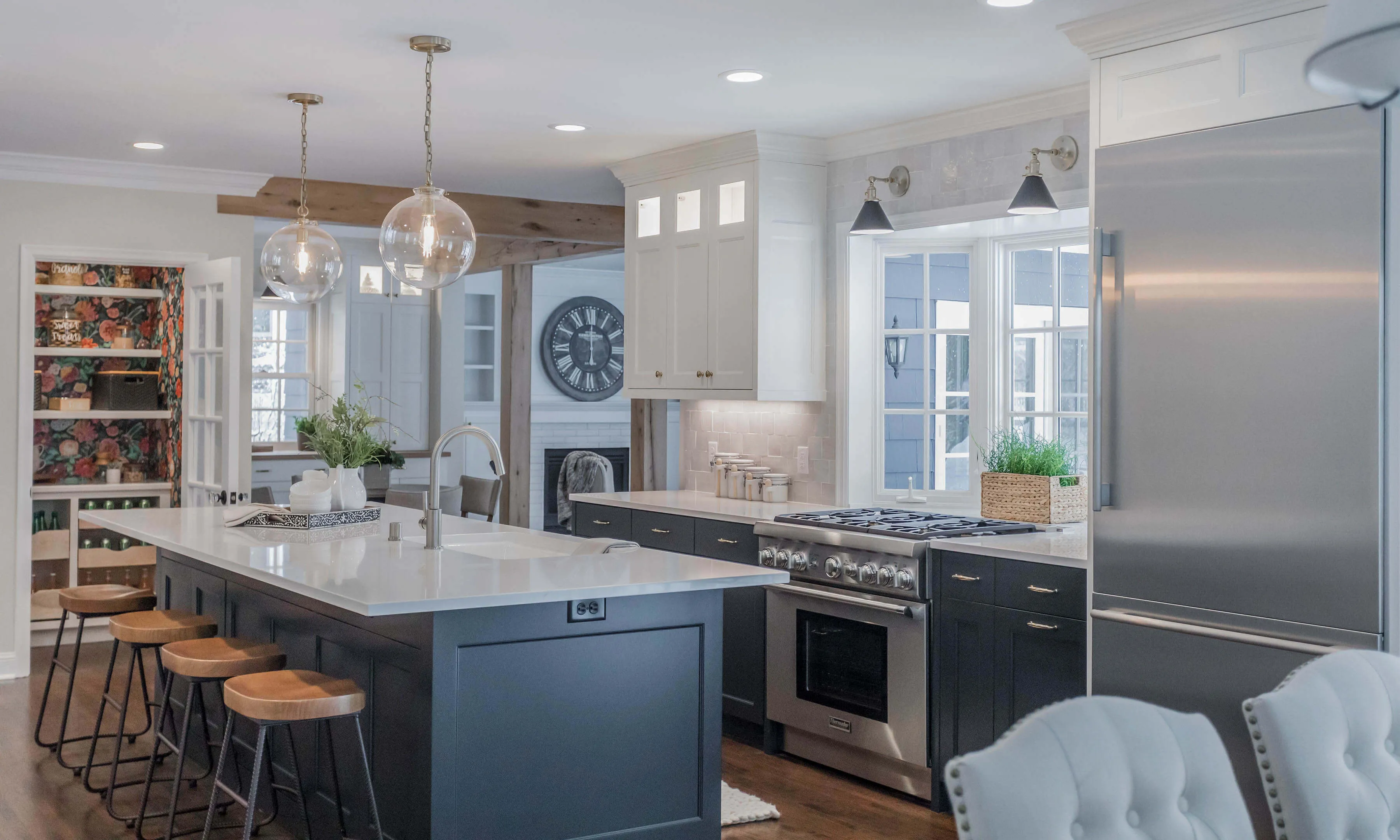 Contrast is a major design element that needs to be considered in every space. This can be accomplished by interchanging different paint colors and wood cabinetry, differing countertops between perimeter and island, and mixing finishes.
4. Mixed Backsplash
Backsplashes are a big design element of itself. They can be subtle using monochromatic colors and standard shapes or make a statement with colors, patterns and shapes. This mix of simple 4×4 white tile and horizontal shiplap from the Whitegate Lane phase one renovation is so charming and will stand the test of trends.
5. Range Feature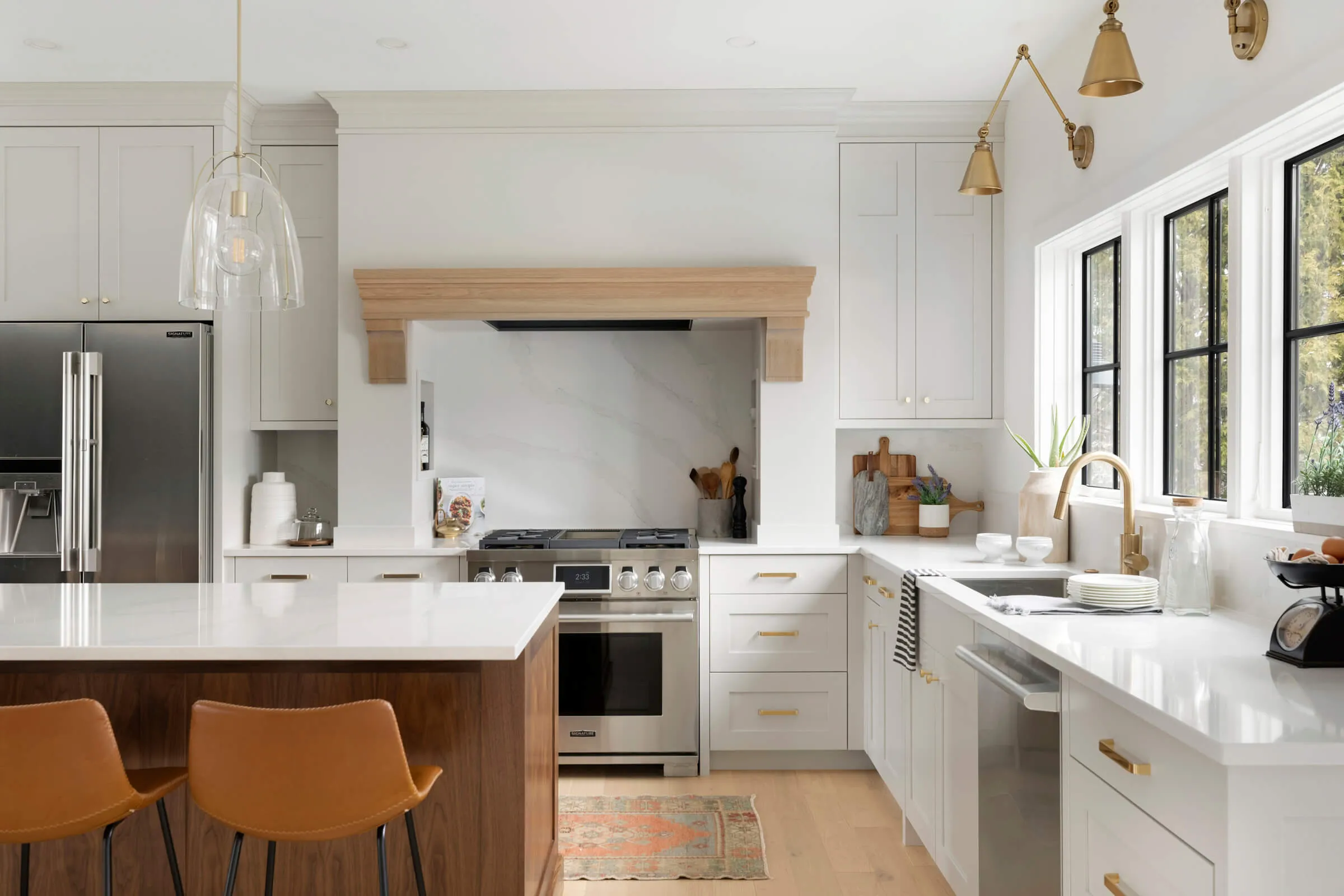 An alcove range is so charming and definitely a design element to consider in your kitchen renovation. This feature does take away storage space but it sure is a beautiful feature when space allows.
6. Glass Doors
Design by Construction2Style | Cabinetry by Jkath Design Build + Reinvent
Glass cabinet doors stand the test of time and bring a lot of old school charm to modern day kitchen design. Display your beautiful dishes and treat it as a piece of art.
7. Large Windows
Controversial as it may be, large windows are worth the sacrifice of storage. Natural light is one of the most important design elements and a wall of windows is quite the feature. It's the perfect backdrop while washing dishes and food prepping.
8. Craftsman Island
A kitchen island doesn't always have to be a large square of storage. This specialty custom crafted island is so charming for this modern Tudor kitchen renovation.
9. Backsplash to the Ceiling
Commit to the backsplash selection by bringing it all the way to the ceiling, even if it's a bold pattern. This shows intention and is anything but builder grade.
10. Furniture-Like Cabinetry
We are incredibly proud of our custom cabinet shop, a major benefit that sets our firm apart. With this offering we're able to design and build custom cabinetry that look like heirloom furniture pieces, like this charming hutch at the modern Goodrich Tudor project.
11. Solid Surface Backsplash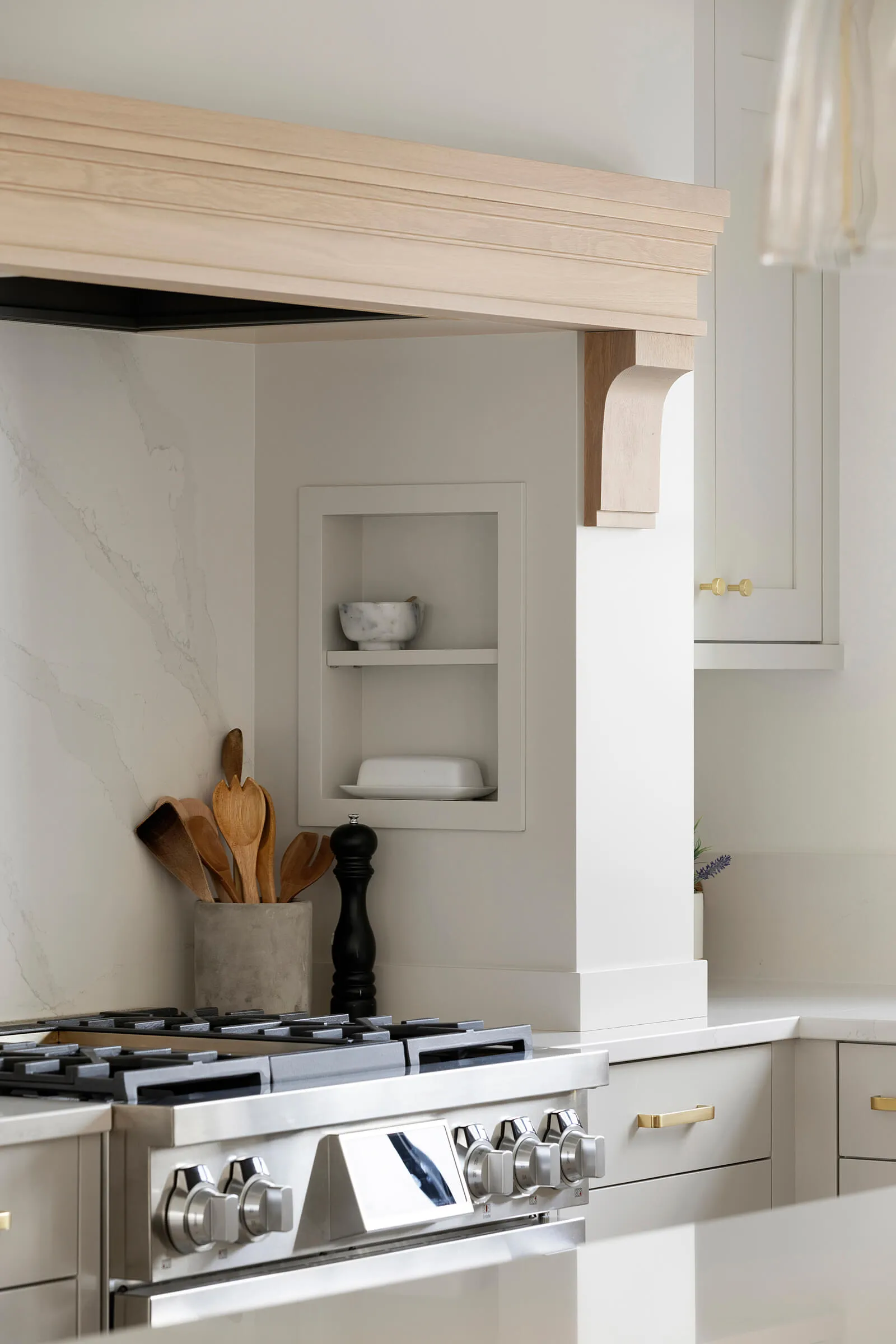 Some tile patterns and colors go out of style after time. A solid surface material feels elegant and timeless.
12. Wood Elements
We believe in incorporating wood features in every design. We love to use reclaimed wood in floating shelves, beams, etc. to bring natural charm element to a kitchen design, especially in contrast to painted cabinetry.
13. Built-In Casual Dining
Built-in dining benches are a major space saver as it doesn't require as much space to push chairs in and out. A built in dining bench is especially useful in smaller kitchen/dining spaces. Pushing the dining area tight up against the wall instead of in the center of a room allows for utilizing space better elsewhere, particularly expanding a kitchen.
14. Minimal Upper Cabinets
Minimizing the amount of upper cabinets makes a space feel larger, especially in a large space. Utilizing lower cabinet is more ergonomically better for storage.
15. Cozy Corners
One of the most charming elements of a kitchen design is featuring and utilizing every nook. Modifying an adjacent hall closet into a beautiful pantry, hanging pots/pans on a shallow wall, or adding open shelves next to a window. Creating special small vignettes throughout will definitely spark joy.
Even in the smallest of kitchen footprints these charming kitchen design ideas will provide modern livability for cozy living. Create special moments with unique elements such as wood features, material application and space planning.
Need help planning your upcoming kitchen renovation? Check out our design services to begin planning.
Cheers,
Katie Wick and Jkath Team
Take a look at a few recent projects that we've completed.
11th Avenue – Kitchen Renovation
Country Club – Whole House Renovation
Josephine Place – Whole House Renovation
Keep up with our latest by following us on Pinterest and Instagram.