10 Ways to Add Character to Your Home
We're sharing a few ways to add 'old house' charm to your newer home. Maybe you're planning a remodel or a larger whole house renovation, the common theme around our office is seeking ways to infuse character – specifically with our clients in the suburbs. But don't get me wrong, many city homes have undergone remodels and have lost character, we find ourselves ripping out updates in the last few decades and adding character back in.
1. Use Hardwood Floor
A common debate, we know carpeting is cheaper – and I am the first to admit we have carpeting in our kids bedrooms. However, it's definitely worth a conversation on where this starts and stops. Main floor loving, landings, hallways, and owner's suite's are great places to consider solid or engineered flooring.
2. Custom Staircase Newel Posts and Treads
This is nothing new around here, we always bring in the experts to carefully handcraft our staircases. This includes treads to match the engineered flooring we're using in most of our renovations now. And the highly crafted newel posts – these can take on a variety of styles to infuse character and craftsmanship.
3. Painted Passage Doors
Often we see a white painted door in newish homes – consider painting these a different color other than white. A hallway lined with painted doors and coordinating casing/base stands out and adds all sorts of character.
4. Upgrade Door Hardware
Don't get us started on door hardware – we're snobs. But we also understand a budget has to be considered. This is a great project to do all on its own, upgrade all the hardware to a solid brass, or even a new finish to stand out from the builder grade option you currently have.
5. Change Your Light Fixtures
You don't even have to tell me, I already know you have hallways lined with the infamous boob lights purchased from a big box store. We're here to tell you – it doesn't have to be this way. Changing out your entire home, or start with one floor at a time, will blow you away. We partner with clients often just to handle new light fixtures for an entire home. This is the easiest way, given you have the budget, to elevate your entire space.
6. Add Texture
Wallpaper is all the rage right now. Get on board and spice up your powder bath, or an accent wall in the dining room. Bold prints and color add texture to any room. (I have wallpaper in 4 rooms in my home).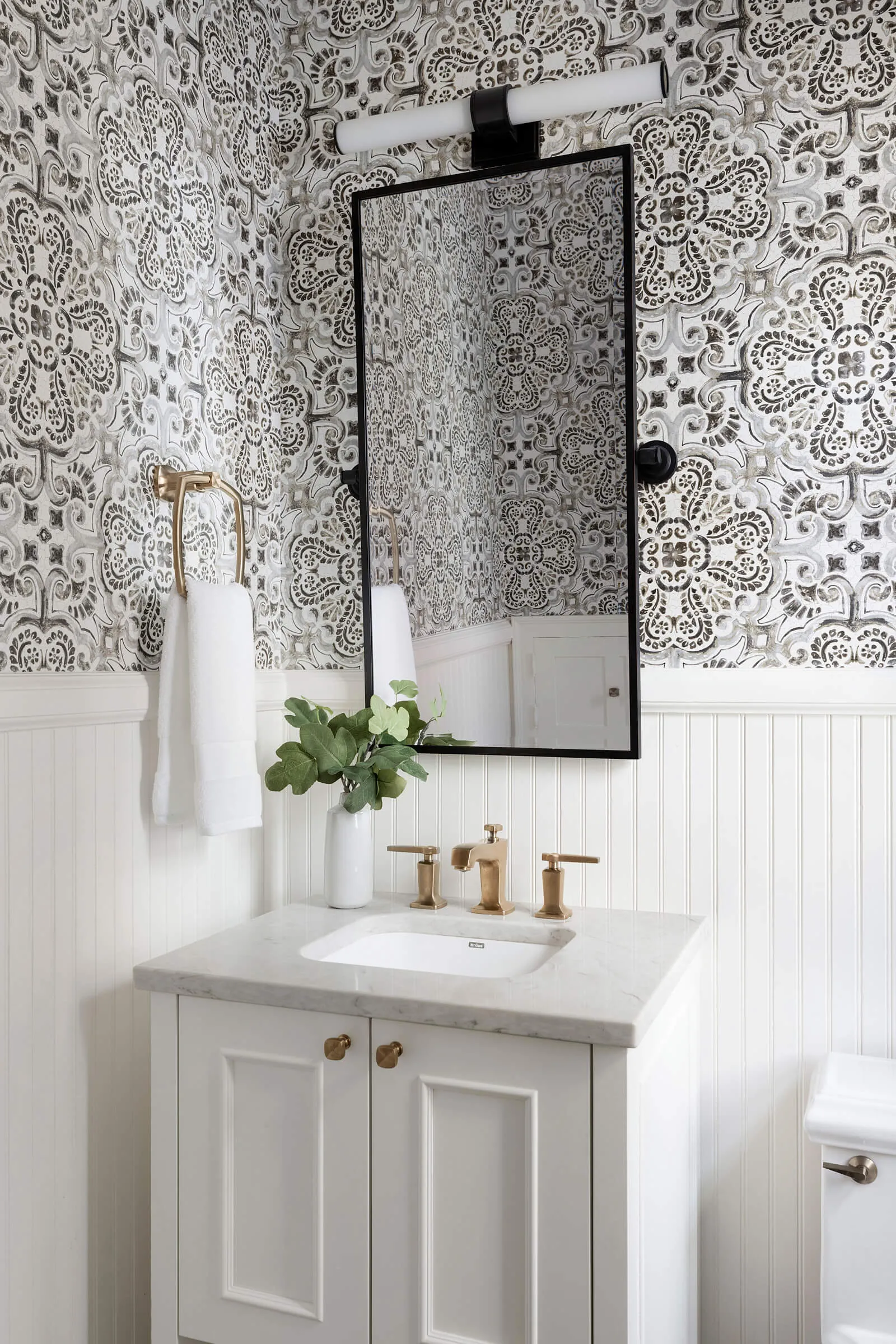 7. Custom Cabinetry
If replacing cabinetry is in your near future, make it custom. We own our own cabinet shop and can't say enough about the ability to customize your space and storage needs by choosing custom cabinetry – not to mention the ability to add a crown molding to achieve the added character you may be after.
8. Customize Your Pantry
If you have the space, think about your pantry being a work horse for the kitchen. Customize a built in coffee station, maybe an added wall appliance, countertop space, unique storage, or even add texture with playful wallpaper here too.
9. Eliminate Storage
Our friends in the city are always seeking more storage, but once outside the city limits storage is never an issue. In our Whitegate Lane remodel we removed all of the dated oak cabinets left and right of the fireplace and made a feature walnut shiplap wall instead. Adding back in limited white painted benches and open shelving for limited decor.
10. Mixed Metals
Last, but not least, consider mixing your metals. It's perfectly ok to have more than one in any given space. Changing out your cabinet hardware for a bold brass finish, while adding in aged iron light fixtures and swapping all your door hardware for a mate black rather than the oil rubbed bronze you may be all too familiar with. Have fun with it, and if you're hesitating – take a look at our remodeling portfolio for added inspiration on how we achieve mixed metals.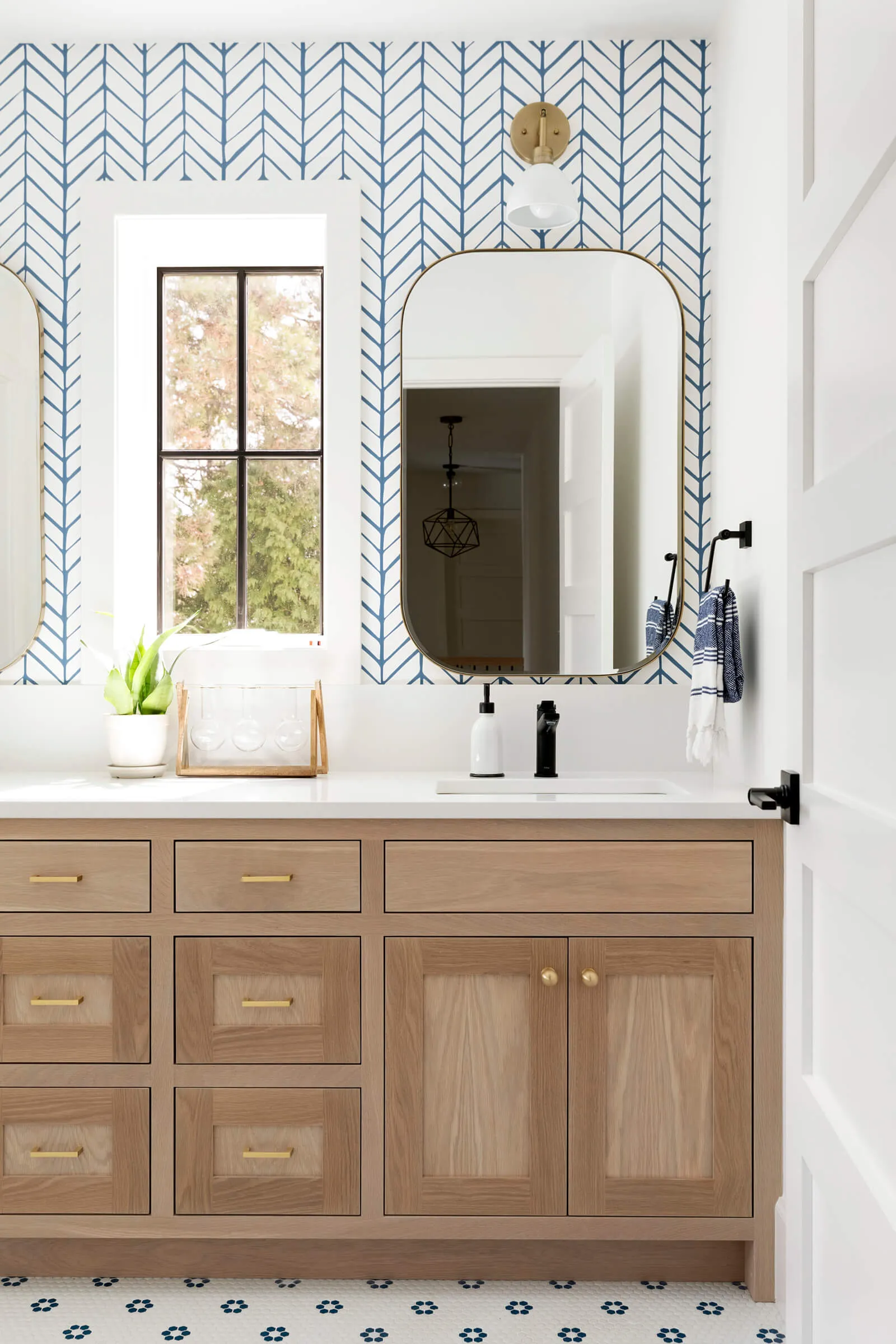 We're here to be a resource through every home project. Follow us on Pinterest and Instagram for design inspiration and tips.
A few recent projects we think you may like:
Thanks for following along,
Katie Kath + Jkath Team
Interested in connecting about your home renovation?