10 Tips to Enhance Your Space Now That the Weather Is Changing
As the weather is changing, we will be spending a lot more time indoors. It may be due to the latest snowstorm, bitterly cold polar vortex, or gloomy rain. Don't fret – there are easy ways to enhance your space for a future DIY or remodel project on the horizon.
Paint Interior Walls
This can be easier said than done, but taking time to develop a color scheme within your home. Neutrals, warm and cozy, maybe bold accents that make your space feel sophisticated. Take a look at our favorite neutral paints here.
Deep Clean Your Kitchen
I can't tell you how NEW your home will feel once this task is complete. Grab your partner and make a day of it, pull the range away from the wall and deep clean behind and inside. Remove all the items from your fridge and wipe down the shelves and clean out the drawers – purging food while you're at it. It'll reinspire you to prepare your favorite meal for dinner, double win!
Wallpaper a Powder Room
This includes stripping old wallpaper, a horrible task, but it has to get done. Head to our How to Hang Wallpaper Like a Pro tutorial here. And have fun, grab your favorite new bold print, and consider painting your baseboard and casing in a complimentary color as well.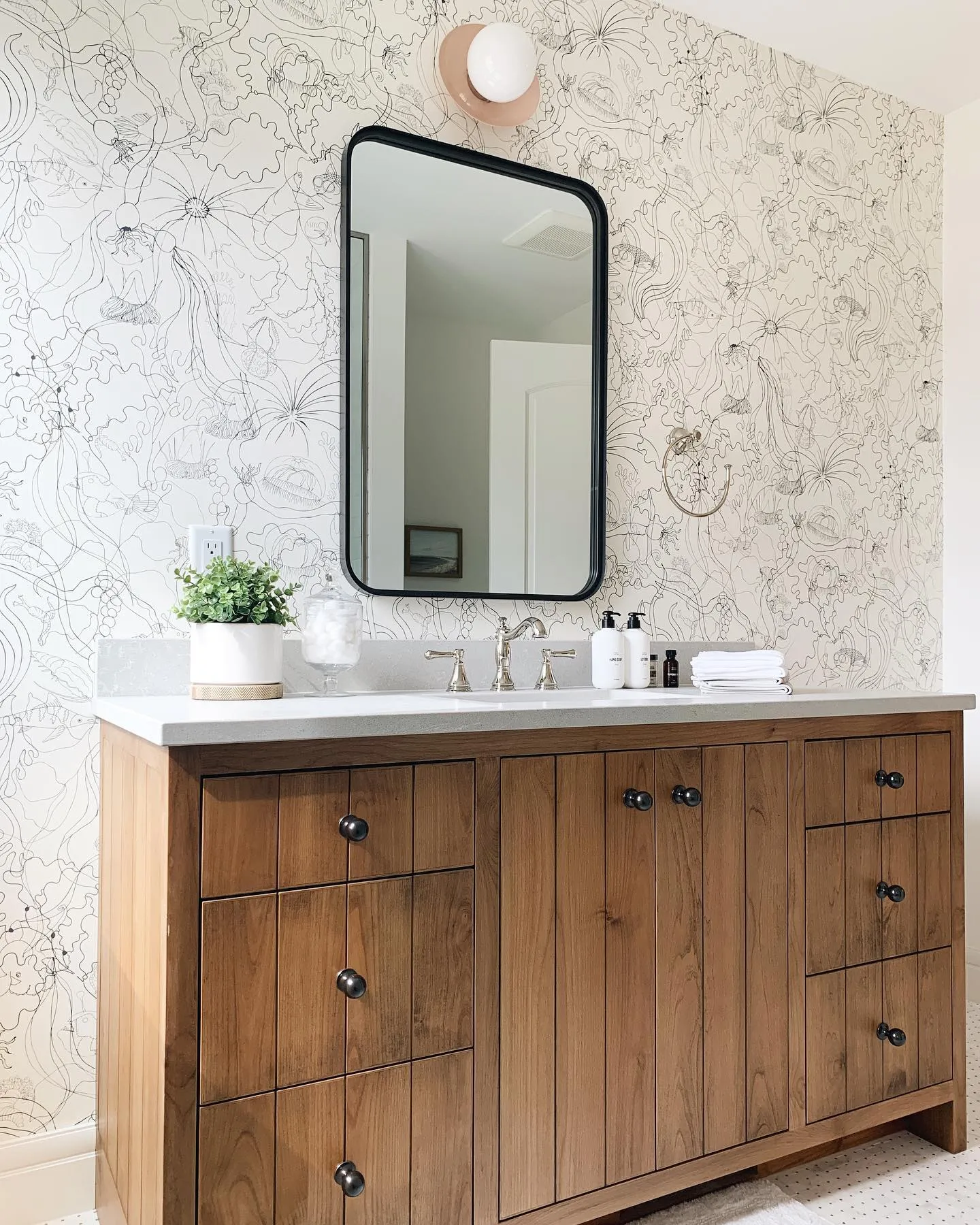 Strip Paint Off Door Hinges
I bet you hadn't even considered this? Throw some white vinegar and baking soda into a crockpot, let it warm up and add your door hinges that have layers of paint from previous homeowners. Let it sit for a few hours, and the paint will strip right off.
Replace Window Treatments
If in the budget, I always recommend going custom here. One and done, you'll never have to think about this pesky task again and it will elevate your space. If tackling this one on your own, spend a weekend grabbing accurate measurements of each window and start shopping online for alternatives. Having proper dimensions on hand make finding the right solution that much more possible.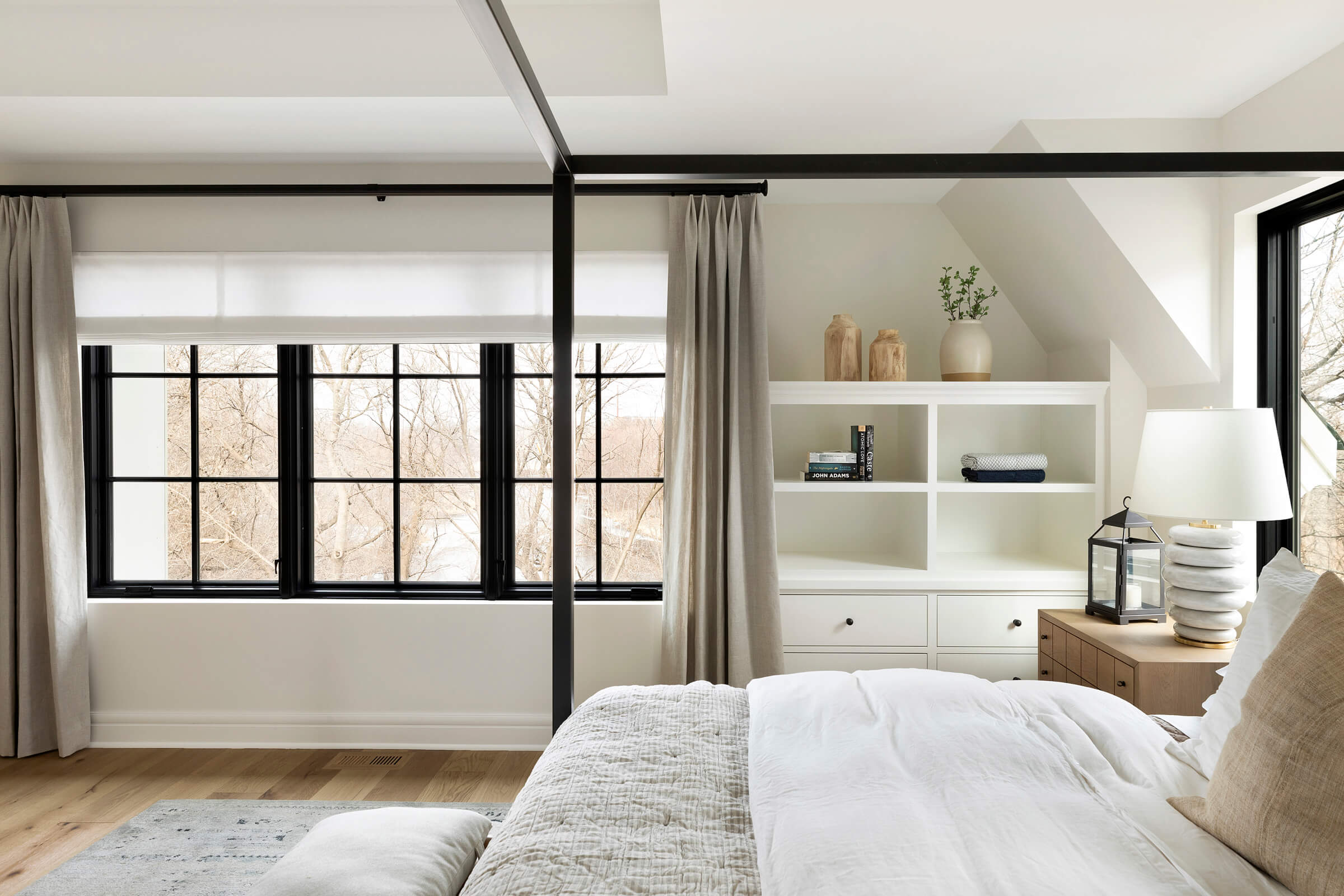 Hang a Gallery Wall
Start curating your favorite prints and see what frames are already accessible around the house. Take a look at our How to hang a Gallery Wall guide for further details. An easy way to enhance any wall while displaying a few of your favorite memories.
Update Pillows and Throws for the Season
A fun shopping trip to Home Goods, or a local home decor store to refresh your pillows and maybe a few throws is an easy way to refresh your space. You may decide a few of your accessories have extended their stay and make a trip to a local reuse it store for a donation.
Organize Your Pantry
A favorite hobby of mine. Inspired by our rental home last winter while our new home was under construction, I splurged at the Container Store to fully organize our pantry. This has allowed for a better use of space and makes preparing a meal that much more enjoyable. You might even decide to repurpose a space into a pantry as we did here, this was once a pocket office.
Replace Dated Light Fixtures
We're not new this this task, often hired to help design only clients replace an entire house of lighting. This can be a daunting task, we recommend making a list and adding wish list light fixtures for each space, along with the cost to review your entire investment. Taking on one floor or one area of your home at a time may make sense, but know the end result is worth it and will change the entire feel of your home.
Paint Your Front Door
Thinking about enhancing your curb appeal, this is easier said than done. We often see a pop of pastel in the neighborhood on a front door, or dare to go bold and paint it black. Keep in mind, you can always change this color down the road.
We hope to inspire a few projects in the weeks ahead. Now is the time to get ahead while the season has shifted, allowing you time to spend outside when Spring returns.
Sharing a few recent projects we think you might like:
Thanks for following along,
Katie Kath + Jkath Team
Interested in connecting about your home renovation?
Keep up with our latest inspiration by following us on Pinterest and Instagram.