10 Must-Haves for Designing a New Kitchen
Kitchens are the heart and hardest working room in our homes. It's more than a space to cook and eat. We gather, pre, celebrate, work, and relax in this space so it makes sense why this room is regarded as the highest value of the home. You deserve to have a kitchen that optimally works best for you and your family. Here are our 10 must-haves when designing a new kitchen.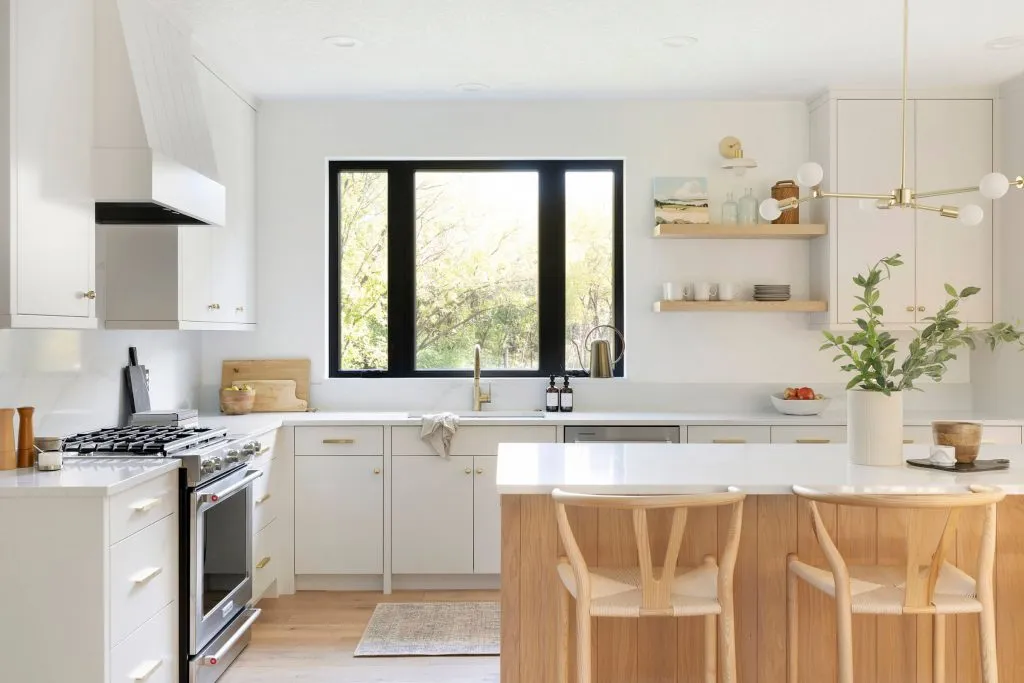 1. Custom Cabinetry
Of course, we're going to start with custom cabinetry as a high-priority must-have for your new kitchen. Custom cabinetry is an investment that can ultimately last 50+ years due to the high-quality craftsmanship. Read our breakdown comparing custom and pre-fabricated cabinetry. Custom cabinetry gives freedom for personalized storage solutions for all cookware, small appliances and kitchen gadgets, food storage, and the infamous junk drawer. All of these customizations will fit perfectly in your space down to 1/8″ to eliminate wasted space.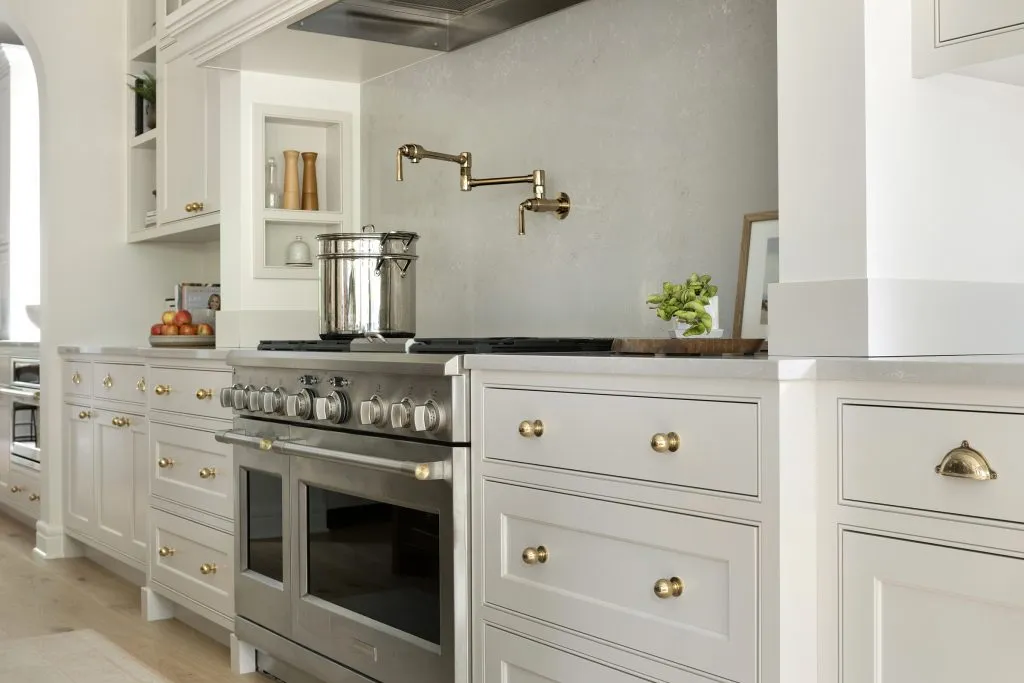 2. Integrated Appliances
Integrated, or built-in, appliances sit flush to the cabinetry and can either be finished with custom cabinetry panels or stainless steel fronts. In addition to achieving an elevated look, integrated refrigerators are a real space saver as they are the same depth as the cabinetry and don't impede the kitchen walkways. Of course, integrated refrigerators run at a more premium price compared to freestanding or counter-depth refrigerators, but when budget allows it is definitely the way to go.
3. Functional Work Triangle
The function is number one in kitchens. The work triangle is the spatial relationship between the refrigerator, sink, prep space, and range. Think of how you travel throughout your kitchen through the cooking process: taking produce from the refrigerator, cleaning in the sink, prepping on the countertop, cooking on the range, cleaning up, and storage for leftovers. Or popcorn in the pantry to the microwave, just as important. Making this a functional process will make cooking so much more enjoyable.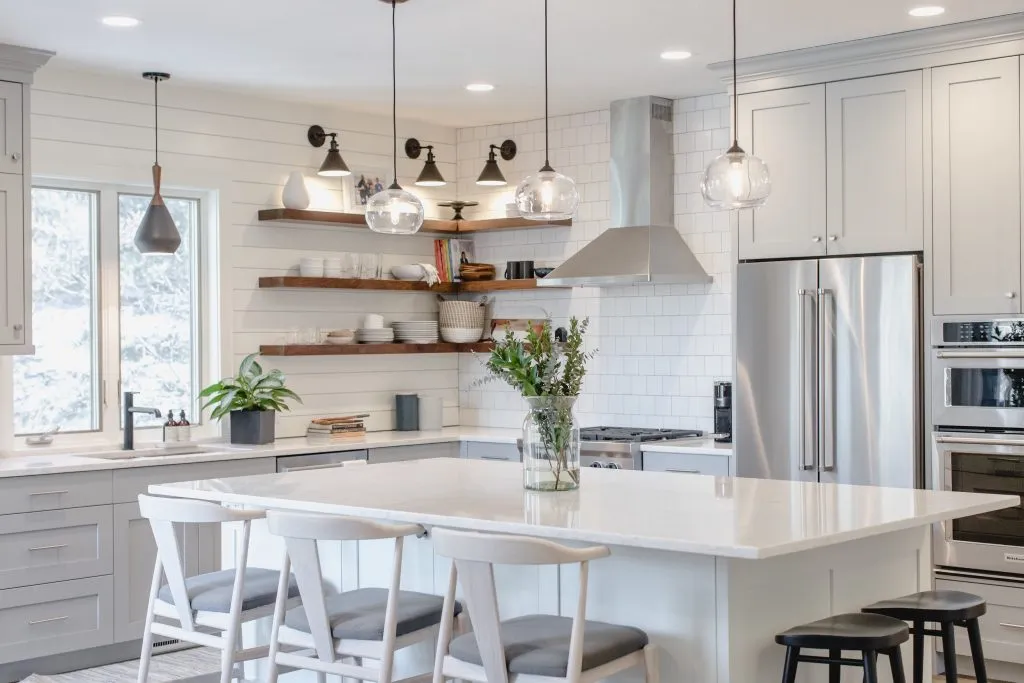 4. Statement Range Hood
Statement range hoods are a must-have when designing a new kitchen. Range hoods add personality to the kitchen design while serving the function of keeping the air cleaner from cooking odors, oils, and the occasional smoke from flowing into the indoor air. While putting a microwave over the range is a space saver, a beautiful range hood is much prettier to look at.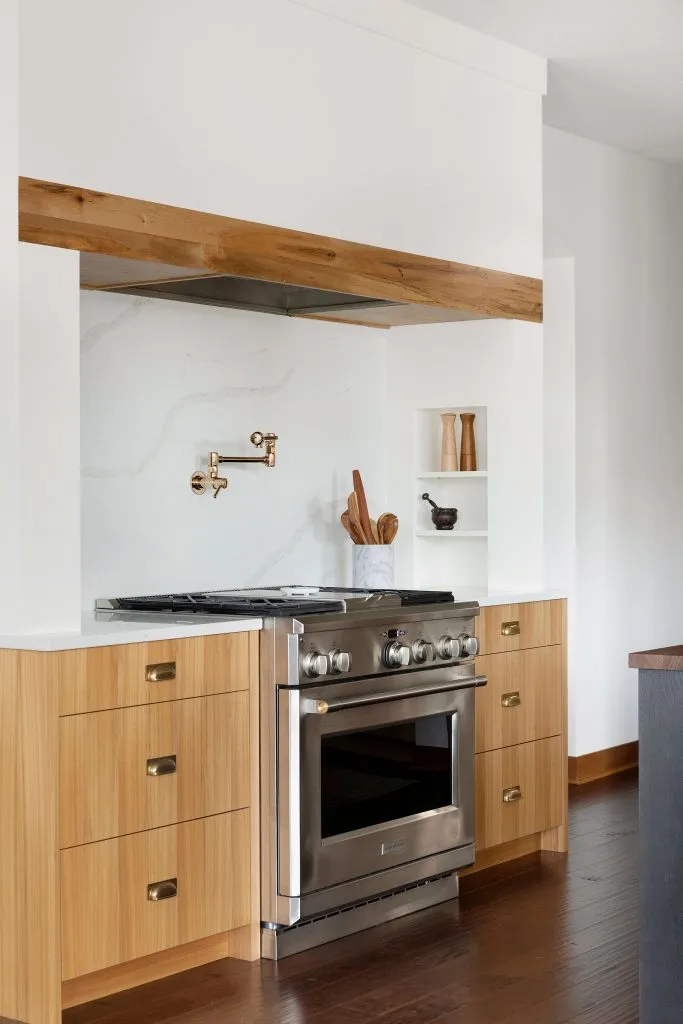 5. Hidden Garbage & Recycling
Incorporating a garbage and recycling rollout cabinet is a must-have when designing a kitchen. It's an obvious aesthetic improvement to not see a bin sitting out in your space, and will also prevent odors from traveling. For pet owners and families with small children, cabinet garbage and recycling prevent many messes.
Bonus: add compost and laundry bins for linen napkins and dish towels.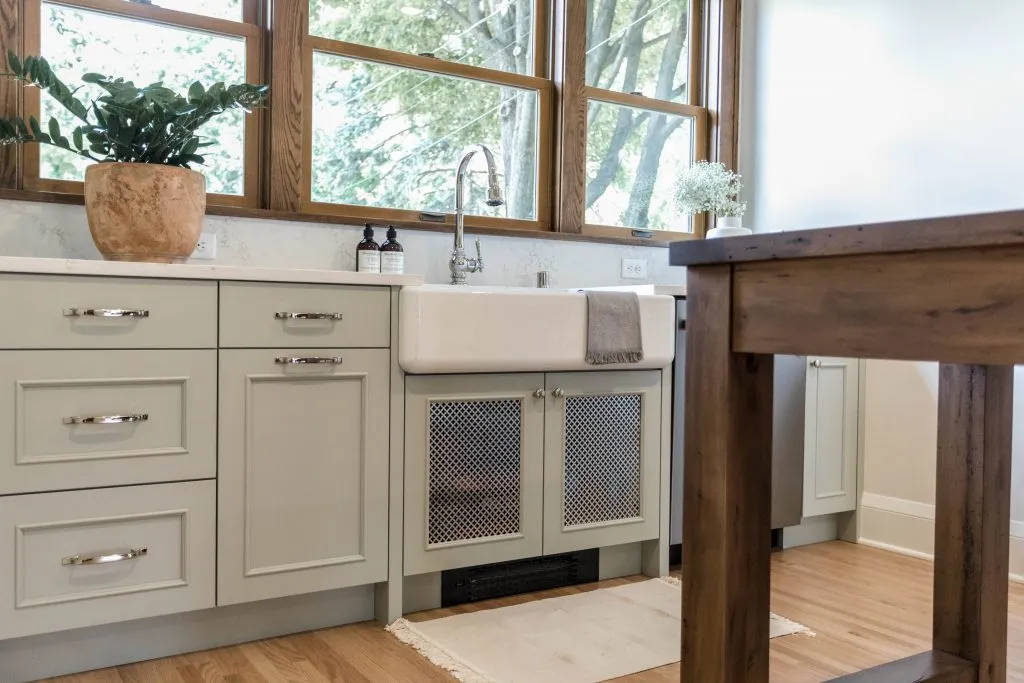 6. Pantry
One of our most requested must-haves in a kitchen remodel is a functional pantry with tons of storage. We often incorporate pantries into the cabinetry layout. We love the opportunity when we can design a beautiful mini room for food and small appliance storage.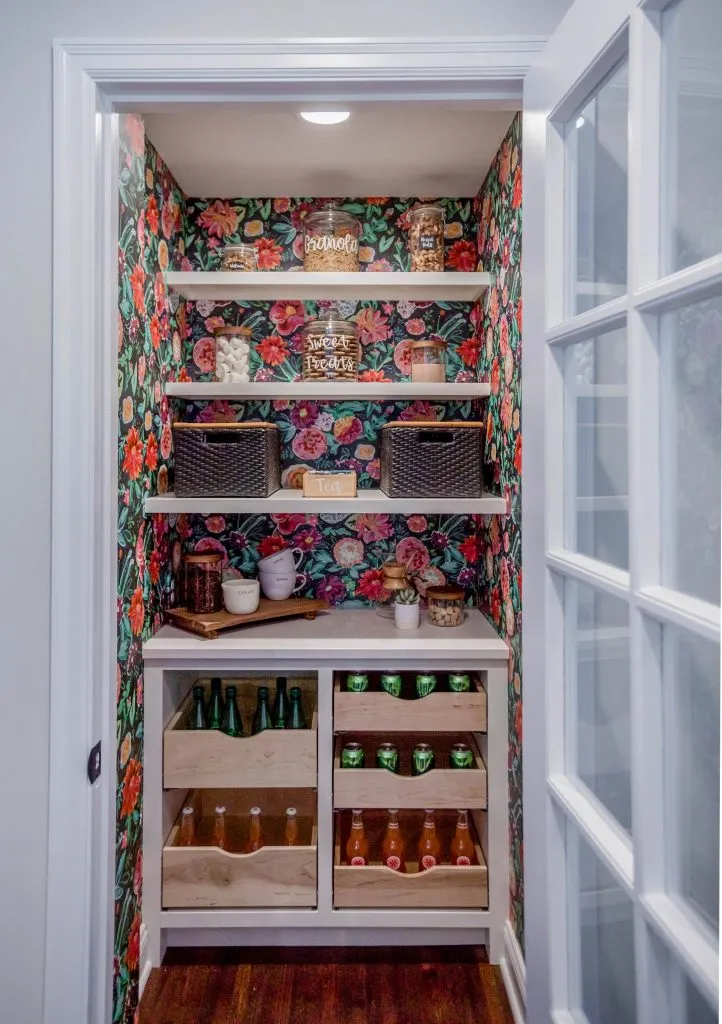 7. Zones
Creating zones is helpful to create a functional kitchen. Some common zones we've incorporated in the past include a coffee, smoothie, wine bar, space for small appliances, and a drop zone. Dedicating zones allow multiple people to utilize the kitchen.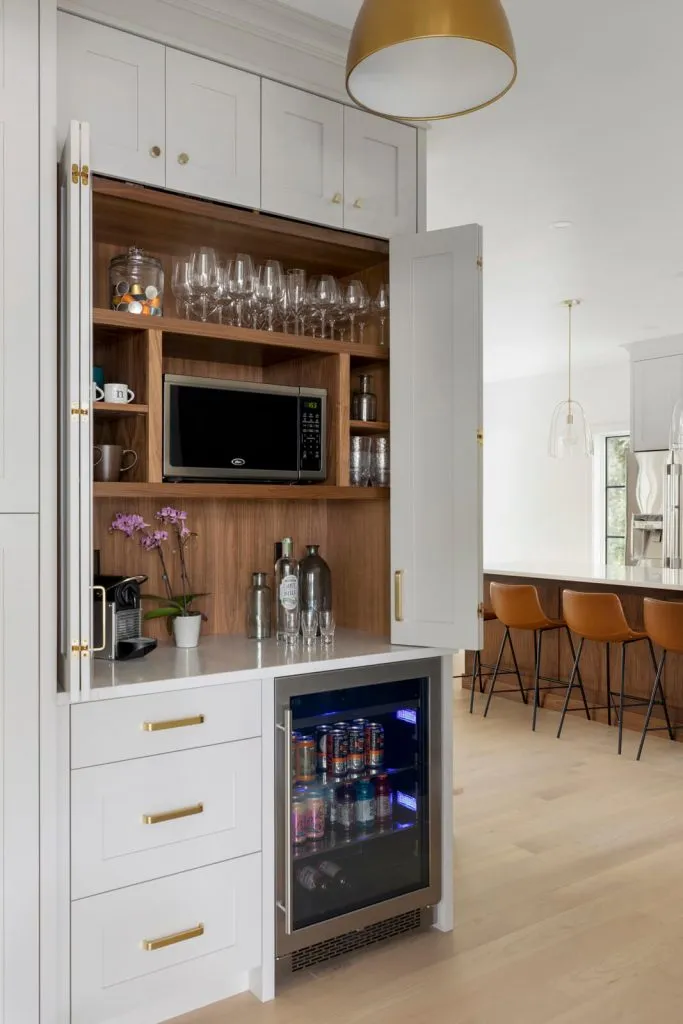 8. Fashionable & Task Lighting
There are three types of lighting and they should all be considered in kitchen design: ambient, task, and accent. Ambient is the overall lighting to light up the space. This can be accomplished with pendants, chandeliers, and recessed lighting. Task lighting emphasizes an area for functionality such as the kitchen sink, under cabinets, and island pendants. Accent lighting focuses on a specific point of interest or aesthetics, such as non-task wall sconces.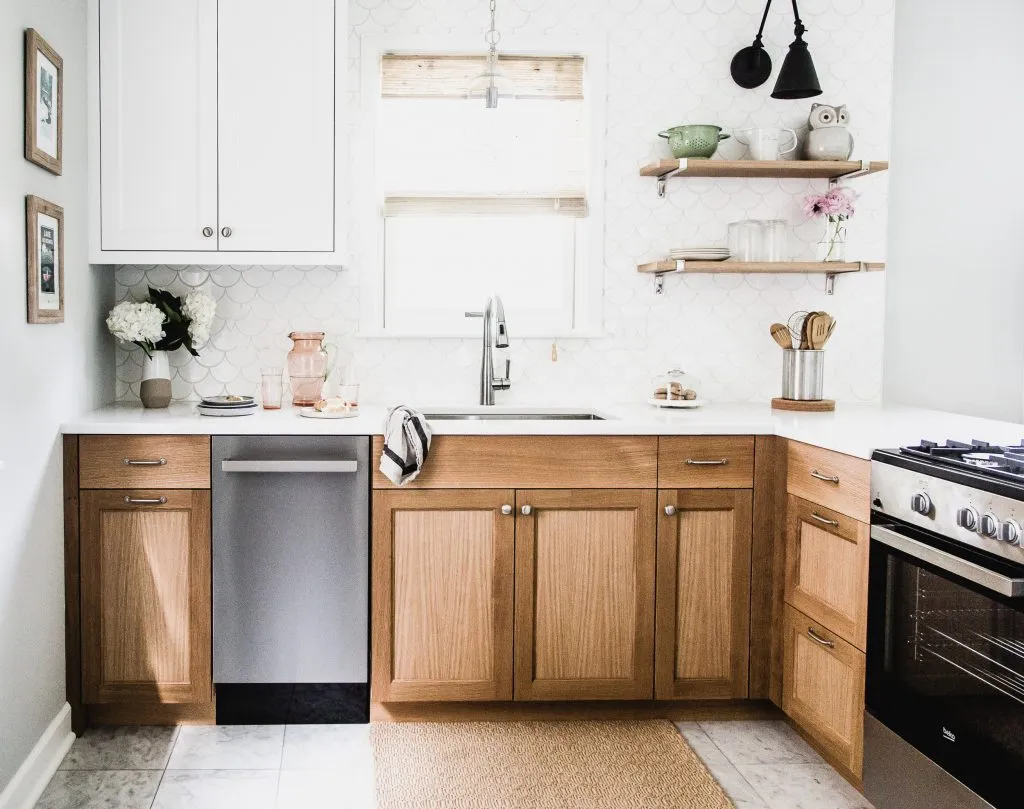 9. Stylish Cabinet Hardware
In the grand scheme of designing a kitchen, cabinet hardware can be an afterthought. Here is your sign to not forget it! Hardware is as much of the design as choosing the right cabinet colors to get the right shape and finish. Quality of material, finish, and design leaves cabinet hardware on a pricing spectrum.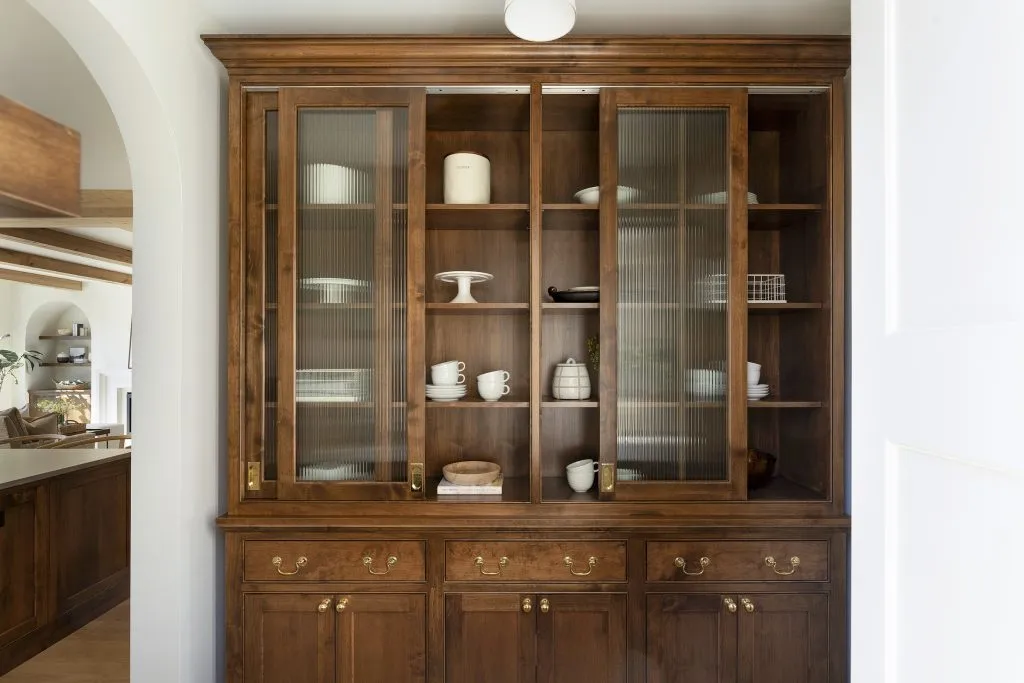 10. Personality
Unless you have immediate plans to move, design your kitchen for you, not to appeal to the masses. Incorporate your family's personality into the design by using colors and materials you connect with. Giving a kitchen personality can also be achieved by designing to the home's architectural style. In the Princeton Colonial project we tailored the kitchen design to the home's Colonial architectural style while incorporating light blue cabinetry and playful wallpaper the homeowner loved. Find the perfect cabinet door style for your home.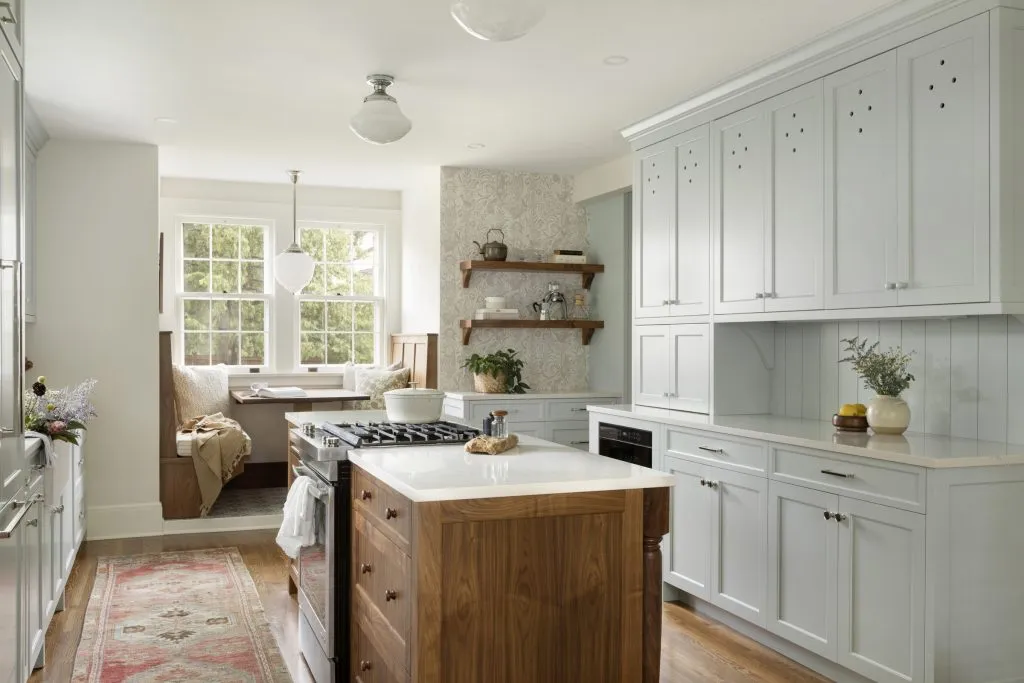 Thanks for following along. Sharing a few recent projects we think you might like:
Deephaven Drive | Kath Home | Ridge Road
Interested in connecting about your home renovation? Say hello here. Keep up with our latest inspiration by following us on Pinterest and Instagram.