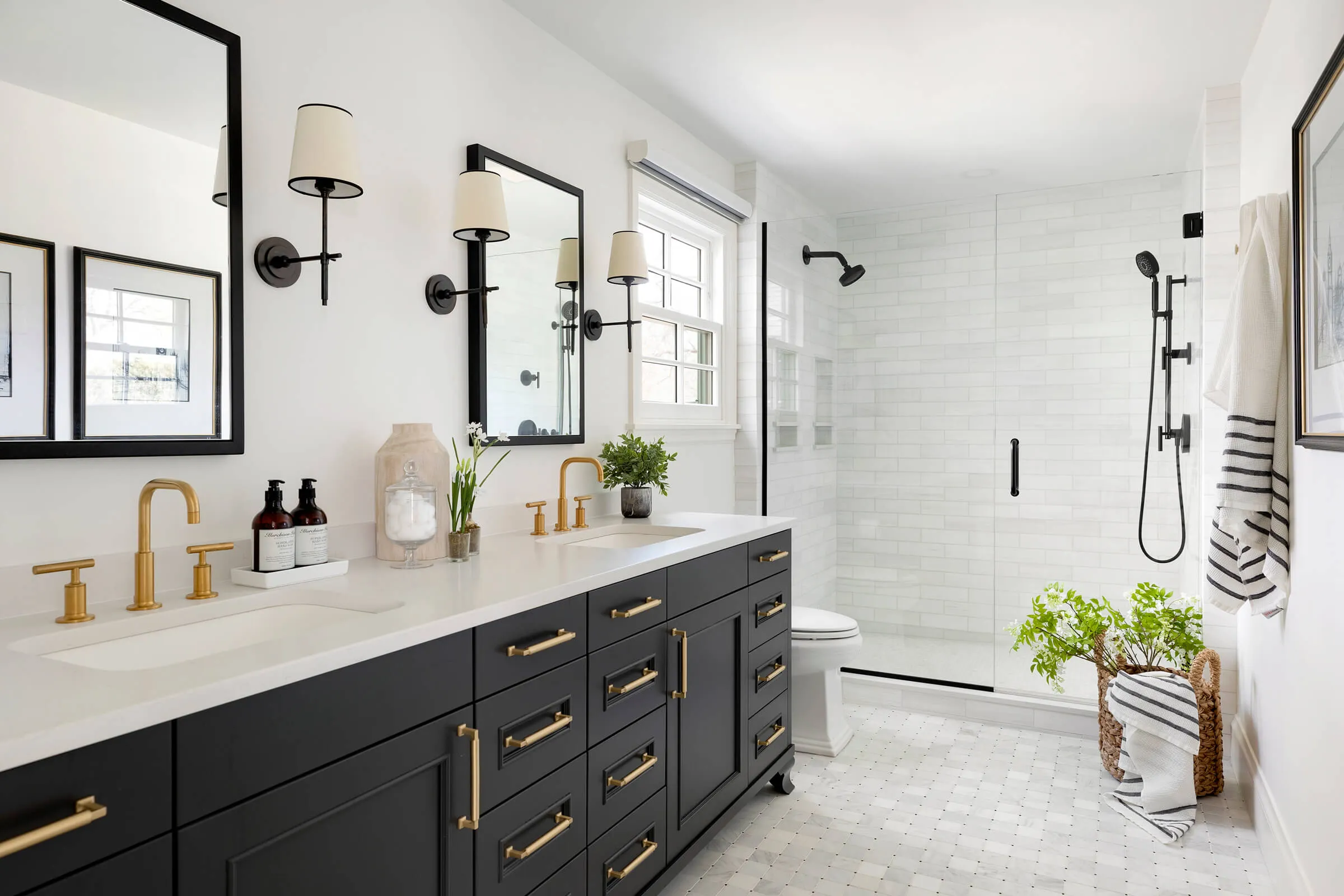 10 Bathroom Remodel Design Ideas
Bathroom remodels are a big investment in your home and a commitment to design. Most of the selections are "hard" finishes, permanently installed, and not as easily changed out. Choosing plumbing fixtures, tile, lighting, and accessories are big considerations for the overall design of a bathroom.
Here are 10 ideas to consider for your bathroom remodel design.
1. Contrast Vanity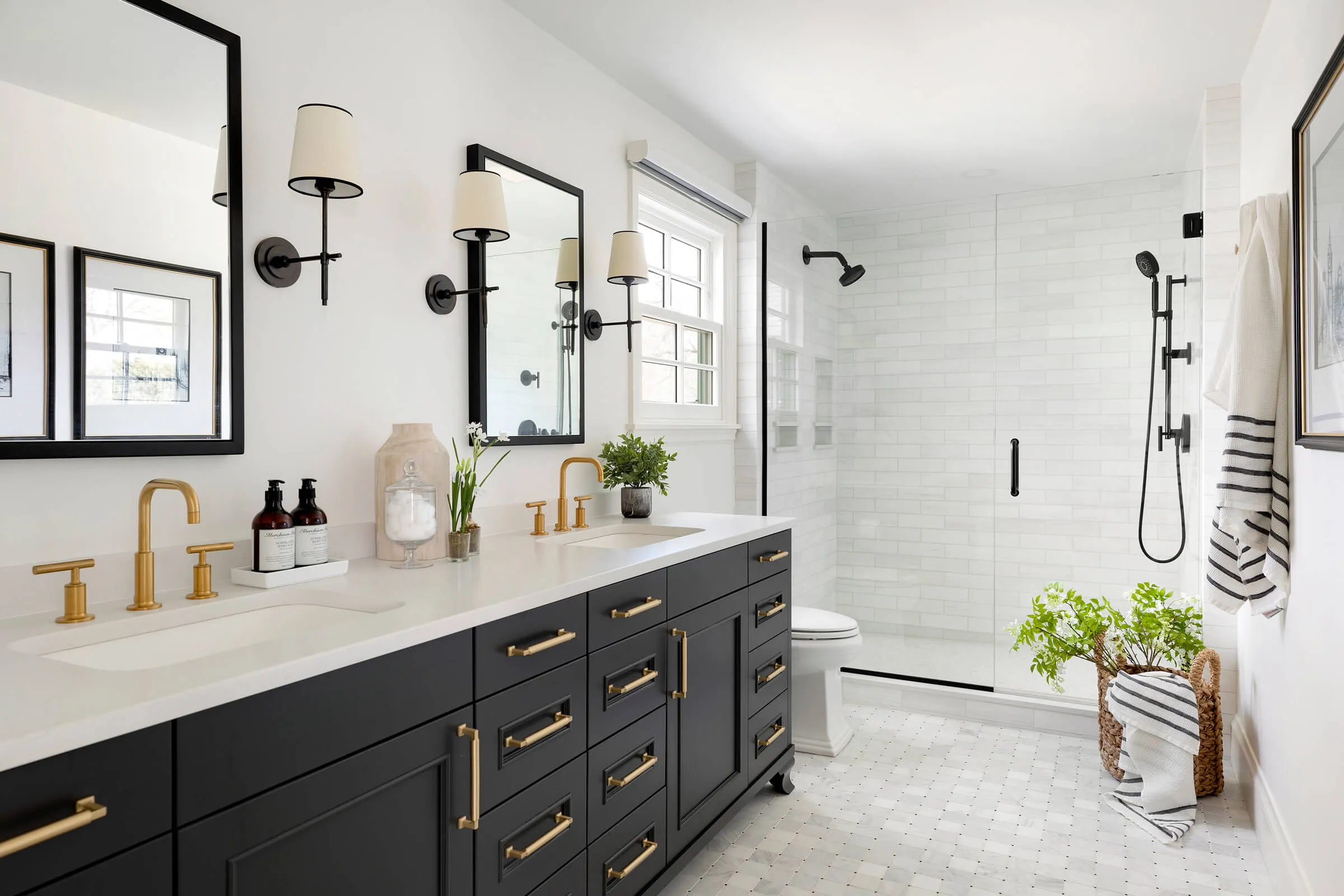 "Light and bright" is a renovation goal for most clients. However, each space needs balance. Contrast the vanity to the tile, such as a black vanity and light marble tile at the Country Club project and vice versa.
2. Wood Vanity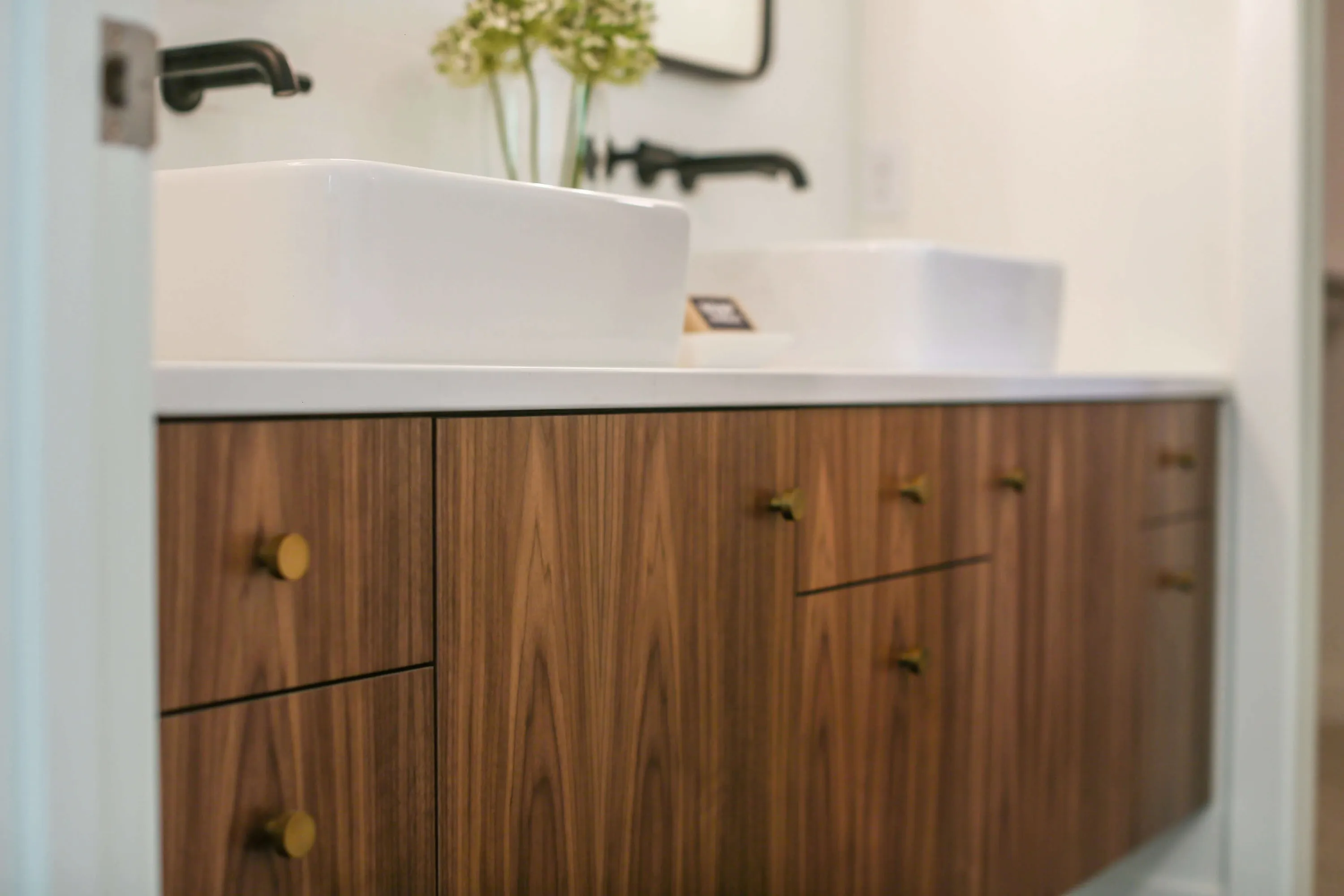 Tile can be cold, both literally underfoot and figuratively visually. The Jkath cabinet shop team works magic when it comes to wood vanities, adding warmth through wood tones and artfully working with the grain.
3. Mixed Metals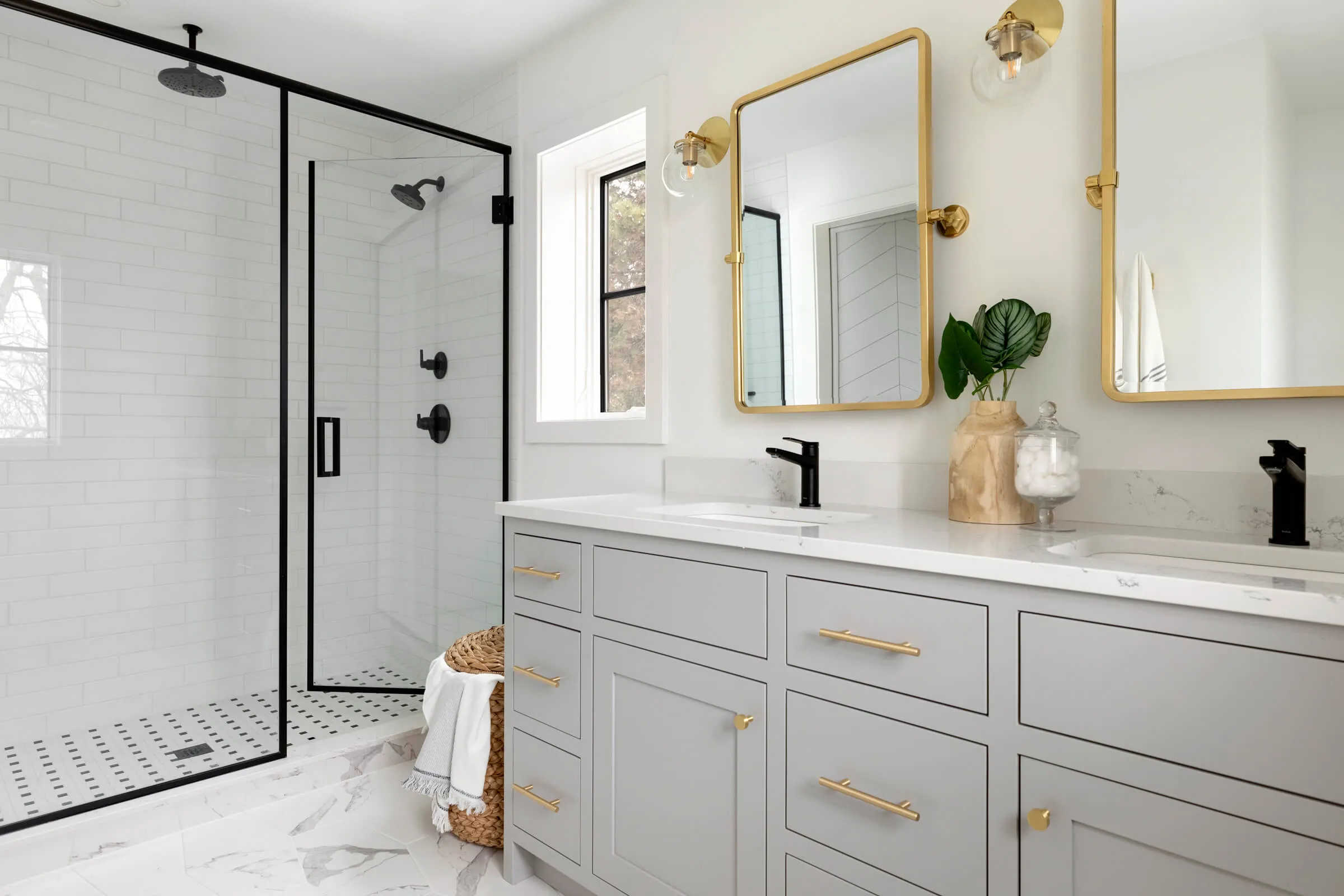 Mixing metals is becoming more and more popular in design. My grandmother would cringe. A helpful way to balance two different types of metal finishes is to stick to two, one for all the plumbing fixtures and one for the accessories such as the mirrors, hardware, robe hooks, etc. Pick a matte or flat finish and a polished one for dimension.
4. Patterned Tile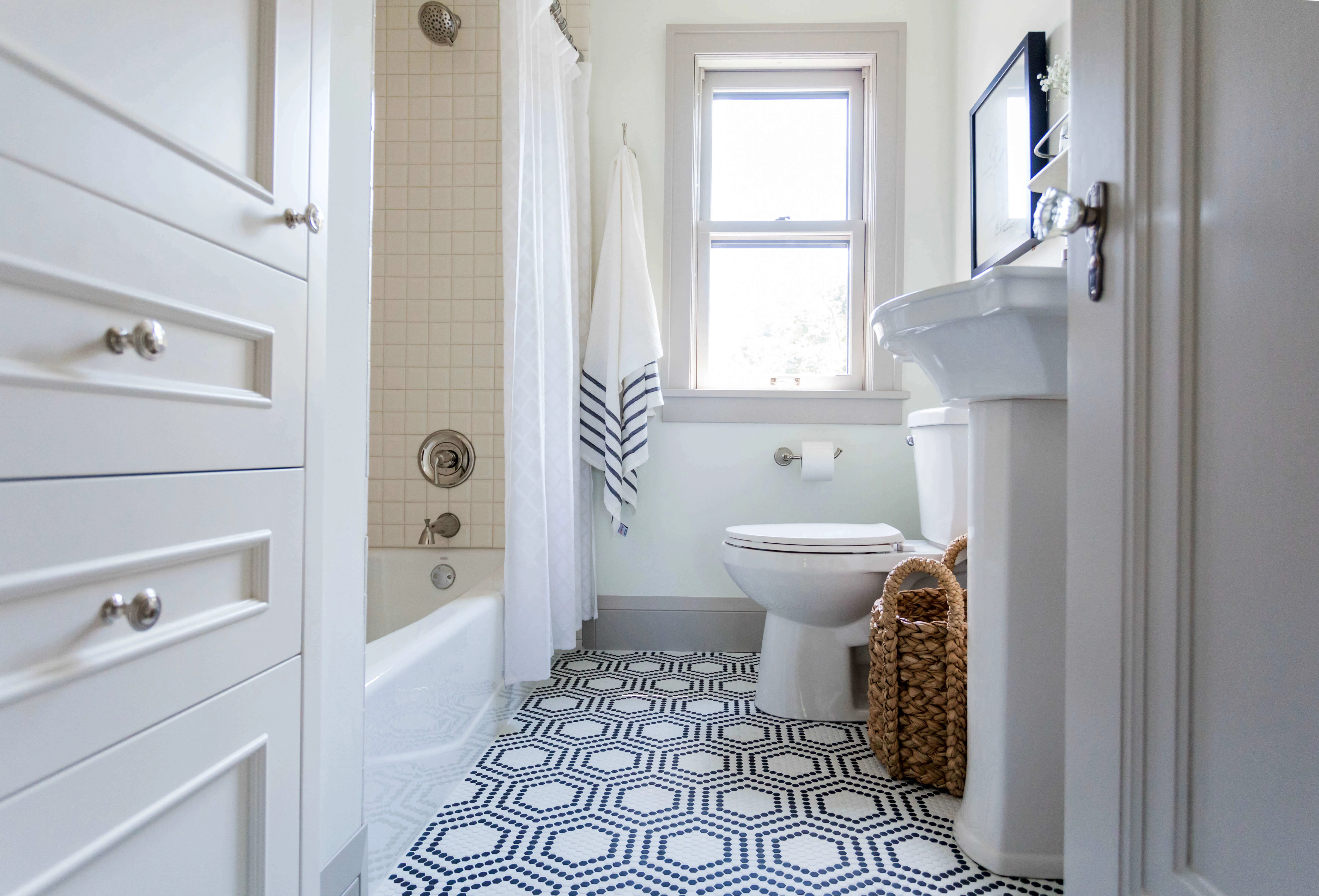 Colorful and patterned floor tiles are having a moment in recent years with playful mosaics and painted encaustic squares. Especially in smaller bathrooms this is a great way to add color and movement. Chapter 14 – The Press by Jeffrey Court is a fan/client/designer favorite. It is made of glass and is so smooth to the touch.
5. Unexpected Tile Installation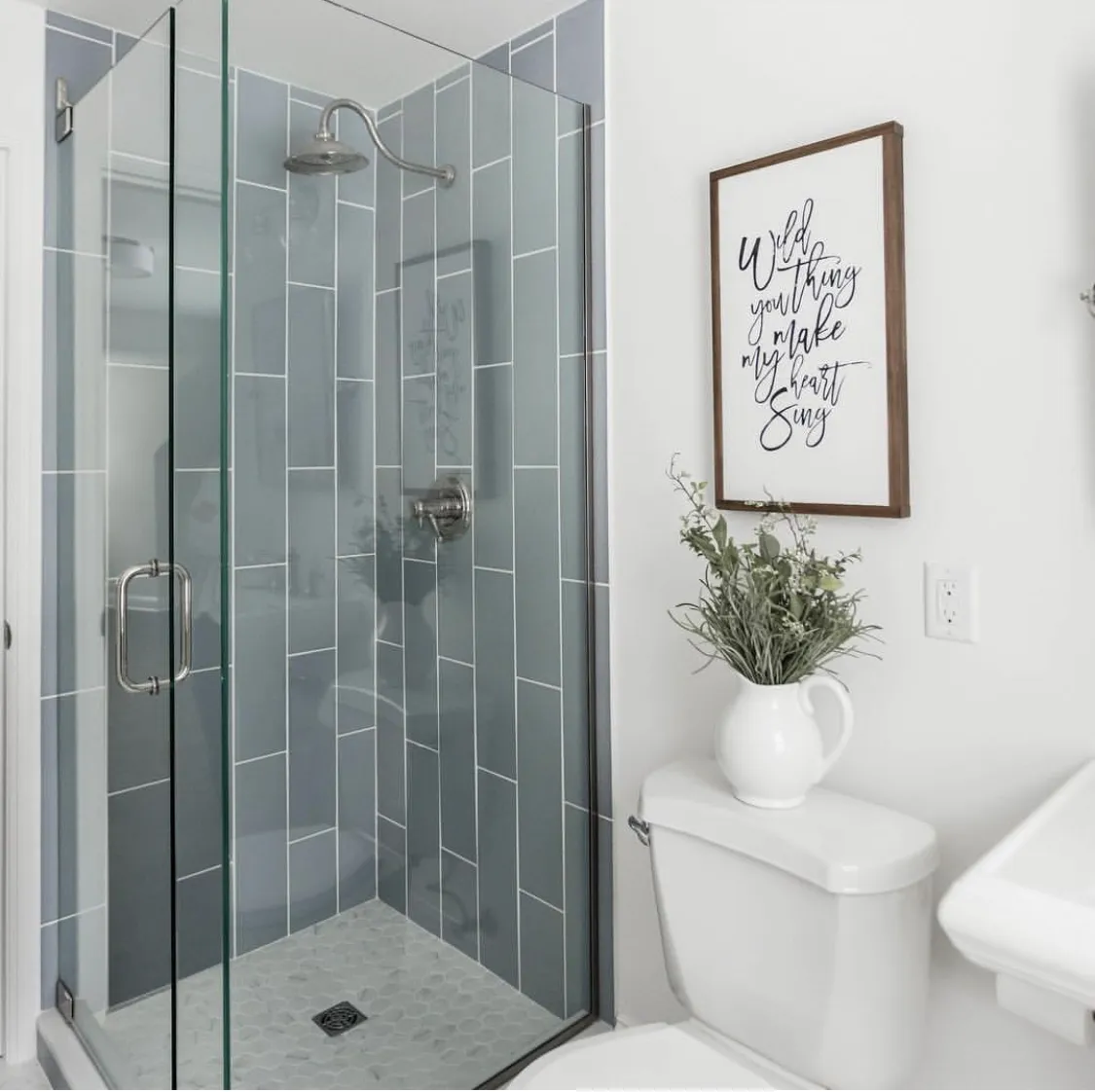 Tile can be installed in wide variety of ways, see our Subway Tile Edit from earlier this year. The orientation of the installation can dramatically change the design of a bathroom. A horizontal brick set can be more traditional, a vertical brick set is playful, the straight set is modern. A simple rectangular tile installed in an unexpected way is a cost effective way to amplify your design style.
6. Wallpaper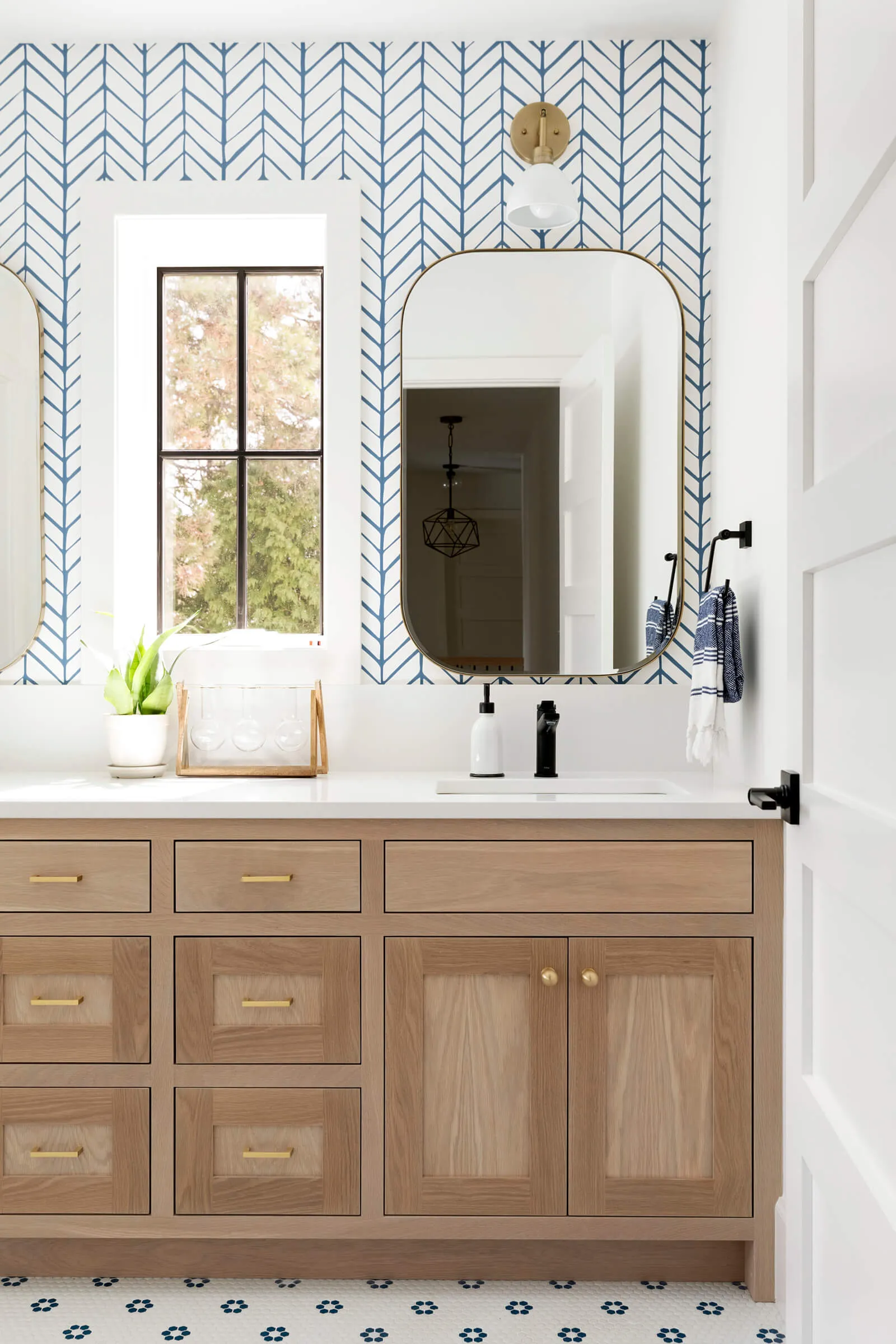 Wallpaper is appropriate in any bathroom. The playful chevron wallpaper in the Drew Avenue kids' bathroom is a feature on the vanity wall. Adding wallpaper, whether bold or subtle, makes a statement in any application. We encourage using patterns and colors that will make you giddy in bathrooms. Frankly, this is the room where we're most human, have fun with it!
7. Bold Paint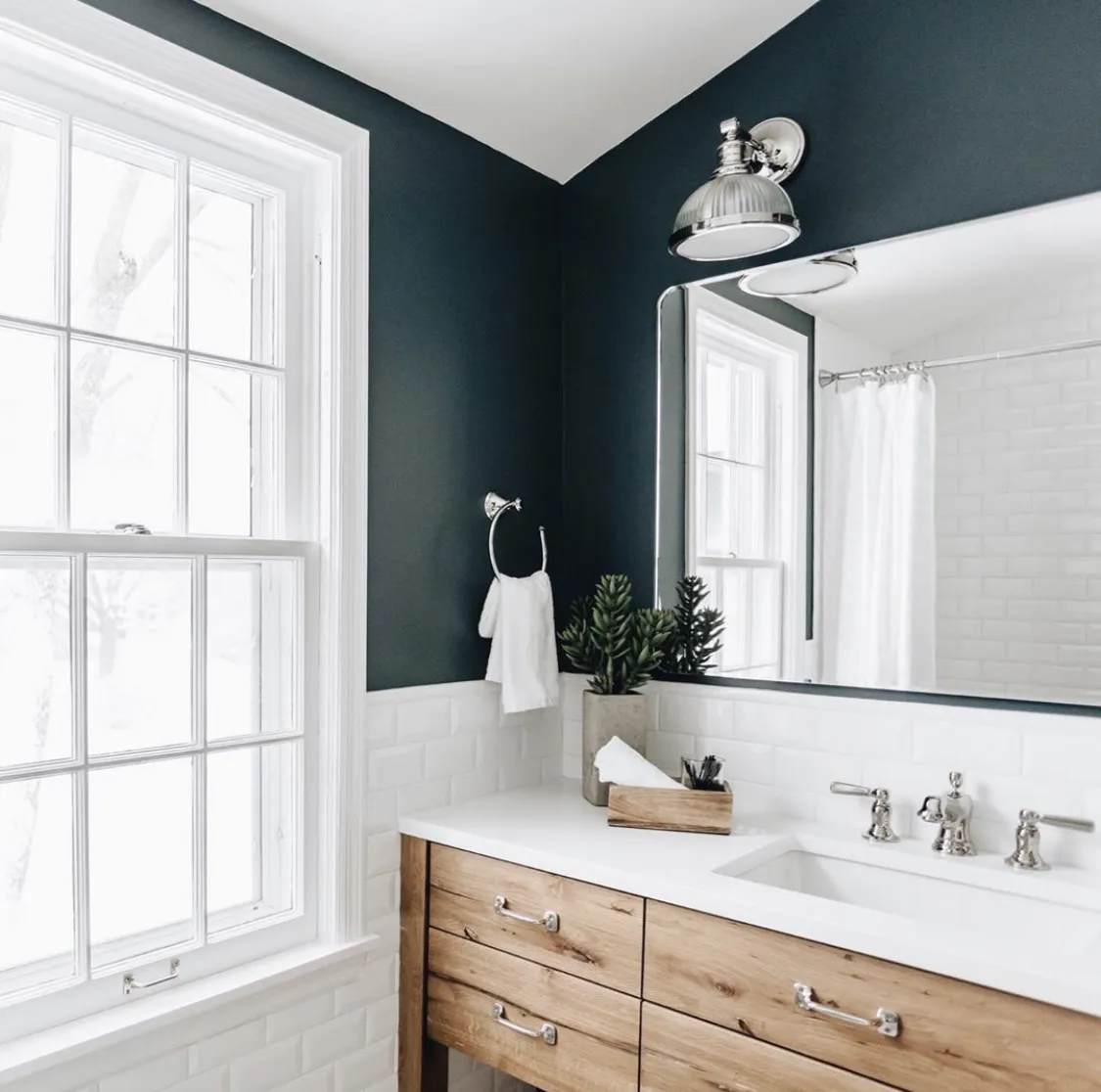 Bold paint colors can really transform a space without being startling. The deep teal walls in the Arden Avenue bathroom complement the reclaimed wood vanity and are balanced with a half-wall beveled subway tile. We encourage committing to the bold color, putting it on all four walls to show its intention, and letting it show off proudly.
8. Monochromatic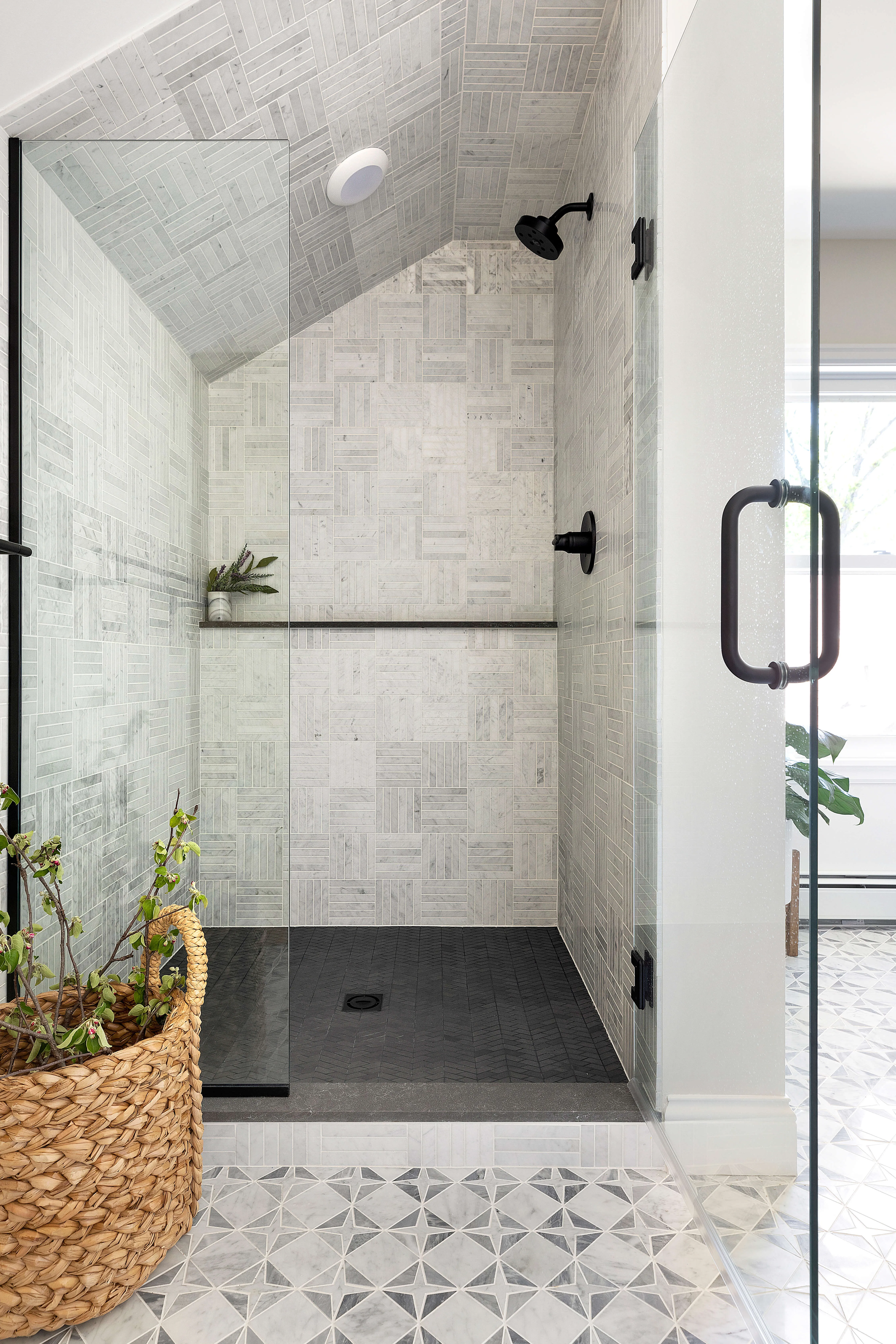 Natural stone marble and basalt tile add texture and color variation to the monochromatic color palette of the Hale House attic owner's suite renovation. Designing a monochromatic space doesn't have to result in a boring space. Add pattern of varying scales and follow the design principles to keep the space interesting.
9. Millwork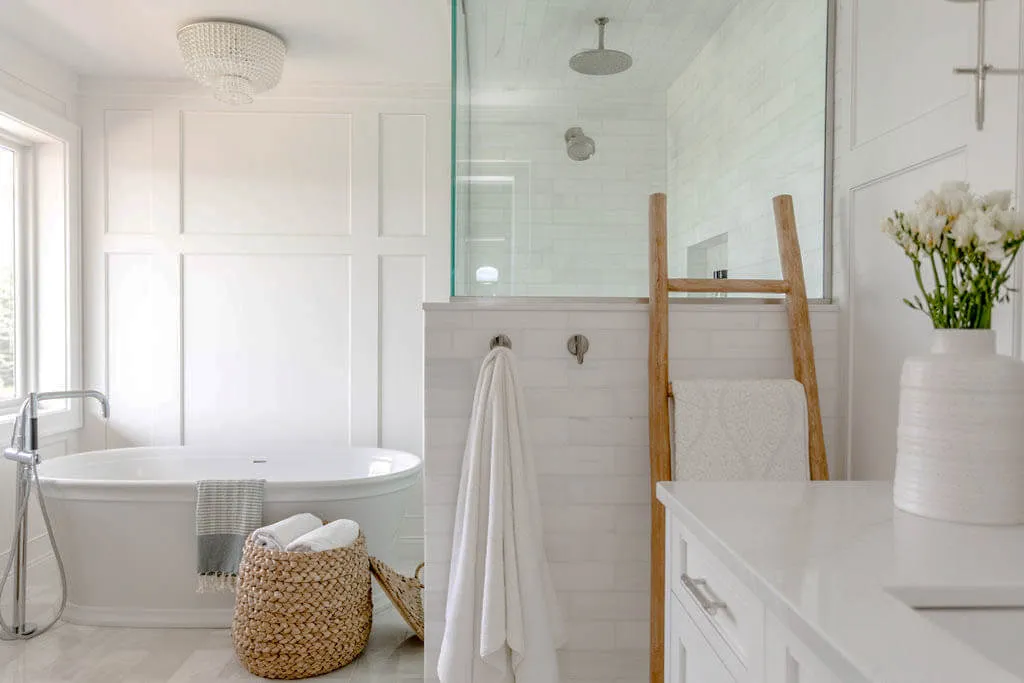 Millwork is an amazing way to add dimension and texture to a space, especially if it's as monochromatic as the Dayton Ranch owner's suite. Using the rule of thirds on the millwork, i.e. the lower section is two-thirds of the wall with an upper third, makes the ceilings feel taller, compared if the millwork was two half sections. Framed millwork takes the elegance of this space to another level of luxury.
10. Wood Floors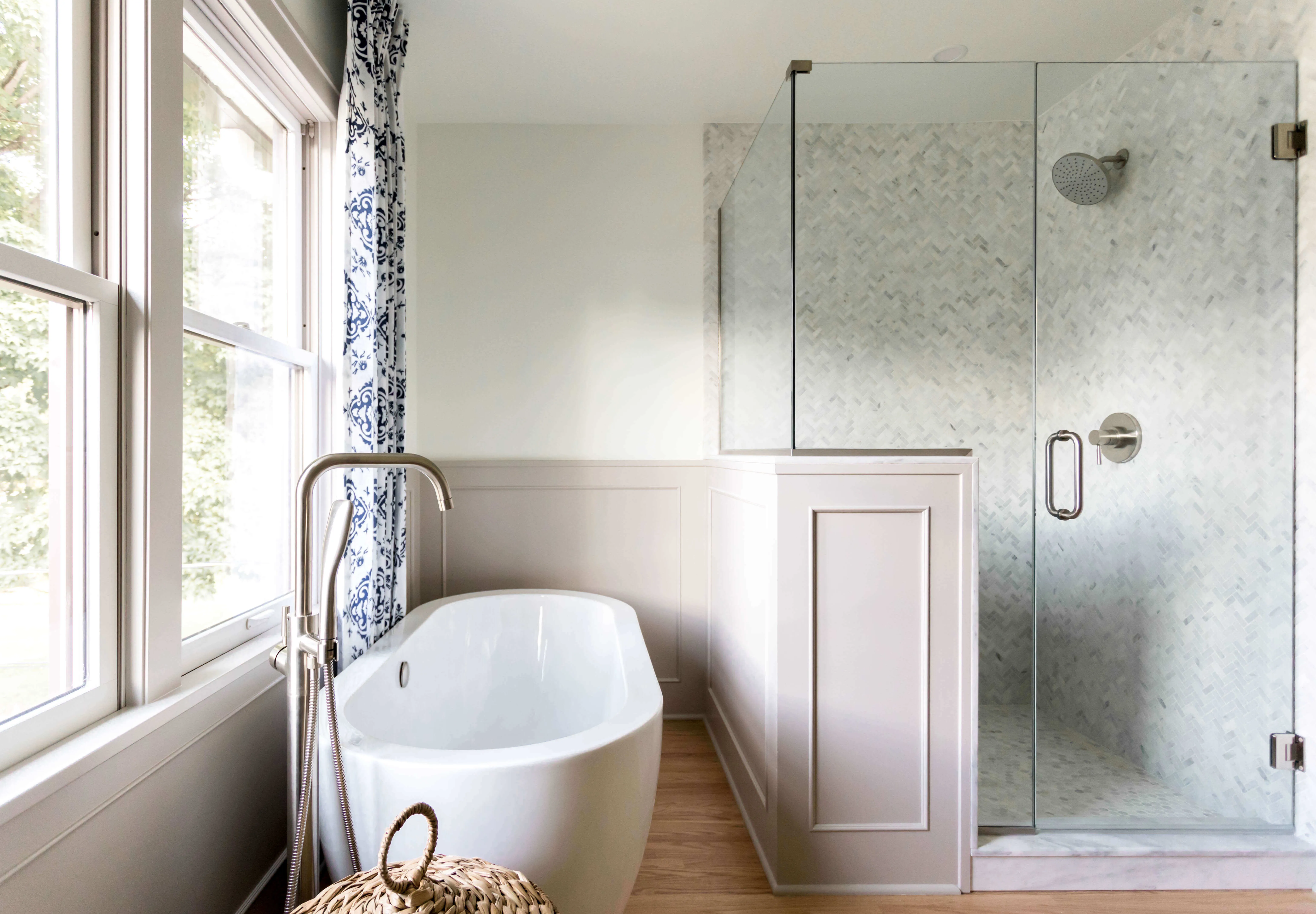 Wood floors in a bathroom?! We're not crazy; it's not like we're suggesting carpet! Wood floors can live a healthy life in a bathroom with proper venting and precautionary measurements, i.e. bath mats and rugs, to take on the water. The owner's suite at the Goodrich Tudor project has hardwood floors. We're also currently installing engineered hardwood in a lower level guest bathroom, part of our phase II renovation at Whitegate Lane.
Don't be afraid to make bold decisions in your bathroom remodel. Choose finishes, patterns, and colors you'll love for a long time and be easy for you to maintain.
Happy Remodeling,
Katie Wick + the Jkath Team
Interested in connecting about your home renovation?
Some recent projects from our team we think you might like:
Drew Avenue, Westbrook Road, Goodrich Modern Tudor
Keep up with our latest inspiration by following us on Pinterest and Instagram.